BYU Cougars
Top Five Week 1 Big 12 Football Storylines to Watch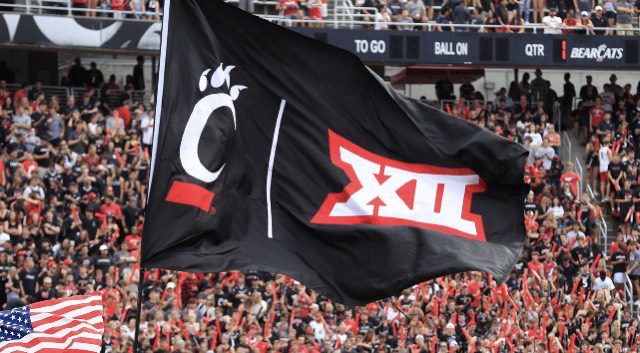 It's here. There have been 233 days since we last saw a Big 12 team take the field, but now, the time has come. For the next four months, we will have Big 12 football to dissect, digest, and obsess over.
There are so many intriguing storylines around this conference heading into 2023, so much so that it would be safe to say that it's arguably the most exciting league to follow this season.
Here are the top five storylines that you should be keeping up with heading into the first week of the season.
Welcome to the League New Guys
For BYU, Cincinnati, Houston, and UCF, Week 1 signifies the start of life in the Big 12. All four programs will open up their Big 12 history in front of home crowds, which is the way it should be. BYU, Cincinnati, and UCF will be heavy favorites in their matchups, while Houston's matchup with UTSA provides a very intriguing early matchup. While everyone shows up to watch the games, the atmosphere at these games will be the spectacle. With Big 12 logos painted on the fields, stitched onto the uniforms, and featured on the videoboards, it will usher in a new era of college football and is something that you should take a moment to relish.
TCU vs Colorado
Last year's national runner-up will begin the 2023 season by hosting Deion Sanders and the Colorado Buffaloes in Week 1. How many storylines do you need packed into one game? The Deion Sanders experiment will bring millions of eyes to Fort Worth on Saturday alone, and his Frankenstein roster will become a case study for the transfer portal going forward. With Sheduer Sanders and Travis Hunter following Coach Prime from Jackson State, the Buffs should be improved from a season ago. On the flip side, TCU will attempt to replace numerous NFL draft picks and last year's Broyles Award winner, with Kendall Briles now calling plays. Will Chandler Morris live up to the standard set by Max Duggan a year ago? Will the defense look the same? Lots of good stuff in this one.
The Iowa State Debacle
The offseason has not been kind to Matt Campbell and the Iowa State Cyclones, as the cloud of a sports wagering investigation has hung over the program for a few months now. In the wake of that investigation, several key players are likely done playing in an Iowa State uniform, with QB Hunter Dekkers, RB Jirehl Brock, and DL Isaiah Lee among the starters affected. The biggest question is obviously who will start at quarterback against UNI, who has been particularly tough against the Cyclones for an FCS program. Will the 'Clones get the monkey off their back and put this behind them with a win, or will Northern Iowa pull off an upset and send Iowa State into a spiral before the season even starts?
How Does West Virginia Look?
Neal Brown and the West Virginia Mountaineers are heading into a pivotal Year 5 in his tenure, and they won't have much time to get things rolling as they start the year off on the road against No. 7 Penn State. The Nittany Lions are a trendy pick to make the College Football Playoff this season, making this a stiff test for the Mountaineers in Week 1. Will West Virginia come out and flounder as a 20.5-underdog and send WVU fans to the next level of frustration? Or, will they come out and play a tough, competitive game and show signs that Brown and Co. could still turn this thing around? I think a lot can be taken from this game for the Mountaineers, and it could set the precedent for the rest of the season.
Welcome to 14-Straight Hours of Big 12 Football
For the first time in conference history, the Big 12 will have 14 playing across three time zones. So what does that mean for Big 12 fans? A Saturday that is truly packed with football. TCU vs. Colorado and Oklahoma vs. Arkansas State will kick off the action at 11:00 a.m. CT, followed by Iowa State hosting UNI at 1:00 p.m. CT. Cincinnati and Texas both kickoff at 2:30 p.m. CT and will carry us to a 6:00-6:30 p.m. CT window that will see K-State, Baylor, Houston, Oklahoma State, West Virginia, and Texas Tech start their season. Then, to cap off the day, BYU will start its game against Sam Houston at 9:15 p.m. CT, which puts them in the area of finishing well after midnight here in the central time zone. That's 14 consecutive hours of Big 12 football. What more could you ask for?