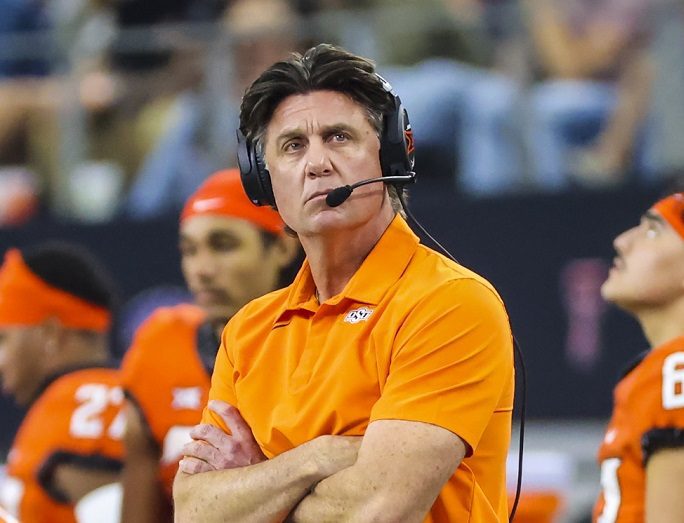 Oklahoma State football is going to be just fine this season. Quite literally, exactly that, in my opinion. Probably not great, probably not terrible, but fine.
The opinions have been all over the place. I've seen people pick them as high as making the Big 12 Championship game and as low as finishing 4-8 and being one of the bottom feeders of the conference. Call me Goldilocks, because I think that first porridge is too hot and the second bowl is too cold. But the ones in the middle? That bowl of 7-5 to 9-3 porridge where OSU finishes somewhere between 4th and 7th in the conference? That one is just right.
The Pokes had a chaotic offseason. Gone is defensive coordinator Derek Mason, who was at times both frustrating and brilliant, sometimes in different halves of the same games. Enter new defensive coordinator Bryan Nardo, and if you say you knew who he was before he got hired in Stillwater, you're either way, WAY more into college football than most people, or you're lying. The players seem to love him, and he's impressed some of the local media, but none of that means anything unless his unit actually performs on Saturdays.
Kasey Dunn might still be the play-caller after a season where many called for a change, myself included, but things are switching up on that side of the ball. Gundy has said they are "circling back" to older strategies. I don't know if that means the stuff he did as an offensive coordinator under Les Miles, or if he means the Larry Fedora days of no-huddle-power-spread, or even the read-option stuff they did when Gundy called his own plays as head coach, and Zac Robinson was under center. Anything would be an improvement from the bland, unimaginative repetition we saw last season.
Speaking of under center, I'm not sure if Gundy himself has said more of that is going to happen, but transfer quarterback Alan Bowman mentioned part of the reason he chose OSU was his familiarity with both spread concepts from his time at Texas Tech, and being under center in a pro-style offense from his two years at Michigan. He also mentioned OSU is adding some of that in. Also of note, the hybrid "Cowboy Back" position has been scrapped and split up into traditional tight ends and fullbacks again. I personally am all for a more physical style of offense. After not being able to punch it in against Baylor in 2021, and watching the run game struggles last year, I yearn for the ability to gain three yards up the middle on occasion.
New schemes on both sides of the ball aren't the only things concerning the fans. A lot of players transferred out, a few of them big contributors and fan favorites. Downplaying the transfers is hard when one of them is a four-year starter at quarterback, but it's not a problem just the Pokes are facing, as they didn't even end up in the top when it came to the number of players transferring out. In this new portal era, it's going to be less about who and how many leave, and more about how you use the portal to find new players to plug those holes.
Add in the rumors, and I stress rumors because there's really no way for me to confirm any of it, that some of the players that left weren't necessarily encouraged to leave, but that no effort was made to talk them into staying due to locker room issues, and maybe losing some of those fan favorites wasn't so bad. A split locker room can hurt a great team, but it can be devastating to a team like the Cowboys who may not field as much talent as some, and rely a lot on camaraderie and that "play for the guy next to you" mentality for an extra boost.
The bottom line, though, is Gundy is still there. Love him or hate him, he's been maddeningly consistent in what he achieves. He's had a grand total of three bad seasons as head coach: his
first year when he had to gut the team to cut out the thugs he inherited, 2015 when injuries shredded the quarterback room, and last year when the wheels fell off for the rest of the season at halftime against TCU. He has done this while weathering complete offensive overhauls, revolving defensive coordinators, and a college football landscape that is almost unrecognizable from what it was when he got the job.
And he's only missed a bowl once, in his first year.
I don't think OSU will challenge for the Big 12 title this year, but I don't think they'll stink either. Alan Bowman (I think he'll start every game) will be at worst above average. Ollie Gordon and the running back crew will get 1300 yards total. Nardo's defense won't be at 2021's level, but will at least be on par with last year's squad. Add all that up with the fact you can buy schedules like theirs by the dozens at a bakery, and I don't know if missing a bowl game is possible barring something catastrophic happening.
I expect between 7-9 wins in typical OSU fashion. They'll win one they shouldn't, lose another they should win, and have a bunch of close games that will be a blast to watch. There'll be mind-boggling play calls, head-scratching results, and Gundy will say or do something ridiculous and embarrassing on no fewer than five occasions.
Basically, it'll be the same as most years, with a few new teams on the schedule. I am sad we don't get a chance to beat Texas one last time, though.