Baylor Bears
Four Thoughts Baylor's 42-31 Loss to Texas State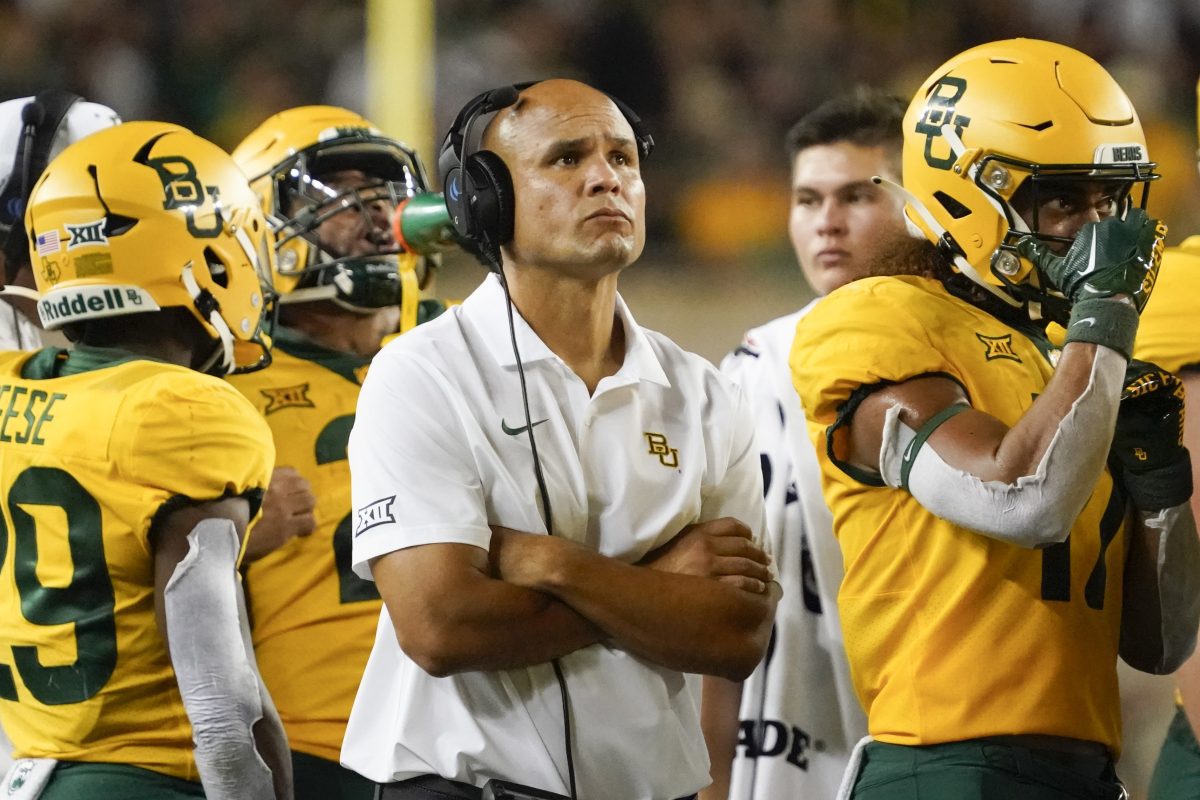 After a long offseason, college football is back in action as Week 1 has finally arrived. The first true college football Saturday is always fun but sometimes it has a few curve balls thrown at us. On Saturday night in Waco, that was certainly the case. Baylor hosted Texas State to open their 2023 season and it was a memorable night for all the wrong reasons. Here are my thoughts on the Bears 42-31 loss to the Bobcats.
1. The Offensive Line Was Bad
There is no other way for me to describe the offensive line but bad. I know they lost several key players from last season, but their performance against Texas State's defensive line was awful. They gave up three sacks and allowed nine tackles for loss. On top of that, they had a ton of penalties called against them. In the first quarter alone, the offensive line had four false starts and put the offense in some tough spots. Blake Shapen had no time to throw the ball without getting hit and the run game was nonexistent. Up front, Baylor had zero push and honestly, they were physically dominated for four quarters.
2. The Defense Was Worse
As bad as the offensive line was, the defense was even worse. The Bears gave up nearly 450 yards of offense and 42 points. Texas State outrushed them and went 4/4 on fourth down and converted nearly 50% of their third downs. Baylor's defense couldn't get off the field in key situations. If not for two turnovers, Texas State may have scored over 50 in this game. Head coach Dave Aranda is a defensive minded coach, and he should be embarrassed by this defensive performance.
3. Who Will Be the Quarterback Next Week?
I talked about the offensive line earlier not protecting the quarterbacks. The lack of protection got Blake Shapen injured as he had to put on a big knee brace and have it all taped up. Towards the end of the game Shapen could barely walk and had to be taken out of the game after this hit.
Sawyer Roberston had to come in for Shapen and he was able to move around a little bit better. While Robertson may not be a better passer than Shapen, he may see some playing time next week against a good Utah defense. I know for a fact that Blake Shapen is not going to go into next weekend 100% healthy after taking a beating like he did on Saturday.
4. Texas State Wanted It More
One thing that caught my eye was Texas State's effort. They left it all on the field on Saturday night in Waco and they left with a big victory. Texas State was bigger, faster, and stronger and Baylor had no answer for it at all. The Bobcats came into this game as a 28-point underdog and won by double digits. It ended up being Texas State's first ever win against a power five opponent. Hats off to Texas State but Baylor shouldn't have lost the game in this fashion or any fashion for that matter. This was the worst loss since the 2017 Liberty game except this was much worse because unlike the 2017 team, this Baylor team had expectations.