Football
Three Thoughts on TCU's 45-42 Loss to Colorado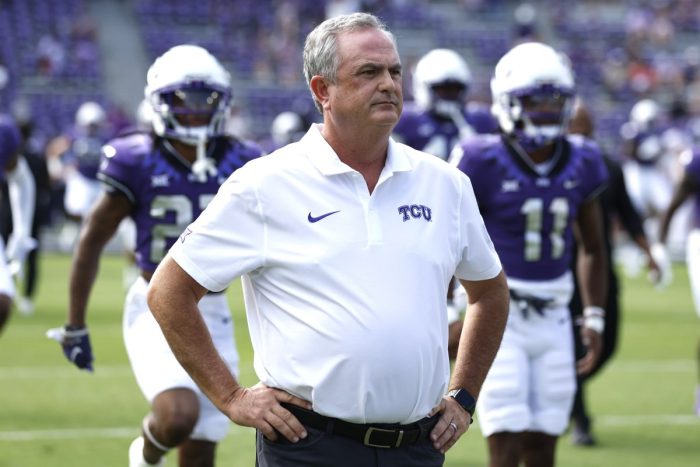 FORT WORTH, Texas — The TCU Horned Frogs lost to the Colorado Buffaloes, 45-42, in the 2023 season opener for both teams. Here are three thoughts on the game.
This is a Different TCU Team
That should go without saying for anyone that covered the Horned Frogs last season. That team was special, and if you were at Amon G. Carter Stadium on Saturday like I was you could see just how special it was on the north corner of the visiting side of the stadium. Right there on the façade was the College Football Playoff logo with 2023 next to it.
So, no more Max Duggan and no more Kendre Miller. We got it. What's next?
It's a TCU team that, in some ways, looks like last year's team. Even with no Miller, the Horned Frogs used the running game like a cudgel in the second half, combining Emani Bailey and Trey Sanders into a one-two punch that could, eventually, give TCU what it had a year ago.
Bailey was especially effective in the second half, breaking off two long runs to give the Horned Frogs great field position. The fact that they only turned those into seven points wasn't on him.
Morris — starting his first game exactly one year after getting hurt against Colorado — was up-and-down and notably threw two key interceptions in the red zone. But he had good protection most of the day and, interceptions aside, was efficient.
The TCU defense, which boasted plenty of experience from last season, needed a half to figure out what Colorado was doing scheme-wise. But, in the second half the pass rush put more pressure in the backfield and created some havoc. The Horned Frogs corners were tested all day and, at times, they were up to the challenge. But the defense also struggled most of the game getting Colorado off the field on third down.
TCU fans will panic after this one, win or lose. But like any other team coming off an incredible season, the Horned Frogs have some things to figure out. I saw enough raw materials for this team to be a Big 12 contender again this season.
And, yes I know what Colorado hung on them on Saturday, stat-wise. I was there. I'm thinking bigger picture, team talent and what can be improved upon. And there's a lot that can be improved upon before the Horned Frogs open Big 12 play with Houston in a couple of weeks.
Welcome Back, Colorado
The Colorado Buffaloes are heading back to the Big 12 next season, so Saturday's game was a chance to whet everyone's appetite. With Colorado led by head coach Deion Sanders and TCU coming off its incredible College Football Playoff run, the game had a 'big game' feel to it. Commissioner Brett Yormark and the two athletic directors had a press conference on Friday. Fox's Big Noon Kickoff set up outside Amon G. Carter Stadium. The stands were packed shortly after the 11 a.m. kickoff.
As for the Buffs themselves, they blew up a narrative pushed earlier this week by Yahoo! Sports analyst Tom Luginbill that Colorado might have "the worst" roster in college football. That was clearly ridiculous even before the game. I can only guess that Luginbill's analysis was based on information gathered before the players got to Colorado and didn't account for any improvement Sanders and his staff cultivated since they arrived.
The Colorado I watched on Saturday was talented and played with a crispness I didn't quite expect, given that more than 60 of these players weren't with the program last season. I thought their biggest issue entering the game would be chemistry. Colorado had plenty of that on Saturday. Not everything clicked, and that's to be expected in an opener pitting Power 5 teams.
But, quarterback Shedeur Sanders threw for more than 500 yards (a new CU record) and showed that his talent translates nicely to the Power 5 level. Travis Hunter put on the type of two-way clinic 'Coach Prime' put on back in the day, playing more than 60 plays on offense and defense by halftime alone. The Buffs forced mistakes and made a few of their own.
But Colorado didn't hold its own. It exceeded that and quickly went from enigma to known quantity and a team that can do some damage in the Pac-12's final season.
As for the Game …
This was your typical Big 12 game, honestly. Lots of fun, lots of yards and dramatics throughout. Both teams had more than 400 yards of total offense by the end of the third quarter, but there were still big defensive plays being made.
The second half was full of back-and-forth and lead changes on six straight possessions. Yes, six straight.
The key, believe it or not, was a true freshman for Colorado named Dylan Edwards. The 5-foot-9, 170-pound back — who might remind you a lot of former Kansas State running back Deuce Vaughn — had four touchdowns on Saturday, none bigger than the swing pass he turned into a 46-yard touchdown reception on fourth down with 4:25 left.
He had three receiving touchdowns and one rushing touchdown and was one of four Buffs to have a 100-yard receiving day.
You can find Matthew Postins on Twitter @PostinsPostcard.