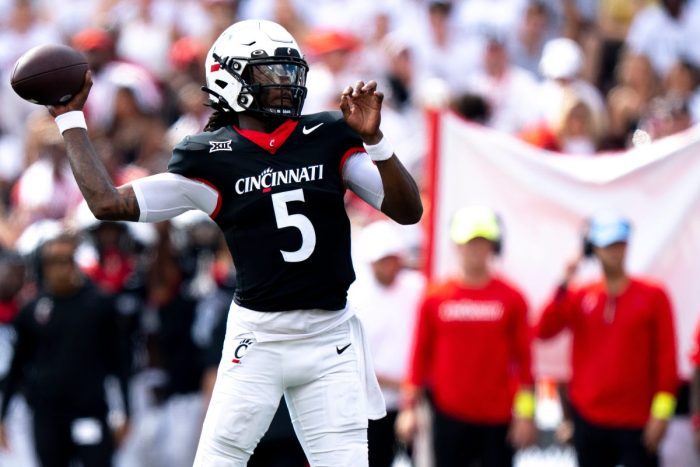 The Cincinnati Bearcats kicked off the 2023 season at home on Saturday as they began their first year in the Big 12 Conference. It was also the start of the Scott Satterfield era after he took over for Luke Fickell, who left to take the job at Wisconsin this offseason.
Cincinnati opened the season against Eastern Kentucky on Saturday and jumped out to a 35-0 lead in the second quarter and never looked back as they rolled to a 66-13 victory. Here are three thoughts on the win for the Bearcats.
Jones-Henderson Connection
Cincinnati reunited quarterback Emory Jones with wide receiver Xzavier Henderson. The two played at Florida together and when Henderson announced his transfer to Cincinnati, Jones said at the time, "Just having a guy like him who has some experience. He's fast. I mean, we definitely have a lot of chemistry. I threw a couple touchdowns to him over the past couple years. So I mean, I'm excited."
Well, the two showed plenty of chemistry on Saturday. Henderson had seven catches for a career-high 149 receiving yards and one touchdown in the win, while Emory threw for 345 yards and five touchdowns with zero interceptions, while completing 19 of 23 passes. Granted, the competition was limited, but if these two can capture some of their magic, and then some, from their 2021 season together at Florida, this Cincinnati team will surprise.
Front Seven Strong
This was always perceived to be one of the strengths of the Bearcats coming into the season and that was on display on Saturday in the season opener as the Bearcats racked up three sacks and seven tackles for loss on the day. Daniel Grzesiak led the way with one sack and two tackles for loss, as the former Nevada and Utah State player had himself an impressive first game with the Bearcats. Taj Ward and Eric Phillips, two guys who have been in the program for several years, had themselves big openers as well as they look to play key roles this season.
Next Up
The schedule gets tougher, quickly, for Cincinnati, as we will get a much better feel for this team in the weeks ahead. The Bearcats travel to take on Pitt next week in a Big 12-ACC match up and then following a game against Miami (OH), it's the Big 12 opener against Oklahoma at home. So while there is plenty for Cincinnati to be excited about, the competition will be improving very quickly and will allow us to figure out whether or not this could be a surprise team this fall.