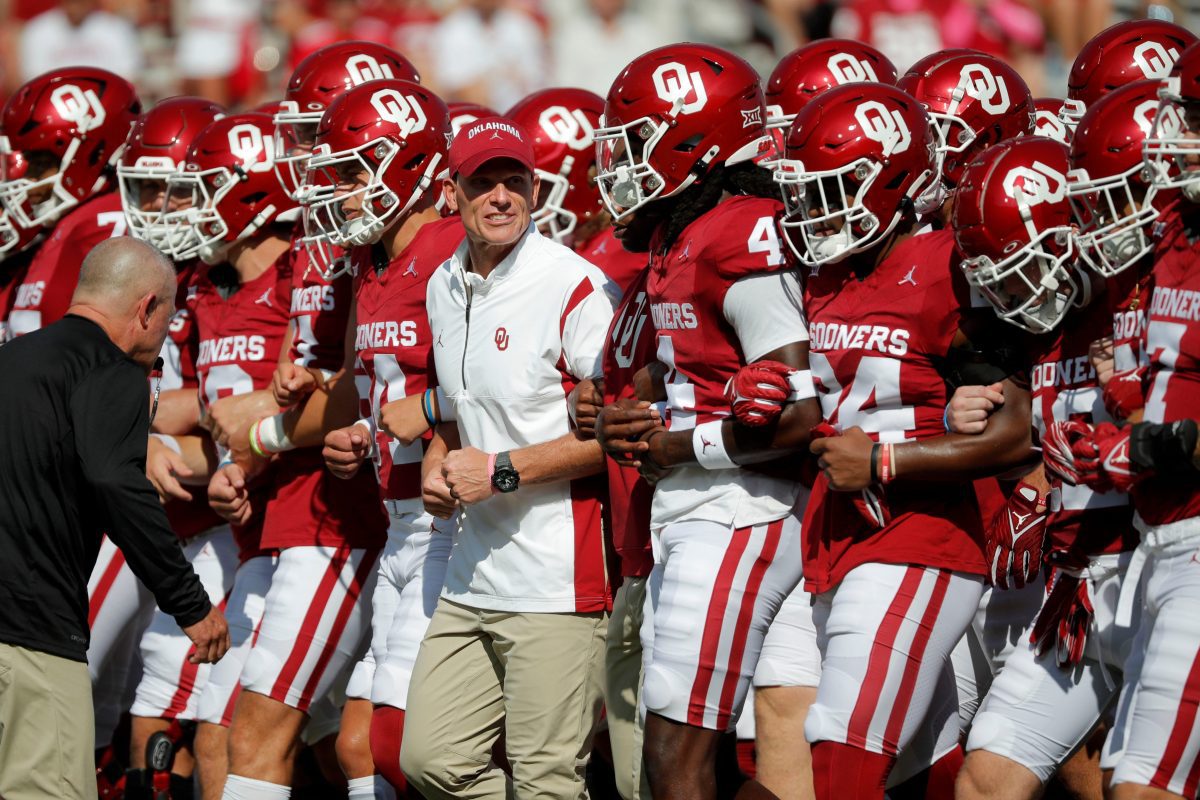 On a midsummer-like Saturday in September, it was Brent Venables' Oklahoma Sooners who came out on top in their season opener, defeating Arkansas State 73-0 to start the 2023 campaign off at 1-0.
OU was favored by over five touchdowns coming into the game, so a victory was expected, but the Sooners' performance was still plenty impressive, with its highest point total in the Brent Venables era, and the most since it scored 76 against Western Carolina in 2021.
Here are three thoughts on the game and what it means for the 20th-ranked team in the nation going forward.
Sooners' Offense Goes Nuclear in Season Opener
Last year, the Oklahoma offense had spurts of efficient play, but for the most part, it didn't quite reach the level of efficiency that we saw on Saturday. In the Sooners' 2023 opener, Oklahoma's offense was both efficient and controlling, with a time of possession just short of 37 minutes. Regardless of who was on the field, be it Dillon Gabriel or Jackson Arnold, OU's offense performed like a well-oiled machine. Oklahoma's 73 points came by way of three passing touchdowns, six rushing scores, and an 82-yard punt return from Gavin Freeman. Jeff Lebby and the Oklahoma offense tallied up 642 yards on 7.8 yards per play, with 422 yards through the air and 220 yards on the ground. In total, the Sooners went 11-13 on third down, which has to make the Sooners' coaching happy after third-down efficiency was a sticking point throughout the offseason.
Brent Venables' Defense Shows Up in Big Way
The much-maligned Oklahoma defense of years past was nowhere to be found on Saturday as Brent Venables' unit put together a dominant, shutout performance. After struggling to get off the field on third down all season in 2022, OU was lights out in that capacity against the Red Wolves, holding them to 2-12 on third down conversions. While forcing just one turnover, six tackles for loss, and just a single sack don't jump off the stat sheet, holding any team to 208 total yards, and just 46 yards on the ground is impressive. Perhaps the best part of OU's defensive showing was the lack of missed assignments in the defensive backfield and in the running game. With Oklahoma hoping to look completely different on the defensive side of the ball in 2023, Saturday's performance was a promising start.
Oklahoma's Depth Flexes Its Muscles
Last season, Oklahoma lacked "competitive depth" at several key positions. Going off of a single performance, it appears that may no longer be an issue in Norman. Eight different Sooners scored on Saturday, while 25 Sooners logged at least one tackle. Nine players recorded at least one rush, while 10 had at least one reception. Throughout the game, there was a steady stream of playmakers coming on and off the sideline, on both sides of the ball. In addition, the Sooners offensive and defense lines rotated early and often, helping younger players get plenty of key snaps. Coming away from this game mostly healthy, the Sooners can now set their sights on SMU.