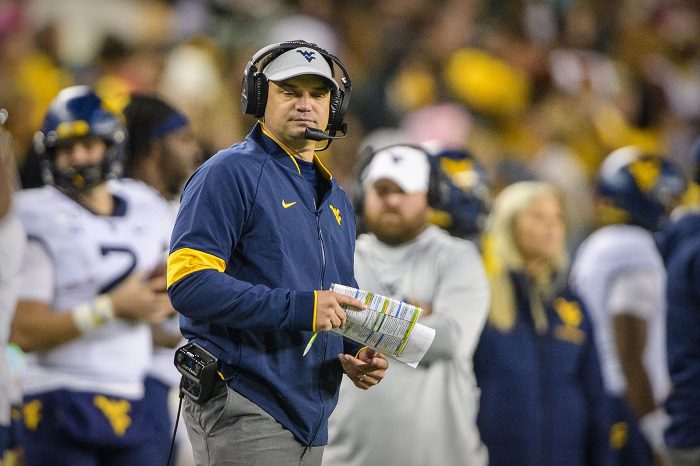 West Virginia didn't have the fortune of easing into the 2023 college football season, instead having to go on the road and face No. 7 Penn State. That's a tall task for any team, never mind one that is trying to put together a season that takes head coach Neal Brown off the hot seat.
The Mountaineers kept it close in the first half, only trailing 14-7 going into the locker room. But WVU did not have the fire power to keep up over the final 30 minutes and lost to the Nittany Lions 38-15. Here are three thoughts on the game.
Can Garrett Greene be a Legit Big 12 QB?
That remains to be seen. I wasn't convinced after the 2022 season, and I wasn't convinced after Saturday night. He had some nice throws and some impressive, shifty runs. But overall, Greene missed a lot of throws and doesn't have the pocket presence needed to win at this level, at least not yet. He might get there, but the question is how long can Neal Brown wait?
Greene finished 16/27 for 162 yards, while rushing for 71 and one score. It wasn't a bad stat line, but when you watch the game, you feel like you're watching a guy in over his head. Yes, Penn State has a nasty defense, but we've seen much of this before with Greene at QB, and this year WVU has a great offensive line and improved skill position pieces to work with.
That leads me to…
Donaldson and Carter Bright Spots
CJ Donaldson returned after a season-ending injury and picked up right where he left off. Donaldson had 18 carries for 81 yards and a touchdown. Considering how much the Penn State defense was focused on him, this was an impressive stat line and Donaldson has a chance to be one of the best running backs in the Big 12 this season. He's that good.
Also, WVU had a legit outside threat in NC State transfer wide receiver Devin Carter, who had six catches for 90 yards. He averaged well over 16 yards per catch the last three seasons with NC State and could be a great downfield threat for the Mountaineers, if they find the QB who will be able to get him the ball consistently.
Add those two guys into one of the better offensive lines in the league, and the biggest problem for WVU on offense remains under center.
Defensive Woes
In 2022, the Mountaineers finished next-to-last in the Big 12 in points allowed (32.9 per game) and pass defense (262.7 yards per game) and dead last with four interceptions (only two teams nationally had fewer).
The secondary looks like it could be an issue once again after Drew Allar threw for 325 yards and three touchdowns for Penn State. And the Mountaineers had no response for KeAndre Lambert-Smith with four catches for 123 yards and two touchdowns on the night.
WVU gave up over 15 yards per catch to the Nittany Lions on Saturday night. That number is going to have to improve going into Big 12 play, or it's going to be a long season in Morgantown.