Baylor Bears
Big 12 Football Week 1: The Good, the Bad, and the Ugly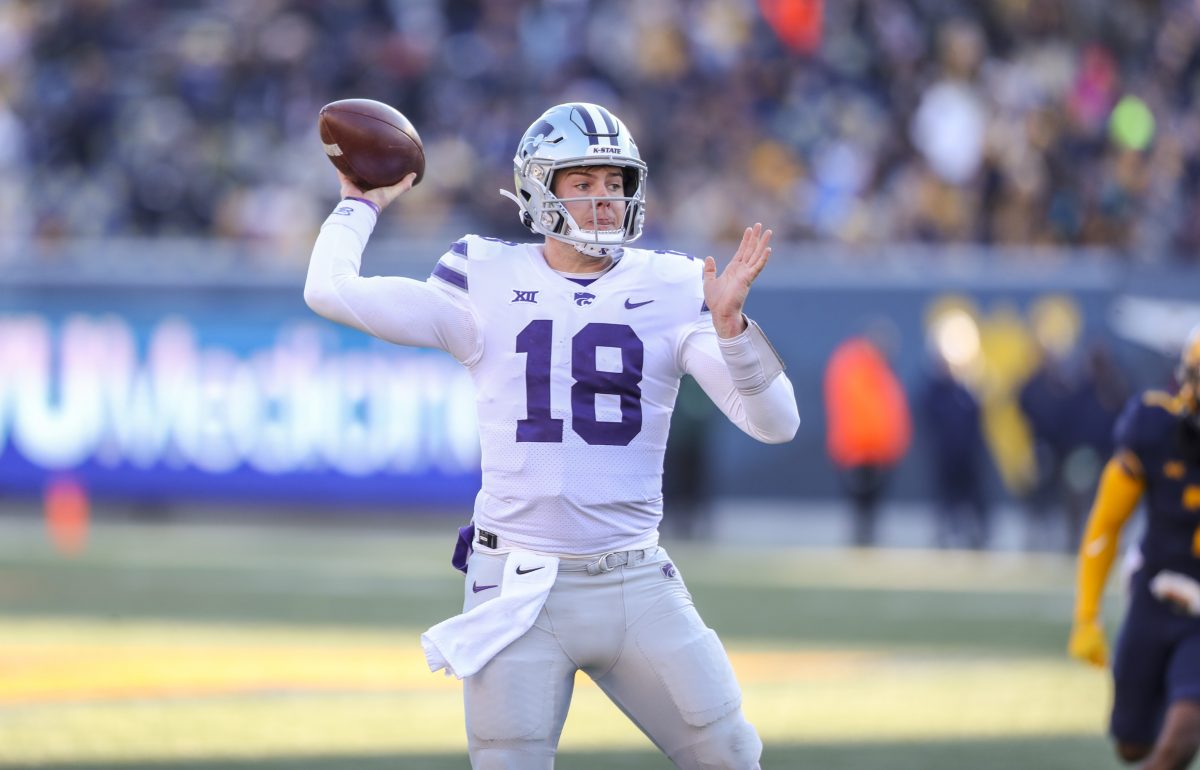 It was opening weekend in the Big 12 Conference as the league kicked off the 2022 season on Thursday night. From there we saw two more days of Big 12 action as the conference piled up a 10-4 record over the weekend. There was plenty of excitement with so many new teams and faces. Here is the good, bad, and ugly from Week 1 in the Big 12.
The Good
UCF (Beat Kent State 56-6)
The UCF Knights kicked off the 2023 Big 12 season on Thursday and they did not disappoint. The offense racked up over 700 yards and the defense kept Kent State out of the end zone. While John Rhys Plumlee threw two picks, it was the ground game the took over. UCF rushed for a whopping 389 yards as Johnny Richardson, John Rhys Plumlee, and RJ Harvey combined for 274 yards on the ground. Overall, I thought it was a great opening win for UCF and the Big 12.
Kansas (Beat Missouri State 48-17)
I wasn't sure how this game would go due to Jalon Daniels being out. Luckily for Kansas, they have a reliable backup in Jason Bean who did a nice job filling in. Bean was efficient as he threw for 276 yards and two touchdowns. Meanwhile the offensive line did a great job making holes for Devin Neal and the other running backs. Kansas rushed for 245 yards and really started to pull away in the second half. Of course, I can't forget about the defense either. They held Missouri State to just 217 yards and allowed them to convert just one third down attempt.
Oklahoma (Beat Arkansas State 73-0)
If you were looking for a good old fashioned butt kicking, then you found it in Norman, Oklahoma. The Sooners dominated this game from start to finish. Oklahoma's offense finished the day with over 600 total yards as Dillon Gabriel threw for over 300 yards and two touchdowns. Even backup quarterback Jackson Arnold got plenty of playing time as well and looked good. A lot of guys got to play in this one as ten different players caught a pass, and nine players got a chance to run the football. And as good as the offense was, the defense got a big shutout which was nice to see.
Iowa State (Beat Northern Iowa 30-9)
Before I get to the offense, how about the defense and special teams? The defense didn't allow Northern Iowa to cross the 50-yard yard until the third quarter. Northern Iowa went just 3/15 on third down and only got in the end zone once in four quarters. As for the special teams, what a day. Tyler Perkins averaged over 53 yards per punt and even had a 70-yarder. Jaylin Noel had a nice return and kicker Chase Contreraz knocked one in from 56-yards.
Offensively, I think Iowa State still has a few things to work on, but you have to be happy with Rocco Becht and JJ Kohl. Neither guy turned the ball over and they looked more comfortable as the game went on. And how about the tight ends? Easton Dean and Benjamin Brahmer had a good game. Now it's on to the Cy-Hawk.
Cincinnati (Beat Eastern Kentucky 66-13)
Much like the Oklahoma/Arkansas State game, this one was a blowout from the start. Emory Jones had a monster first half throwing for 326 yards and four touchdowns. His favorite target was Xavier Henderson who finished the day with 149 yards and a score. While the passing game was big in the first half, the run game took over too as the Bearcats ran for 229 yards led by Corey Kiner. As for the defense, they were able to get a few turnovers and got off the field on third down. Did we learn a lot from this game? No but it was a win for Cincinnati which is all that matters.
Texas (Beat Rice 37-10)
Texas started off slow but eventually found their groove. Quinn Ewers went 19/30 for 260 yards and three touchdowns as he played most of the game before backup Maalik Murphy stepped in. The receivers looked good, but I did have some concerns with the running game. Texas didn't get a big push up front so that is something to keep an eye on. As for the defense, they looked much better compared to last season, but they will have a big test next week against Alabama on the road.
Kansas State (Beat Southeast Missouri State 45-0)
Not a whole lot to take away here because Kansas State looked great against a bad team. Will Howard was fine and even caught a touchdown pass in this one and I came away impressed with the passing game. RJ Garcia II and Ben Sinnott had a big game and running back DJ Giddens looked good as well. As for the defense, they got a shutout which is always a good thing.
Houston (Beat UTSA 17-14)
I thought this was going to be a high-scoring game and I was dead wrong about that. The Houston Cougars defense did an excellent job against a good UTSA offense with a veteran quarterback. Sure, they gave up 400 yards but to give up just 14 points and get three turnovers? That is a good day in my book against a quality team. I would like to see more from the offense though because they scored just seven points in the second half. Donovan Smith managed the game but didn't do more than that and the run game was pretty scarce. At least they got the win though which was big.
BYU (Beat Sam Houston 14-0)
Let me start by saying the defense was outstanding. Sam Houston didn't score at all, and they had just 185 yards of total offense. I don't think there is any question that BYU has a good defense, but that offense of theirs was hard to watch. Outside of two short touchdown runs by Kedon Slovis, the offense sputtered. They couldn't run the ball and they couldn't throw the ball either. The offense needs to step it up or else it is going to be a rough season in Provo.
Oklahoma State (Beat Central Arkansas 27-13)
If you were looking for an ugly win, then you found one right here. Forget about the defense here because this game was all about Oklahoma State's offense. The Cowboys played three quarterbacks in Alan Bowman, Garret Rangel, and Gunnar Gundy. To me, Rangel deserved to get more snaps because he looked the best out of the three. The offensive line was awful too. There wasn't much push up front, and they didn't protect their quarterbacks very well either. To be honest, I have no idea what Oklahoma State is doing on offense, but they need to figure it out quickly.
The Bad
TCU (Lost to Colorado 45-42)
I am not sure if anyone saw this game playing out the way it did at all. I was shocked to see how good Colorado looked and how bad TCU played. TCU's defense was nonexistent in this game. They let Shedeur Sanders throw for over 500 yards and made Travis Hunter look like a Heisman winner in just one game. At times, I thought the defense sat back way too much instead of bringing some heat. Sure, they got to Sanders a few times, but they were picked apart to shreds for most of the game. Offensively, they scored enough points to win but I am not sure if Chandler Morris is going to be the guy that will help them compete for a Big 12 title. Tight end Jared Wiley was the main target in the passing game, but I want to see more receivers step up. There is no other way to talk about this game other than disappointing.
West Virginia (Lost to Penn State 38-15)
I will give West Virginia credit because they hung in there for almost three full quarters. However, their lack of offense took them out of this game. Garrett Greene wasn't accurate and that run of game theirs is subpar outside of CJ Donaldson. Defensively, they just worn down as the game went on because the offense wasn't providing much help. That secondary really struggled and what on earth was that fourth down attempt I saw? It's hard to take away many positives from this one, but at least West Virginia didn't lose to an inferior team like some of the other conference members.
The Ugly
Baylor (Lost 42-31 to Texas State)
This game left me speechless, and not in a good way. I will start with the terrible defense because they couldn't slow the Bobcats down at all. If not for a pair of turnovers, Texas State would have scored over 50 points. The tackling was bad, and the front got pushed around as well. Offensively, the line was the biggest issue. There was zero push up front, and Blake Shapen had zero time to get rid of the football. Every time he dropped back, he was hit, and he ended up hurting his knee. By the end of the game, he could barely walk because he got hit so many times. Texas State came into Waco and they were tougher and more physical. They wanted it more on Saturday. Baylor was a four-touchdown favorite coming into this game and the lost by double digits. That is inexcusable and Dave Aranda needs to fix this football team because it looks broken.
Texas Tech (Lost to Wyoming 35-33)
If Baylor's loss wasn't bad enough, I had to watch Texas Tech fall in double overtime to Wyoming. The Red Raiders got off to a quick start as they had a 17-0 lead in the first quarter. After that, the offense sputtered and did nothing for three quarters. Meanwhile, the defense played well enough to win until the very last play of the game. The kicking game was atrocious, and I have some concerns about the offensive line. The run game was nonexistent for the Red Raiders and that is going to be a problem especially when the offense struggles for so long. Instead of keeping their foot on the gas, they just stopped completely until Wyoming caught up. Once this game got to overtime, I felt like Wyoming had the momentum, especially on that last drive when they converted a two-point conversion to win the game. Texas Tech was supposed to be a Big 12 title contender and instead, they look like a bottom feeder on Saturday night.