Kansas Jayhawks
Kansas AD Travis Goff Responds to How Jayhawks Would Handle a Big Ten or SEC Invite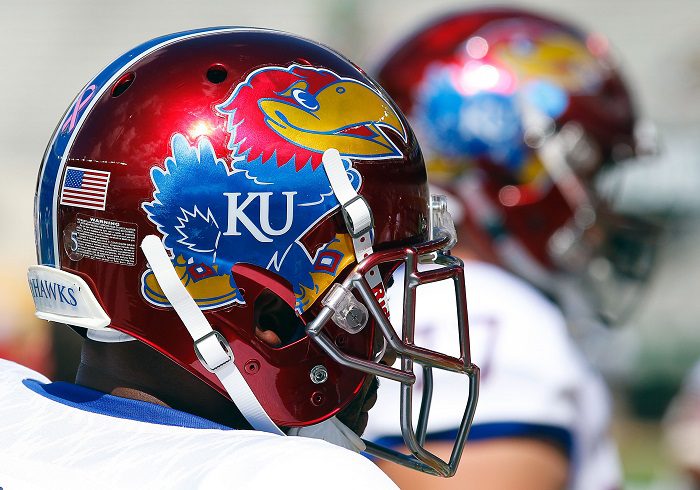 While conference realignment has been the main topic of the offseason so far for athletic directors everywhere, Kansas AD Travis Goff voiced his opinion on how his program would respond to an invite to join the SEC or Big 10.
Goff mentioned his excitement for the future of the Big 12 saying that the gameplan this offseason has been working on, "making the Big 12 better and stronger," according to a report from the Kansas City Star's Shreyas Laddha.
Laddha asked Goff for his opinion on rumors surrounding Kansas leaving the Big 12 in the future which prompted Goff to give a well-thought-out answer in response.
"Those are such complex situations that I don't think anybody could give an honest answer," Goff said. "You are talking so many variables. You are talking what's best for the broader institution, right? It's not just the athletics program. You're talking fiscally if it makes sense, and there are just not obvious elements of the financials."
Goff continued by saying, "So it's a really complex question. But what I can tell you is we are really enjoying and embracing being members of such a strong conference right now. It has, far-and-away, never felt as good as it does right now for me as the athletic director, being in the Big 12. We are focused on, 'Man, how do we help make the Big 12 better and stronger?' Then the second part is, how do we become a or the leader in the new Big 12?"
Goff's commitment to the Big 12 is refreshing to hear as the league continues to step in the right direction under commissioner Brett Yormark. Kansas played their first football game of the 2023 season on Friday night beating the Missouri State Bears 48-17 in Lawrence. They take the field next on Friday, September 8th against Illinois at 6:30 PM CT.