Big 12 News
Kansas Jayhawks to Wear Custom 'Blackhawk' Jerseys Against Illinois in Week 2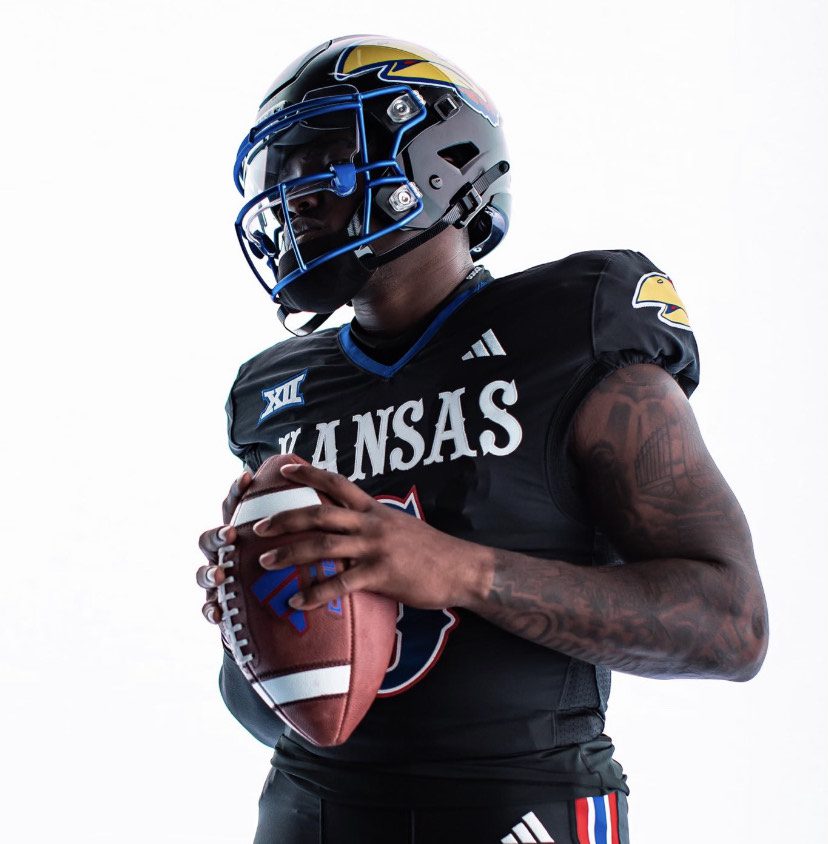 The Kansas Jayhawks stepped out on Sunday morning and announced some new swagger for their Week 2 matchup against Illinois.
The Jayhawks will be repping a new alternate helmet and jersey combination that features all-black gear which the program has labeled as the BLACKHAWK. Senior quarterback Jalon Daniels modeled the gear on social media which gave fans excitement for both the jersey release, and for his playing status on Friday.
The Jayhawks handled business in Week 1 against Missouri State, and while the team was without the Big 12 Preseason Player of the Year Jalon Daniels, redshirt senior Jason Bean stepped in and shined. Bean put together a solid outing going 22-28 for 276 passing yards and two passing touchdowns, while adding five carries for 41 yards on the ground.
Health has been a major concern for Jalon Daniels during his time in Lawrence as the California native has missed multiple games in each of his three seasons at Kansas. Daniels has been impressive when he's been on the field, and led the Jayhawks to a 6-7 record last season, earning the program's first bowl game appearance game since the 2008 season.
While the excitement for the new jersey announcement is one thing, excitement for Jalon Daniels is another. According to a report from the ActionNetwork's Brett McMurphy, Kansas will get a first look at Daniels on Friday night as he is expected to play against Illinois.
The Jayhawks will officially take the field sporting the Blackhawk alternates at 6:30 PM CT on Friday, September 8th, in Lawrence when the Fighting Illini come to town.