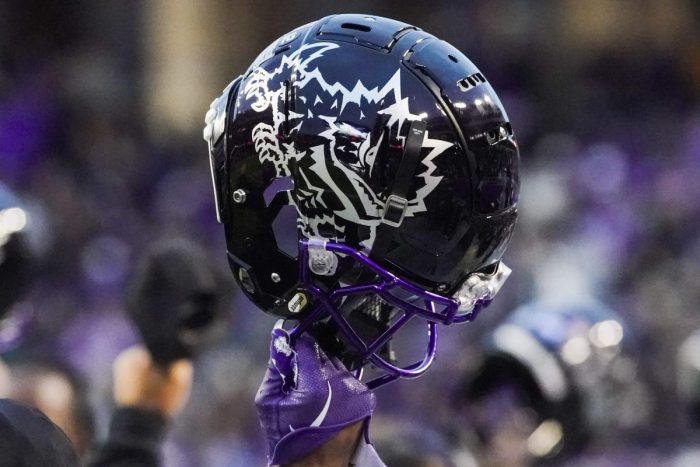 Here is everything you need to know ahead of the matchup between the TCU Horned Frogs and the Nicholls State Colonels.
GAME INFO
Saturday, September 9; 7 p.m. (CT); Amon G. Carter Stadium; Fort Worth, Texas
TV: Big 12 Now/ESPN+
Radio: Horned Frogs Sports Network, Brian Estridge, Landry Burdine, Chris Blake
2023 Records: TCU, 0-1; Nicholls, 0-1
Rankings: N/A
Series History: First meeting
Last Meeting: First meeting
Spread: No line.
Fun Fact: TCU tends to play Southland Conference teams in their annual FCS contest. In recent years the Horned Frogs have hosted Southeastern Louisiana and Stephen F. Austin, the latter of which is now in the United Athletic Conference (football-only).
KEY PLAYERS
TCU
RB EMANI BAILEY
Bailey started slowly against Colorado, with Trey Sanders (no relation to Colorado coach Deion Sanders) taking on the heavier load in the first half. But, in the third quarter, Bailey broke the game open. The junior chunked off two long runs en route to 164 yards on 14 carries. The only thing that slowed him down on Saturday was cramping, per coach Sonny Dykes. Bailey wasn't much of a part of the running back rotation last year, as he rushed for just 251 yards on 30 carries. But, the explosion was evident even then. And in 2021 with Louisiana he rushed for 642 yards on 102 carries and scored eight times. The explosion is there. So is the power. He just needs to hydrate.
S BUD CLARK
Clark did what Clark does on Saturday against Colorado — make plays. He co-led the team in tackles with nine. While he didn't manage an interception or sack, he was on patrol the entire game. It's probably just a matter of time for Clark in the interception department. Last year's All-Big 12 Honorable Mention had a team-best five interceptions, which was second in the Big 12 and tied for 11th nationally. He returned the last interception 41 yards for a touchdown for the first points of the game in the College Football Playoff Semifinal win over Michigan. So he can take it to the house if he's got the room.
NICHOLLS
QB PAT MCQUAIDE
The sophomore fro Solon, Ohio, got first crack to start for the Colonels this season. He spent 2022 at Mississippi Gulf Coast CC, where he was an All-South MACCC First Team honoree and totaled 2,730 yards passing, 24 touchdowns, 64.5% completion percentage and a 154.8 passer efficiency. Against Sacramento State — which went to the FCS playoffs last season — he went 15-of-29 for 196 yards, with one touchdown and one interception. He also scored a rushing touchdown. TCU's front seven is going to be a much different experience for the juco transfer.
DB ETHAN LEE
He returns from last season's team, and as a true freshman he played in six games and finished with with 20 tackles (12 solo) and 1.5 for loss. His season was curtailed by an injury. On Saturday against Sacramento State, he attacked the Hornets for 11 tackles, a team-high. So in his first game of 2023 he accumulated more than half of the tackles he did in 2022. That's a good start for the sophomore. The Colonels will need much of that on Saturday.
KEY STORYLINES
TCU
The Horned Frogs were not happy after the loss to Colorado. They directed most of that unhappiness at themselves. Dykes said the Horned Frogs played "like a team that knew they were better" than Colorado. He didn't want to use the word overconfidence, but that's basically what he was driving at. Defensive back Josh Newton provided basically one-sentence answers, but the disgust was evident. The good news is that TCU's augmented offense under new offensive coordinator Kendall Briles scored 42 points. The bad news is the unit that most expected to remain steady from last year — the Horned Frogs defense — got shredded by Colorado's offense. No one expected TCU to go another undefeated run like a year ago. The loss to Colorado stings and it gives Dykes and his staff a ton of stuff to coach to with one more game before the Big 12 opener against Houston.
NICHOLLS
There have been times in the past decade in which Nicholls has been a solid FCS program. The Colonels have won two Southland Conference titles since 2018 and been to the FCS playoffs six times. But, last season, as the Southland Conference continued to transition with new membership, the Colonels went just 3-8. The Colonels are breaking in a new starting quarterback and a new lead wide receiver. But, like the Horned Frogs, the defense is where the Colonels have more experience that they'll need to lean on. The Colonels hosted Top 10 Sacramento State last weekend and lost, 38-24.
PREDICTION: TCU 70, Nicholls 20
TCU is ticked off about losing to Colorado. The Horned Frogs are also ticked off about how they played. The Colonels are nowhere near the Horned Frogs' equals. This is a money game. Nicholls gets paid. TCU gets a chance to fully prep for Houston. Don't expect much.