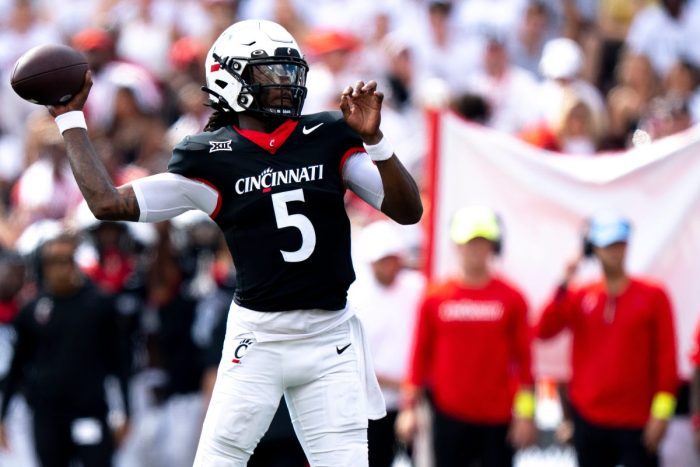 Here is everything you need to know ahead of the matchup between the Cincinnati Bearcats and the Pitt Panthers.
GAME INFO
Saturday, September 9; 5:30 p.m. CT; Acrisure Stadium, Pittsburgh, PA
TV: The CW
Radio: Bearcats Sports Network
2023 Records: Cincinnati, 1-0; Pitt, 1-0.
Rankings: N/A
Series History: Pitt leads series, 8-4.
Last Meeting: Cincinnati def. Pitt, 34-10 (2012).
Line: Pitt (-7.0)
Fun Fact: The two teams met on an annual basis from 2005-12 when both were in the Big East Conference. It was dubbed the River City Rivalry. But, before the Big East days, the two teams had met just four times from 1921 to 1981. Pitt won all four games. The first time Cincinnati beat Pitt was in 2008, when the Bearcats won at home. Of Cincinnati's four wins in the series, two have come in Pittsburgh and both at Acrisure Stadium.
KEY PLAYERS
CINCINNATI BEARCATS
QB EMORY JONES
Jones pulled off a double last week, as he was the Big 12 Offensive Player of the Week and Newcomer of the Week in the Bearcats' 66-13 win over Eastern Kentucky. The Arizona State transfer had more touchdown passes (five) than incompletions (four) and finished 19-of-23 for 345 yards and five touchdowns with no interceptions through the air. He added two rushing scores and 26 yards on the ground. The seven touchdowns by a quarterback set a school record. It was his first game with the Bearcats and Pitt's defense figures to provide a much stiffer tests. He now has more the 5,000 career passing yards at the college level with more than 50 total touchdowns.
OLB DANIEL GRZESIAK
The redshirt senior was one of several players on the defense that had good days against the Colonels. But he led the Bearcats with seven tackles, including two for loss and a sack. The Bearcats are only starting to get to know what the Utah State transfer can do, but he has a good track record. Last season he led the Aggies with 8.5 sacks and added 52 tackles, 13 tackles for loss and two forced fumbles. That was after three seasons at Nevada, where he had 7.5 sacks and 42 tackles. Given more opportunities, it appears Grzesiak tends to produce.
PITT PANTHERS
WR BUB MEANS
With a name like Bub, you have to write about him, right? He only caught two passes for 39 yards against Wofford, but he's going to be an important part of the Pitt offense, if it wants to be successful. He transferred from LA Tech, where last season he caught 27 passes for 401 yards, an average of 14.9 yards per catch, and caught two scores. His final game last season probably got him noticed before he hit the portal — four catches for 84 yards against UCLA, a game LA Tech won. His 17-yard catch late in that game set up LA Tech's game-winning field goal. He's looking for an even bigger role this season.
LB BANGALLY KAMARA
The senior only had four tackles on Saturday against EKU, but he's one of a number of linebackers that could have a really productive season for the Panthers. He's been with the program since 2020, when he played in every game but largely contributed on special teams. Last season he finally worked his way into the starting lineup and had 49 tackles, three tackles for loss, one sack, one interception and seven pass breakups. He is a player the Bearcats will have to deal with on Saturday.
KEY STORYLINES
CINCINNATI BEARCATS
As conference debuts go, the Bearcats couldn't have had it go much better. They absolutely dominated Eastern Kentucky, an FCS school that plays in the United Athletic Conference. And the Bearcats should have dominated. While EKU went 7-5 last year the Colonels should not have been a match for the Bearcats. What the game did for Cincinnati was allow them to figure out what pieces work best on offense and defense. For teams that play that "money game" in Week 1, that's the best thing you can get out of it. The Bearcats should have a much better idea of how to deploy personnel when they face the Panthers.
PITT PANTHERS
Pitt did exactly what it should have last week against Wofford. They beat the Terriers, 45-7, in a game that wasn't close. A game like that was important for Pitt as it works in a new quarterback after last year's starter, Kedon Slovis, transferred to BYU. Phil Jurkovec had a solid game, completing 17 of 23 passes for 214 yards. But he wasn't pushed by the Terriers. He and the offense will be pushed by Cincinnati's front four, which is perhaps the Bearcats' best overall position unit. With West Virginia coming up the following week for the famed "Backyard Brawl," Pitt wants to avoid looking ahead to its arch-rival and forget to take care of its nouveau riche rival from its Big East days.
PREDICTION: PITT 33, CINCINNATI 27
I'm expecting a close game here. Cincinnati proved it has some dynamite skill players last week. Pitt made good progress with a new QB. I'm giving it to the home team but this one won't be decided until late in the fourth quarter.