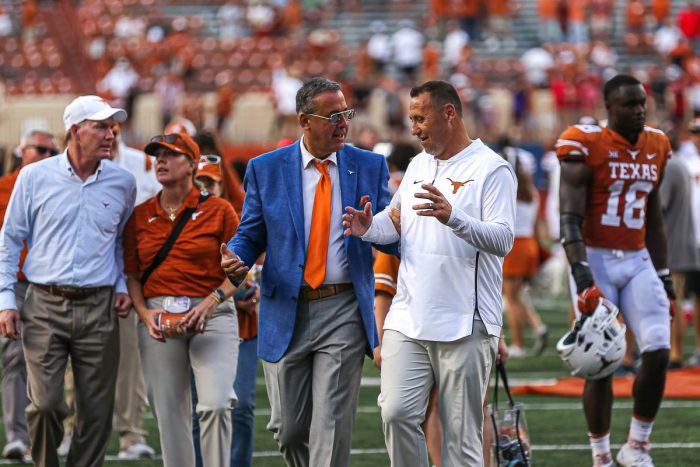 In 2022, the Alabama Crimson Tide took a road trip to Austin, Texas, to take on the Longhorns at Darrell K. Royal Stadium. In what ended up being a fantastic game, a 20-19 victory for Nick Saban and the Tide, fans had to miss out on a key part of the experience of an Alabama game: The Million Dollar Band.
Alabama's band didn't make the trip to Austin, but it wasn't because they weren't planning to. Texas administration set up the band to be seated in the upper deck of Texas Memorial Stadium, and as far away from the field as possible. As a result, they just decided to keep the band in Tuscaloosa.
Now, with Texas hitting the road this weekend to complete the home-and-home series, it's Alabama's turn to return the southern hospitality that the Longhorns showed last season.
In a recent interview with Tuscaloosa News, Alabama Athletic Director Greg Byrne said that the Tide plan to "reciprocate" the same kind of arrangement that they'd received in Austin.
"We are able to reciprocate a similar seating arrangement to what we had last year in Austin," Byrne said.
Since Texas isn't officially in the SEC yet, Alabama doesn't have to provide any tickets in the lower deck of Bryant-Denny Stadium, and it doesn't appear that they intend to. All 5,000 visitor tickets for Saturday's game, which include seats for the band, will be in the upper deck.
The Longhorns and Crimson Tide are set for a 6:00 p.m. CT kickoff on ESPN, with Alabama currently favored by 7.0 points.