Big 12 Previews
Oklahoma State vs. Arizona State: Preview, Prediction, and Game Odds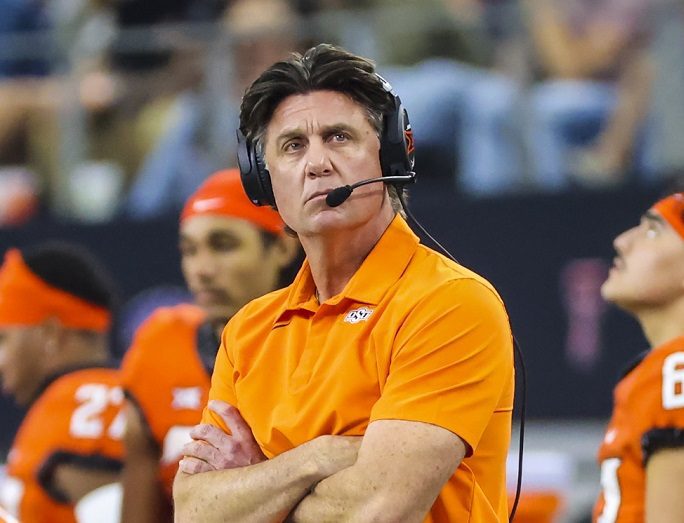 Here is everything you need to know ahead of the matchup between the Oklahoma State Cowboys and the Arizona State Sun Devils.
GAME INFO
Saturday, September 9; 9:30 PM (CT); Mountain America Stadium; Tempe, Arizona
TV: FS1
Radio: Cowboy Radio Network, Dave Hunziker, John Holcomb, and Robert Allen.
2022 Records: Oklahoma State 1-0, Arizona State 1-0
Rankings: N/A
Series History: Series tied, 2-2
Last Meeting: Oklahoma State 34, Arizona State 17 (2022)
Spread: Oklahoma State (-3)
Fun Fact: Saturday's matchup between Oklahoma State and Arizona State is projected to be one of the closest games of the Week 2 slate that features a member of the Big 12 Conference. Currently, the matchup between Boise State and UCF has the lead with a 2.5 spread, but with Gundy's squad going on the road, fans are in store for a great game.
KEY PLAYERS
OKLAHOMA STATE
QB GUNNAR GUNDY
While last week I listed each starting quarterback in Stillwater as players to watch, this week I'm shrinking that list. While Alan Bowman has been viewed as the starter in the eyes of fans for the majority of the offseason, both Gunnar Gundy and Garret Rangel outperformed him on Saturday. Gunnar Gundy seems to be the wildcard in the bunch as some fans believe that Mike Gundy is giving his son a shot because of his last name, but the reality of the situation is that Gunnar Gundy led back-to-back touchdown drives for the Cowboys in Week 1. Disclaimer: I don't fully believe that Gundy has the lead in the quarterback race yet, but if he can lead OSU to a win over Arizona State on Saturday, Mike Gundy may just give Gunnar the keys to the car.
S KENDAL DANIELS
Oklahoma State's defense was solid in Week 1 against Central Arkansas, and while the offense was the main area in need of improvement against the Bears, Kendal Daniels' name was called an awful lot on defense last weekend. The Cowboys' defense kept Central Arkansas in check on Saturday, and while there weren't a ton of big plays made by Bryan Nardo's unit, Arizona State should be a significantly taller task than that of Central Arkansas. Daniels finished off his first game with five and a half tackles against the Bears, and when going on the road to the house of a future Big 12 team, Daniels will be leaned on heavily to slow down the Sun Devils passing attack.
ARIZONA STATE
QB JADEN RASHADA
Arizona State head coach Kenny Dillingham elected to make the tough choice earlier this offseason and start a true freshman at quarterback, Jaden Rashada. Rashada was a four-star prospect coming out of high school listed as a top 50 player in the nation, which gave the Sun Devils coaching staff confidence in his ability to handle the task of starting. Rashada finished off Week 1 going 18-31 for 236 passing yards and two scores which helped lead his squad to a 24-21 win over Southern Utah, and while things went smooth in Week 1 for the young quarterback Mike Gundy and the Cowboys will be his biggest challenge to date.
KR ELIJHAH BADGER
While normally I like to go with one offensive player and one defensive player to watch, today we're switching things up and going with special teams. Junior receiver Elijhah Badger had one of the most heads-up plays of the week on a kick return before the end of the third quarter after landing on top of two of Southern Utah's defenders, keeping his feet under him and returning a kick 80 yards into the red zone. Badger also snagged three catches in the passing game for 19 yards, but with Mike Gundy's squad still figuring things out on special teams, Badger could break a big one in Saturday's matchup.
KEY STORYLINES
OKLAHOMA STATE
Who is the starting quarterback? Things have got to be figured out going forward because the stop-and-go pace of using three different quarterbacks is slowing the offense down. Gundy will most likely feature all three quarterbacks until someone stands out above the rest, and with a tougher opponent than last Saturday on the road at Arizona State, Gundy's decision may become clear against tougher competition. At this point the decision is slowing down the offense, whether it be Bowman, Rangel, or Gundy, things have got to get figured out.
ARIZONA STATE
This is your Big 12 moment. Arizona State was viewed in the eyes of Big 12 fans almost as a late add-in through expansion with the primary target being the Arizona Wildcats, and while the Sun Devils don't officially become a member of the Big 12 until 2024, Arizona State has a chance to take down one of the leagues biggest brands and showcase some upside to their new conference. It may be a tough ask of a true freshman quarterback to take down a solid defense in the Big 12, but if Rashada can follow up Week 1's performance with a solid outing, the Sun Devils should have a lot to look forward to.
PREDICTION: OKLAHOMA STATE 31, ARIZONA STATE 24
While I do think that true freshman quarterback Jaden Rashada is going to have some big plays, Oklahoma State is going to get the last laugh in the end. Mike Gundy's squad has been the subject of criticism all offseason with multiple departures in the transfer portal and a major question mark at the quarterback position, but all that chatter and disrespect only seems to fuel the Cowboys at some point. I don't know if Week 2 will provide an answer to the questions at the quarterback position, but I do think the Cowboys will jump out to an early lead and handle business on the road.