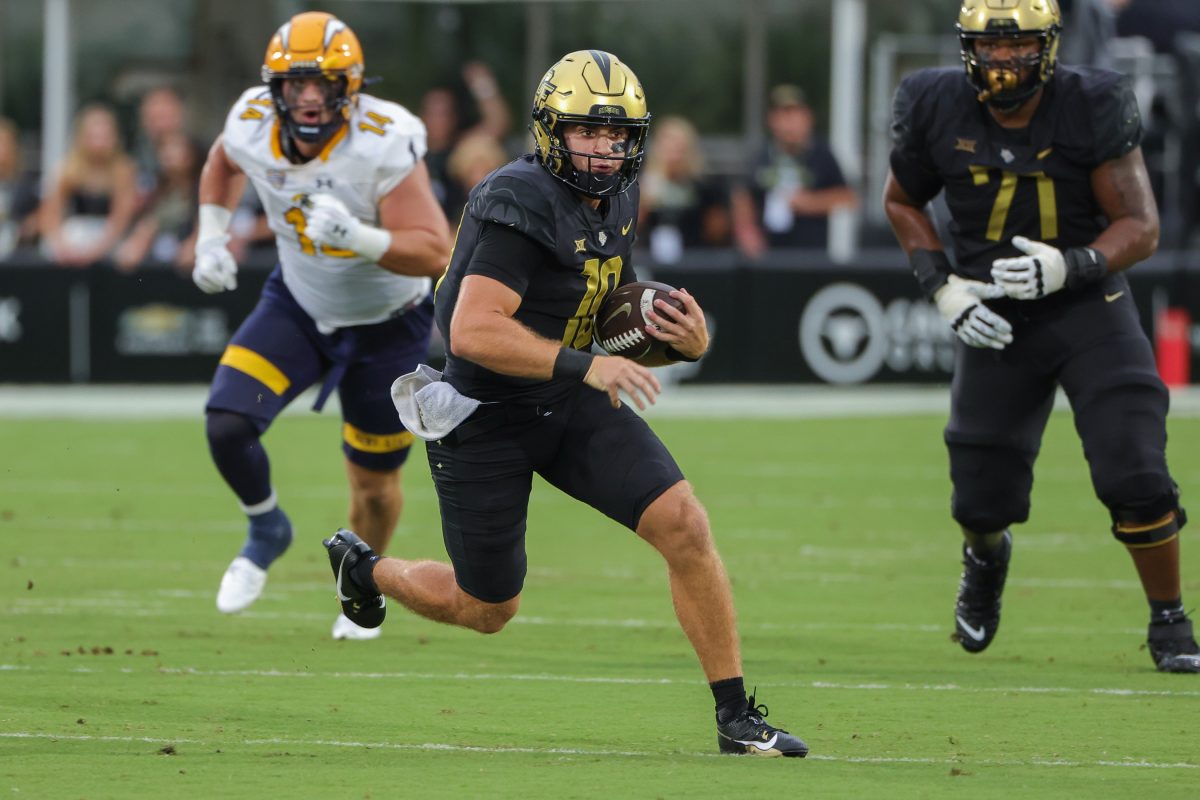 Here is everything you need to know ahead of the matchup between the UCF Knights and the Boise State Broncos.
GAME INFO
Saturday, September 9; 6:00 p.m. CT; Albertsons Stadium; Boise, Idaho
TV: Fox Sports 1
Radio: 96.9 The Game
Records: UCF (1-0); Boise State (0-1)
Rankings: N/A
Series History: UCF leads series, 1-0-0
Last Meeting: UCF 36, Boise State 31 (2021)
Line: UCF (-3.5)
Fun Fact: In 2021, Boise State jumped out to a 21-0 lead on UCF in the Bounce House and was up 24-7 until the 0:06 mark in the second quarter when Dillon Gabriel threw an 8-yard TD pass to make it 24-14. From there, Gabriel helped the Knights outscore Boise State 22-7 the rest of the way to win the game 36-31.
KEY PLAYERS
UCF KNIGHTS
QB JOHN RHYS PLUMLEE
All offseason, you've heard how incredible an athlete John Rhys Plumlee is, and last week, he put it on display. Albeit against a bad Kent State team, Plumlee racked up 371 all-purpose yards and four total touchdowns. Now, he made some bad decisions and had three turnovers in the game, so he will need to clean those up, but Plumlee is plenty good enough to be a problem for a Boise State defense that was just torched by Washington.
DE JOSH CELISCAR
UCF senior defensive end Josh Celiscar picked up right where he left off in 2022 by making an immediate impact against Kent State, making seven stops and 1.5 tackles for loss. Against Boise State, Celiscar will hope to keep Taylen Green in check, who will be just as much a threat with his legs as he is with his arm. The UCF defensive line caused all kinds of havoc against Kent State in Week 1, and if they are to do that against the Broncos, it'll start with Celiscar.
BOISE STATE BRONCOS
RB ASHTON JEANTY
Boise State quarterback Taylen Green didn't have a very good day against Washington this weekend, completing 19-39 for 244 yards and one score with two interceptions. However, his one touchdown went to Ashton Jeanty, who had himself quite a day. Jeanty finished the day with 10 carries, 44 yards, and one score on the day, but added four receptions, but 109 yards (27.3 ypc) and one touchdown as a receiver. Jeanty is the Broncos' leading returning rusher from a season ago when he totaled 821 yards and seven touchdowns.
CB JAYLEN CLARK
While there are not many positives to take away from a 56-19 loss, Boise State cornerback Jaylen Clark had a good individual performance against Washington. With six tackles, two tackles for loss, and a forced fumble, Clark was one of the lone bright spots on the Broncos' defense in Week 1, and will certainly be a factor in this game if Boise State is to pull off the upset against UCF on Saturday.
KEY STORYLINES
UCF KNIGHTS
Can John Rhys Plumlee keep the production while cleaning up the turnovers? While they didn't amount to much against Kent State, Plumlee's two interceptions and fumble would be costly against a team like Boise State. Can he find a way to still produce at the same level while taking better care of the ball against what should be a better defense this week? Only time will tell, but if he can't, Boise State is good enough to send UCF back home with a loss.
BOISE STATE BRONCOS
Can the Broncos bounce back from an embarrassing loss at the hands of Washington? There aren't many teams over the last two decades that have dismantled Boise State the way that the Huskies did last week, and it's certainly worth asking how it might affect the team. If Andy Avalos can turn things around and get the Broncos back in the saddle a week later, UCF could be in for a dogfight. If they dwell on what happened last week, UCF might walk in and thump them.
PREDICTION: UCF 31, BOISE STATE 27
I expect this game to be another down-to-the-wire thriller, with John Rhys Plumlee following in Dillon Gabriel's footsteps by orchestrating a come-from-behind victory. With a cross-country trip on deck, I have a feeling UCF might come out of the gate a little slow in this game. However, the UCF offense will get ramped up before halftime and be red-hot come the third quarter. Give me UCF to win and by just enough to cover the line.