Trending Now
Pat McAfee Rips Neal Brown After Penn State Loss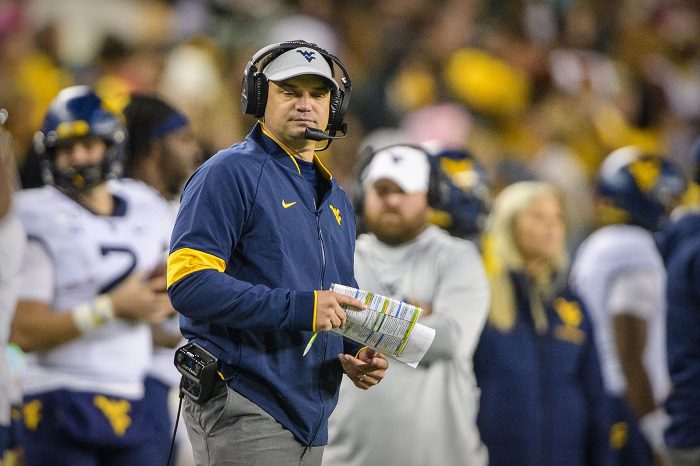 West Virginia opened up its 2023 season with a 38-15 loss to Penn State on Saturday, and Mountaineers' fans are already voicing their opinions on head coach Neal Brown.
The fifth-year head coach saw his career record with West Virginia fall to 22-26 with the loss to the Nittany Lions, in a game that looked within reach at halftime before Brown's squad was outscored 24-8 in the second half.
After being picked to finish last in the Big 12 this season, and starting off the season with 23-point loss, the Mountaineer faithful are already starting to lose patience.
Pat McAfee, host of the Pat McAfee Show and former Mountaineer and NFL punter, was open and honest about his feelings towards Brown at this point in his tenure.
"Boy oh boy, West Virginia fans are about done with ol' Neal Brown," McAfee said "Should not just be like such a miracle to think that we would beat Penn State six years into a guys' tenure. We're in the Big 12, got a lot of money, you know, we got an NIL thing…six years in, this is all your people, this is all your culture, this is all your thing.
"We're a Big 12 school, and we've had a lot of success before going against these big schools. Although the national audience might be like, 'What a surprise, little ol' West Virginia.' That should not be how it's viewed. You're in charge of winning games, and like, building. Instead, it's like, '[West Virginia], the MAC school, is going to play against Penn State.' That's how people are viewing it."
For McAfee, it wasn't just the loss that stung, but the Mountaineers' inability to cover in a prime-time game.
"My big realization while I was watching the game, realizing we weren't going to be able to win that is like, 'we should be able to,'" McAfee said. "We should at least have some sort of thought that we should win this."
The Mountaineers will hope to get things back on track this week as they play host to Duquesne on Saturday, with a chance to get back to 1-1.