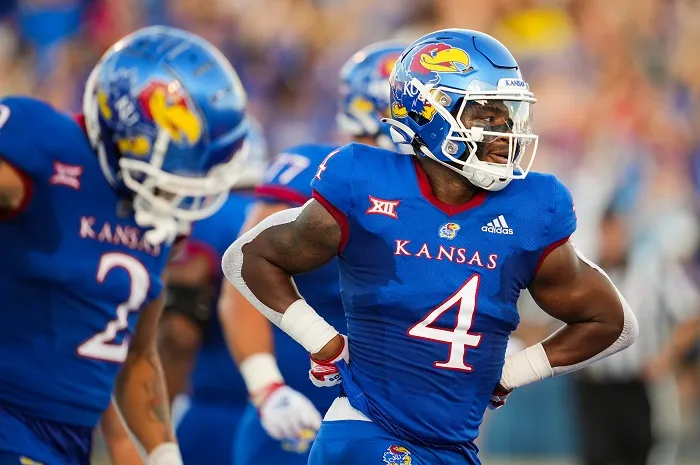 Kansas won their Week 1 matchup against Missouri State, 48-17, and did so without the Big 12 preseason Big 12 Offensive Player of the Year Jalon Daniels at quarterback.
Super-senior Jason Bean stepped in and threw 22-26 for 276 yards, calming the nerves of Jayhawk fans near and far.
All offseason KU boasted its depth and experience and it showed up big in the first win of the season. What will the Jayhawks need to do in Week 2 to move to 2-0 against a good Illinois team?
Keep Pounding the Ground
The Jayhawks were led on the ground by starting running back Devin Neal. He finished the game with 13 carries for 94 yards and added a touchdown on the ground and one as a receiver. Keeping Neal fresh and healthy will be critical to the Jayhawks' long-term success in 2023. That's why it is great to see the depth popping up already, even after just one week into the season. Georgia Tech transfer Dylan McDuffie had six carries for 40 yards and a touchdown. Sevion Morrison added eight carries for 41 yards and a touchdown. Daniel Hishaw, who is supposed to be the next man up behind Neal, finished with four carries for 27 yards and a touchdown. Hishaw's season ended early after an injury in early October last season and he's been on his way to recovery since. The Jayhawks can keep spreading the ball around the
the backfield, with Neal as the centerpiece, and they should all help keep the offense balanced as they face a tough Illinois defense in Week 2.
Illinois DL vs. Kansas OL
This will be a fantastic battle. The Illini front is not going to be pushed around very often and the Jayhawks offensive line will need to be ready for a battle. Kansas had a lot of success in Week 1, but that was against an inferior opponent. There was a fourth and one that Kansas wasn't able to convert against Missouri State. They can't have that happen against Illinois or the momentum could shift in favor of the Illini. If Kansas can make room for the running backs and help keep the starting quarterback upright, then the Jayhawks should be able to score enough points to come out of Week 2 with another victory.
Jalon Daniels Starting at Quarterback
Despite seeing starting quarterback Jalon Daniels sitting out week one due to a lingering back issue, the Jayhawks were able to get a solid outing from backup quarterback Jason Bean. According to a report from ESPN's Pete Thamel, Daniels is expected to start Week 2 against Illinois, but nothing is certain until we see him run on the field for the first drive. It would be a huge boost to the offense and the morale of the team to have Daniels out there starting against the Illini. Daniels can do certain things that Bean just can't do, and that's why the Jayhawks have an advantage with Daniels under center. Bean is certainly capable of pulling off a win at home against Illinois, but Daniels gives the team an even better chance to walk away from Week 2 with an undefeated record.
The Jayhawks have plenty of things they can work on from their Week 1 win to get better heading into Week 2. The Illini will be a step up in competition and the Jayhawks will need to put together a complete game in all three phases to walk away from David Booth Kansas Memorial Stadium with a 2-0 record on Friday night. The coaching staff should have the guys ready to go, it will be up to the players to execute the game plan.
Kickoff is scheduled for Friday night at 6:30 p.m. CT, with the game being televised on ESPN2.