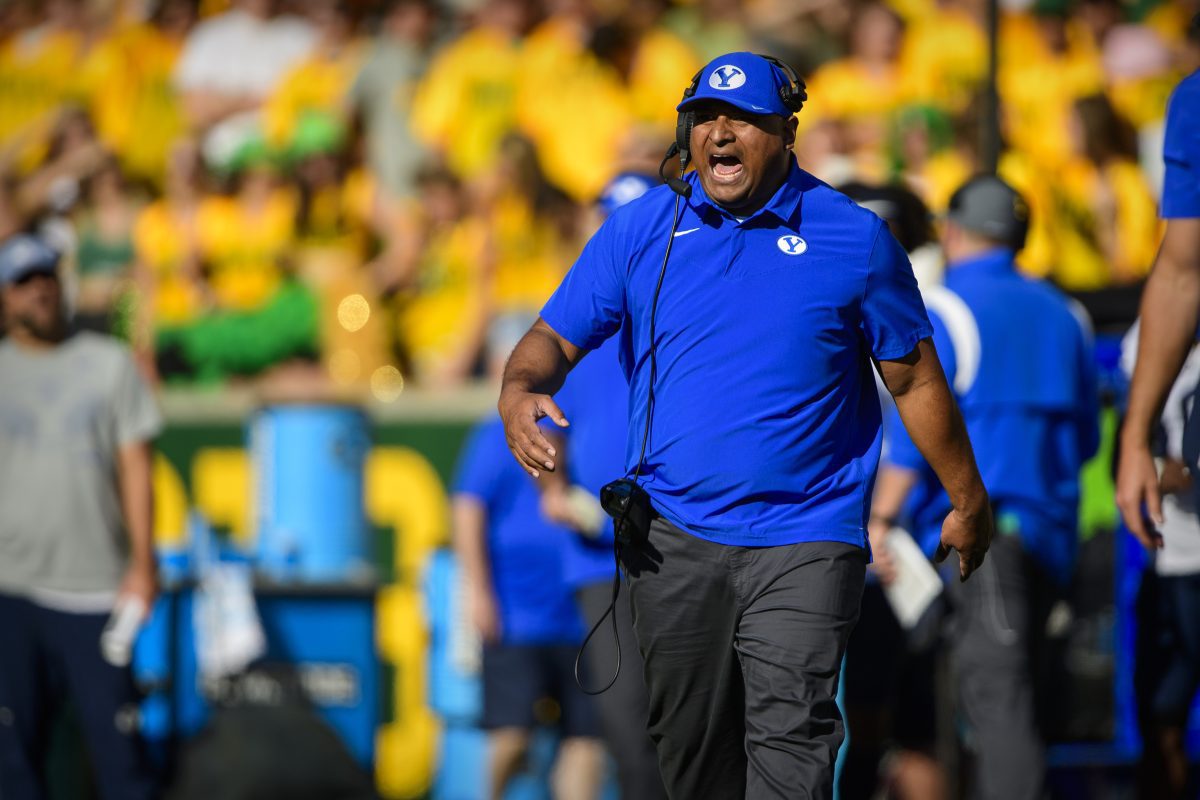 Here is everything you need to know ahead of the matchup between the BYU Cougars and the Southern Utah Thunderbirds.
GAME INFO
Saturday, September 9; 2 p.m. (CT); LaVell Edwards Stadium; Provo, Utah
TV: Big 12 Now/ESPN+
Radio: KSL News Radio 102.7 FM/1160 AM
2023 Records: BYU, 1-0; Southern Utah, 0-1 (FCS)
Rankings: Neither team is ranked.
Series History: BYU, 1-0
Last Meeting: BYU 37, Southern Utah 7 (2016)
Line: N/A
Fun Fact: Southern Utah was a member of the Big Sky Conference up until the 2021-22 season when it transitioned to the Western Athletic Conference. It still plays in the WAC, but for football, the Thunderbirds play in the United Athletic Conference, a football-only league made up of football-playing schools in the WAC and the A-Sun.
KEY PLAYERS
BYU
RB LJ MARTIN
Martin's 91 yards on the ground against Sam Houston (a 14-0 win) were the most from a BYU true freshman since Jamaal Williams' 104 yards versus Idaho in 2012. That's a significant development for the Cougars, who have had some talented running backs of late, including Tyler Allgeier. The Cougars signed Martin out of Canutillo High School in El Paso, Texas. Both of his parents played sports at Western New Mexico and his uncle, Will, played football at New Mexico. He'll get a chance to carve out more of a role this week.
LB BEN BYWATER
Bywater, along with Max Tooley, had nine tackles in their season opener against Sam Houston. The Cougars are glad they were able to keep the Salt Lake City product home when he signed with them in 2019. Last season Bywater led the Cougars with 98 tackles (31 solo) and became the first BYU player to lead the team in tackles in back-to-back season since Fred Warner did in in 2016-17. Entering this season he was the team's active leader in tackles with 215. Make that 224 after beating the Bearkats.
SOUTHERN UTAH
QB JUSTIN MILLER
The Thunderbirds went into Arizona State and threw a scare into the Sun Devils before losing, 24-21. Miller had something to do with that. He completed 8 of 17 passes for 123 yards and one touchdown. He finished with a passer rating of 127.2. Miller has been the Thunderbirds' starting quarterback since the Spring 2021 season, so he a ton of experience to offer in games like this. Last season he threw for a career best 2,824 yards with 20 touchdowns. BYU will need to pressure one of the Thunderbirds' steadiest players.
S GEORGE RAMIREZ
Ramirez had a great game against the Sun Devils, so much so that the coaching staff named him their player of the game. He had seven tackles and two pass break-ups. He also returned a punt 47 yards for a touchdown in the fourth quarter, a score that made it a three-point game midway through the fourth quarter. The junior hasn't been productive to this point for the Thunderbirds, but that looks poised to change. He had just 10 tackles last season, so he should pass that figure this weekend. He's a player to watch as they get ready for UAC play.
KEY STORYLINES
BYU
The Cougars won their debut as a Big 12 team, though it certainly wasn't pretty. The Cougars beat Sam Houston, 14-0, a team that was playing its first full-fledged game as an FBS school after being in FCS last season. The Cougars did record their first shutout of any kind since beating Savannah State, 64-0, in 2014. The Cougars were also one of two FBS teams to shut out another FBS team in Week 1, joining Oklahoma. Quarterback Kedon Slovis surpassed the 10,000-yard passing mark for his career and finished the night with 10,118 career passing yards. Jacob Robinson recorded his fifth and sixth career interceptions. There were plenty of individual achievements. There was also plenty left over for Kilani Sitake and his coaching staff to nit-pick about this week.
SOUTHERN UTAH
Southern Utah is one of those programs that played in a frustratingly tough conference for a decade — the Big Sky. The league is one of the toughest in FCS and regularly sends at least two teams to the postseason on a regular basis. Still, the Thunderbirds won the Big Sky title twice (2015, 2017) and made three FCS playoff berths. Oddly, the Thunderbirds lost two of those games to BYU's previous opponent, Sam Houston. They went 5-6 last season under first-year coach DeLane Fitzgerald and hope to improve on that this season in a UAC where they were picked to finish next to last.
PREDICTION: BYU 42, SOUTHERN UTAH 21
BYU will get the offense back on track this week. But don't expect the Thunderbirds to make things easy on the Cougars. This will be their second straight game against a Power 5 team and proved last week that being intimidated isn't their thing.