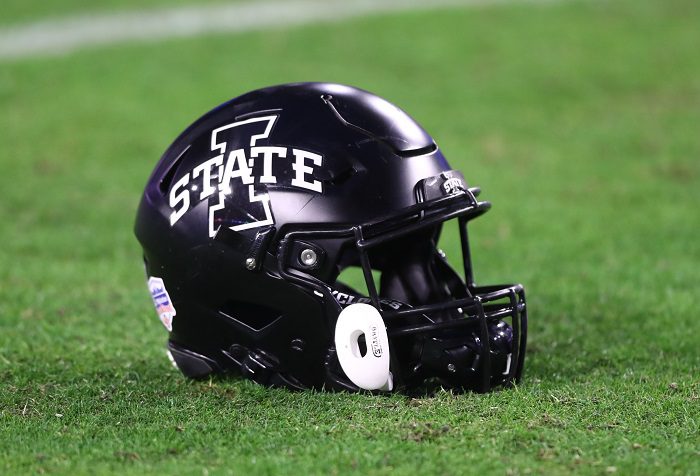 While the Cy-Hawk game between the Iowa Hawkeyes and the Iowa State Cyclones is one of the best rivalries in all of college sports, one Iowa State linebacker has a unique perspective on the matchup between state rivals.
Iowa State linebacker Caleb Bacon explored conversations of walking-on at one of the college football programs in Iowa when coming out of Lake Mills High School, and while the Iowa native was eventually offered a preferred walk-on (PWO) spot at Iowa State, the Hawkeyes did not give Bacon the same opportunity.
Bacon was asked by Travis Hines of the Des Moines Register about the recruiting process and how he found his way to Iowa State, to which the junior linebacker replied by saying, "Not many people believed in me, but Iowa State gave me an opportunity as a walk-on to come on. I talked to them [Iowa] a decent amount, but I never officially got a preferred walk-on (offer) from them."
Hines then asked if Saturday's game would feature any extra juices in Bacon's mind given the circumstances of Iowa State extending a PWO offer, and Iowa rejecting the idea completely.
"Everyone has a chip on their shoulder when you're a walk-on," Bacon said. "You've got to prove that you belong somewhere. You've always got that walk-on chip on your shoulder."
Caleb Bacon competed his way through camp and earned some series reps with the first team defense this season as the Iowa native finished his first game against UNI with three tackles and a team-high two-sacks against the Panthers on Saturday.
Bacon and the Cyclones take the field in Ames at 2:30 PM (CT) on Saturday for a Week 2 matchup against the Iowa State Cyclones. You can read our full preview of the game here.