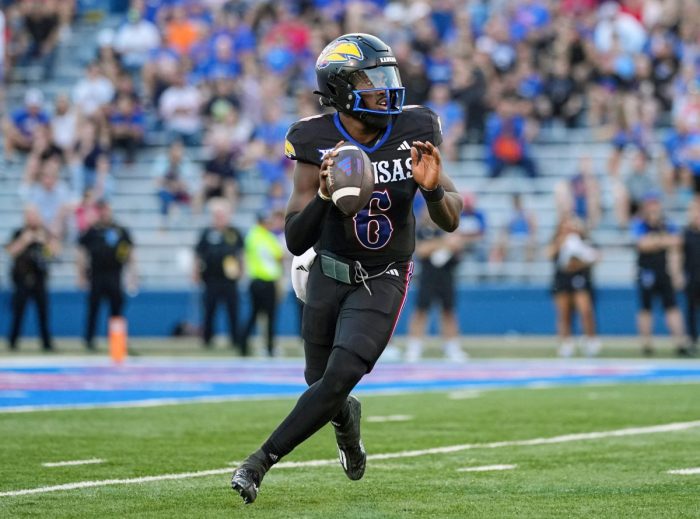 The Kansas Jayhawks opened up week Two for the Big 12 Conference on Friday night as they hosted the Illinois Fighting Illini. Both teams came into this game at 1-0 as Kansas beat Missouri State and Illinois took down Toledo in week One.
This was a key game because this is the biggest non-conference test for both teams before they enter conference play. In the end, Kansas took care of business at home, beating Illinois 34-23. Here are my four thoughts on the game.
Welcome Back Jalon Daniels
After sitting out the season opener due to a back injury, Jalon Daniels made his 2023 debut on Friday night. It didn't take long for Daniels to get things going as he threw two touchdown passes in the first quarter. He moved around extremely well as he showed us flashes of why so many people picked him as the Big 12 preseason player of the year. I wasn't sure if he was quite 100% out there, but he still put on a nice performance, and I can't wait until he is fully healthy.
The Run Game Took Over
As good as Jalon Daniels was in the first quarter, it was the run game that took over for Kansas. Devin Neal led the Jayhawks with 120 yards and a score while Daniel Hishaw Jr. finished with 98 yards and a touchdown. In the end, Kansas rushed for a whopping 262 yards against Illinois. The Fighting Illini had no answer for the Kansas rushing attack and I must give credit to the big guys up front for opening running lanes all game long. If Kansas is going to take that next step on offense this season, then the run game will have to play a big part in that like it did tonight.
The Defense is Still a Work in Progress
Last season Kansas had the worst defense in the Big 12. They were last in scoring defense, run defense, and third down defense. Friday night was far from a perfect performance especially in the second half. While the third down defense definitely needs to improve, I thought Kansas did an excellent job stopping the run. We all knew that Illinois is a run first team and for the Jayhawks to hold them 139 yards is impressive in my book.
What a Crowd
I have been covering the Big 12 Conference for a few years and watching Kansas games was always interesting to say the least. More times that not the atmosphere was dead, and the stands were empty for the most part. However, things are changing under head coach Lance Leipold. Just take a look at this crowd that showed up on Friday night.
There is excitement around the Kansas football program, and I could not be happier for this fan base. After years of irrelevancy, it is about time that football makes a comeback in Lawrence. Friday's win against Illinois, it marks the first time that Kansas has started 2-0 in back-to-back seasons since 2008-2009. I would say that things are looking up and hopefully they are just getting started.