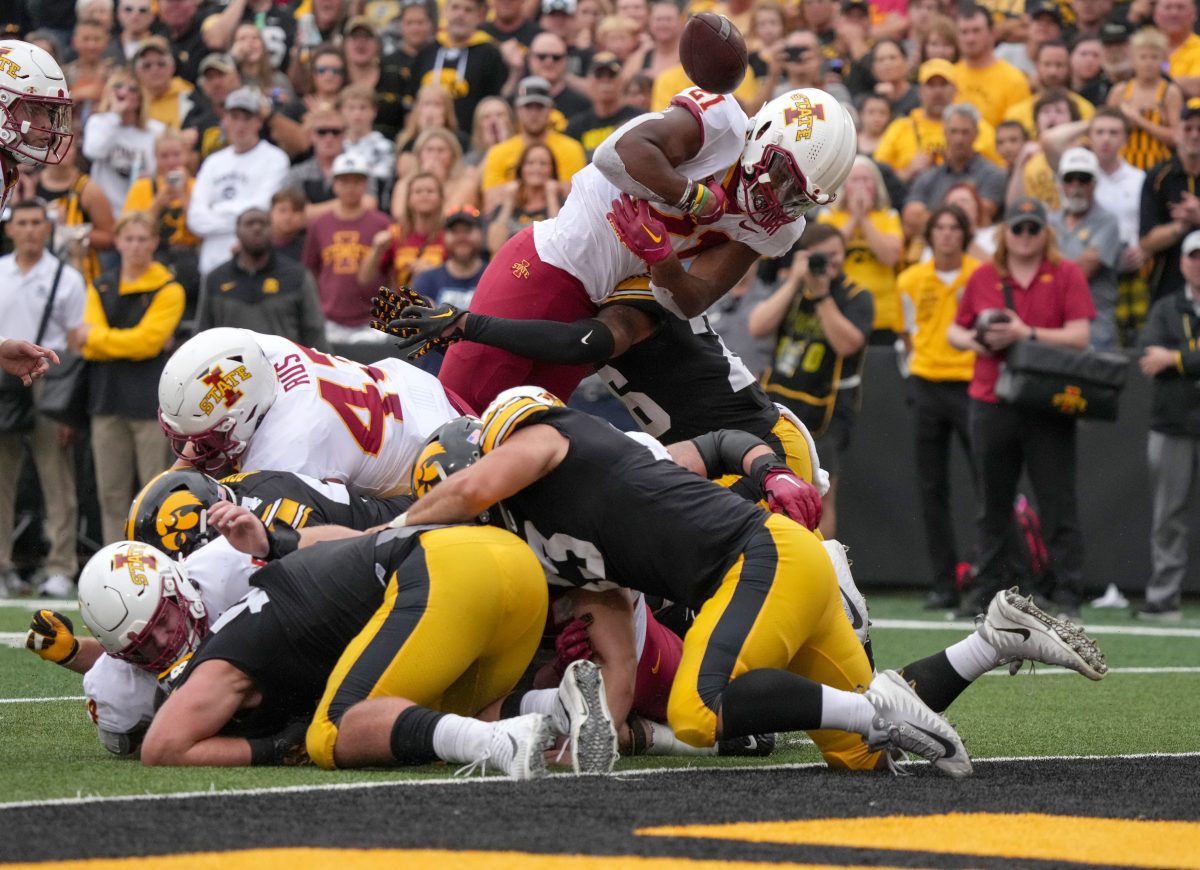 The second week of the 2023 season is chock-full of marquee nonconference games in the Big 12, with seven matchups against Power Five opponents.
After a Week 1 experience that left Big 12 fans less than thrilled, we are excited about the opportunities that the conference has to bounce back in a big way this weekend.
The Heartland College Sports staff has taken a look at this weekend's docket and each picked the game they are most excited about in Week 2. Let's see where they landed.
Pete Mundo
Cy-Hawk is one of the most underrated rivalries in college football. And this game will give us a great idea as to what exactly we can expect from this young Cyclones team this season. Iowa is a Top 25 team with a stiff defense and possibly an improving offense. If Iowa State wins this game, the narrative for the season changes for ISU. Plus, it should be a circus in Ames with multiple presidential candidates heading to the game this weekend. That's the icing on the cake for a great game in America's Heartland. Sign me up!
Bryan Clinton
I'm going to go out on a limb and say that this is the best nonconference game of the season, as it was in 2022. Last year's 20-19 thriller in Austin announced that Texas was capable of competing with the top teams in the country, and despite missing out on the Big 12 Championship Game, the Longhorns took a definitive step forward under Steve Sarkisian in Year 2. Now, with several pieces back from that squad and another offseason of experience for Quinn Ewers, Texas has the chance to return the favor by stealing a game on the road against their future SEC foe. However, that will be easier said than done. Over the last 10 seasons, Alabama is 67-2 in home games, and outside of a loss to Joe Burrow and LSU in 2019, they've won each of their last 52 home games. I'm not picking Texas to win, but I do think this game is decided by less than a field goal once again.
Matthew Postins
Cincinnati will face Pitt for the first time since the Big East days. Back then, it was the River City Rivalry (not to be confused with the Crosstown Shootout Cincy plays in basketball with Xavier or the Backyard Brawl Pitt plays with West Virginia). As I wrote in the preview earlier this week, they've only met a few times outside of the Big East days so I feel like the whole rivalry thing is a bit much. But, it's a big game for Cincinnati. The Bearcats blew out Eastern Kentucky and have two more games to prep for the Big 12 opener against Oklahoma. This is probably their best chance to gauge where they're at. Pitt is a solid Power 5 program and Cincinnati should come away with some solid feedback on what it needs to correct to be competitive against the Sooners. So I have a watchful eye on that one. Plus, hey — the CW makes its broadcast college football debut. At least they're on good terms with Spectrum, unlike some other broadcast outlets that shall not be named. So you'll get to watch it.
Joe Tillery
I think the UCF Knights are going to be one of the most interesting teams to follow in the Big 12 Conference this season. Now, after overwhelming a bad Kent State team in Week 1, they'll face a much stiffer test with a road trip to Boise State. The Broncos are coming off a blowout loss to Washington, but don't let that fool you. Boise State is plenty good enough to send the Knights home with a loss if they overlook their Week 2 opponent. Gus Malzahn's group throttled Kent State in Week 1 putting up 56 points in Thursday's outing, but when heading on the road to take on a crafty Boise State team, Week 2 could turn some heads.
Derek Duke
After losing to Wyoming last week, nobody outside of Baylor needs a bounce-back win like Texas Tech does. Going into the season, many folks (including myself) thought that the Red Raiders could be a dark horse Big 12 title contender. Their defense has plenty of experience and Tyler Shough has some weapons to throw to on offense. On Saturday, they welcome a very talented Oregon team that just put up 81 points last weekend. This is going to not only be a huge test for Texas Tech but the Big 12 as well. There was a lot of hype coming from Lubbock all offseason long and now it's time for that hype to become a reality against Oregon. This is a HUGE opportunity for Texas Tech to make a statement and put the whole country on notice.