Oklahoma Sooners
Kirk Herbstreit: Oklahoma is 'A Couple of Years' Behind Texas in Readiness for SEC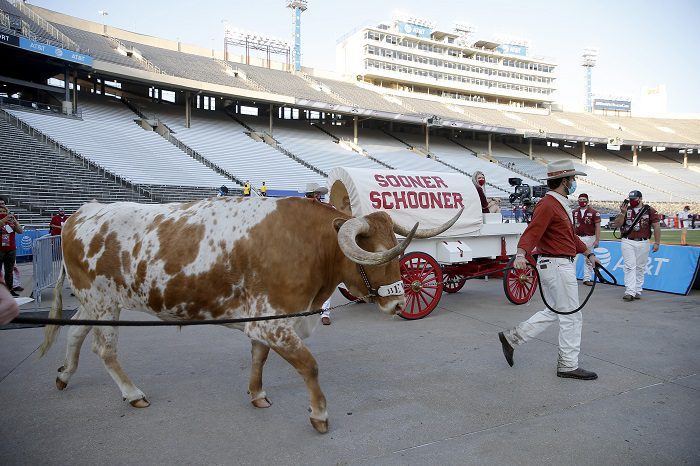 Kirk Herbstreit and ESPN will be one of the beneficiaries of Oklahoma and Texas' move to the SEC in 2024, as the "Worldwide Leader in Sports" will become the exclusive home of SEC football next year as well.
As a result, Herbstreit will undoubtedly find himself calling several Red River Rivalry games in the future, as the best rivalry in college football becomes an SEC tradition.
Herbstreit will be on the call for the Longhorns' clash with No. 3 Alabama this weekend as well, and met with reporters via Zoom this week to talk about the game, among other things.
During the call, Herbstreit was asked whether Oklahoma or Texas is better prepared for their move to the best conference in college football.
His answer? The team from South of the Red River.
"If you look at Oklahoma and you look at Texas, right now the rosters … Now, Brent Venables is a couple years behind where Sark is, but it just feels like when you look at Texas, they're closer to being where you need to be than I think where Venables is currently," Herbstreit said, according to Tulsa World's Eric Bailey. "But I think he'll be there as well because he understands it probably as well as anybody.
"He'll get that program eventually there, but right now Texas, I think, is … I think they're ready to compete. So we'll see how it goes."
This weekend would've been a perfect litmus test for that theory had the SEC not canceled Oklahoma's matchup with Georgia that was set for this week.
Having the Sooners and Longhorns face the big dogs of the SEC this weekend would've been a perfect measuring stick to see where these programs stand heading into their new venture a season from now.
Still, seeing Texas go into Bryant-Denny Stadium will give us a clue about where the Longhorns are, but we'll likely have to wait until OU faces their arch-rival in Dallas in October to see if the Sooners' roster has improved dramatically from a 6-7 debacle a year ago.