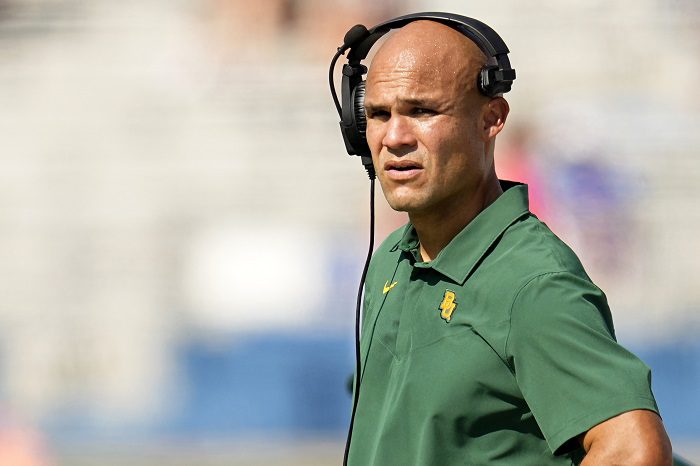 The Baylor Bears entered Week 2 after a brutal Week 1 loss to Texas State, a game in which they were favored by four touchdowns. But BU had a huge chance to bounce back in Week 2 taking on a Top-15 team in Utah, who came to Waco after beating the Florida Gators in Week 1.
This also happened to be a future Big 12 match up, as the Utes are set to join the Big 12 Conference in 2024, along with Arizona, Arizona State and Colorado. So we got a glimpse of the future of the league on Saturday.
With that being said it was Baylor coming up short with a 20-13 loss to Utah. Here are four thoughts on the game.
Brutal Final 10 minutes
Everything was going Baylor's way, until it wasn't. The Bears had a 13-6 lead early in the fourth quarter, but then Utah put together a 15-play, 88-yard drive that took over eight minutes off the clock and ended with a Nate Johnson touchdown run. At that point, the game was tied at 13 with two minutes left and Baylor having the ball for a chance to take down the field a win the game. But Baylor had an awful series: A false start, a one-yard loss, then Sawyer Robertson missed Hal Presley, who had created separation down the right sideline, and that play was followed by a Robertson interception, with Utah taking over at the Baylor 29-yard line.
Utah then capped off a six-play, 29-yard drive in 1:18 with a Jaylon Glover 11-yard touchdown run. Baylor's defense seemed completely gassed over the final two drives and a game that was right in their hands and would have completely turned around their season ends up as a loss. That stings.
No Pass Interference?
Baylor did have a chance to try and tie the game with one second remaining from the Utah 22-yard line. Robertson heaved one towards the end zone and there was clearly a pass interference on Utah. I understand the refs don't want to decide the game, but if that's the case then they should just leave the field in the last minute, because this was clearly a PI that should have been called.
Take a look and tell me how it's not.
Baylor Won the Trenches
One of the biggest concerns going into this game was how Baylor would handle the trenches in this game after looking very overmatched in this area last week against Texas State. But Baylor actually more than held its own, it won in the trenches. Baylor had three sacks and six tackles for loss with Gabe Hall leading the way with one sack and 1.5 tackles for loss. And then on the other side, Baylor's offensive line was improved, not allowing a single sack and holding Utah to only three tackles for loss. The front seven did end up getting gashed on those last two drives on the ground, but notably before then Baylor looked much improved in this part of the game.
Utah Will Be Fun in the Big 12
Utah fans showed up in Waco in a BIG way, which they deserve credit for. It was like the Utes fans were giving the entire Big 12 a glimpse of what's to come when they join the league. It looks to me like they will travel well come 2024. And adding Utah to this league is going to be a blast. They have arguably the most underappreciated coach in college football in Kyle Whittingham, who is in Year 19 with the Utes, the second most with one team in the sport, trailing only Iowa's Kirk Ferentz, and tied with Mike Gundy.