Oklahoma Sooners
Brent Venables Leaves Jeff Lebby Out to Dry Over Fake OU Media Outrage Regarding Art Briles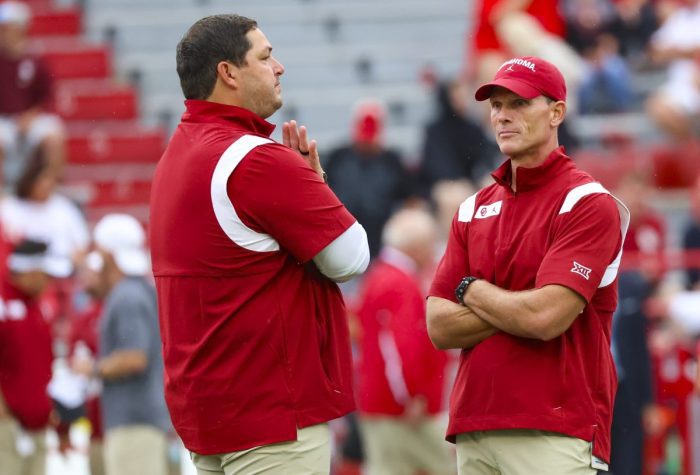 After Oklahoma handled SMU 28-11 on Saturday night in Norman, the top story appeared to be something that took place well after the game ended.
Former Baylor coach Art Briles was on the field well after the OU win was wrapped up, where he was spending time with his son-in-law and Oklahoma offensive coordinator Jeff Lebby.
This led to plenty of questions in the post-game press conference. Most notably, head coach Brent Venables told the media he was unaware Briles was on the field after the game, and, "That's being dealt with."
Venables was then asked about the alleged "strong fan reaction" to seeing Briles, to which the head coach said, "I've had not time to think about any of that."
Then, Lebby was also asked about Briles' appearance and said, "That's my father-in-law. That's the grandfather to my two kids. He was down with our entire family after the game, well after the game. But he was down there with the entire family."
The answer was followed up by notable Oklahoma media softie and anti-science COVID-vaccine shamer Guerin Emig, who said, "I think there's going to be people who have trouble squaring that."
Lebby said, "Again, he's with his entire family. He's my father-in-law and the grandfather of my two kids."
Jeff Lebby is absolutely right and good for him for not backing down. It's too bad Brent Venables didn't have the same forcefulness in basically telling the soft OU media, or at least those who insisted on pursuing this storyline, to stuff it.
Venables willingly hired Jeff Lebby, knowing full well who his father-in-law was and knowing that it was entirely possible he would be attending OU games. If Venables was that bothered by the potential appearance of Briles anywhere near his program, you'd think he would've had that conversation with Lebby well before he hired him in 2022. Or, ya know, just have not hired him.
If Venables did have some "rule" regarding Briles' appearances and Lebby broke that "rule", then that's an entirely different conversation. Something tells me that's not the case here, though.
I'm not here to be an Art Briles apologist. He made some enormous mistakes during his time at Baylor that are inexcusable. I don't know the man, but based on his handling of the Baylor program, I would not hire the man to clean the toilets in my athletic department. But that notion that we are going to have morality tests for every person who steps onto a football field well after a game ends is totally made up media outrage. Anyone who can think for themselves knows that.
The Oklahoman ran the headline that OU fotball fans "upset" by Briles. Which fans? The ones that follow the writer on X? His six friends? Who exactly? Was there a poll done of the millions of OU football fans?
It's all for pushing a narrative and appearing morally superior with the faux outrage. That's about the only thing most of media are good at these days.
My guess on what the majority of OU fans would say to this story is, "Who cares? We won the game, right?"
Update, Sunday, September 10th, 8:00 a.m. CST:
Since the publishing of this column, Oklahoma AD Joe Castiglione released the following statement:
"I was just as disappointed as many of our fans when I learned of the postgame situation tonight. It shouldn't have happened and it was my expectation it never would, based on boundaries we previously set. I've addressed it with the appropriate staff."
As I noted earlier in the column, if there were guardrails put up regarding Art Briles and his association with the OU football program in any capacity, and Lebby violated them, then that changes this conversation. However, based on Lebby's initial response, he did not come across like a guy who was "caught" and knew he was in the wrong. If he was, then obviously that's on him.
But regardless, this storyline remains manufactured outrage by OU media, looking to showcase their holier-than-thou approach that so many in the industry strive for on a daily basis. It's obvious to anyone who has been around this business longer than five minutes.