Big 12 News
Greg Sankey Responds to Brett Yormark's Comments About Texas Tech and Texas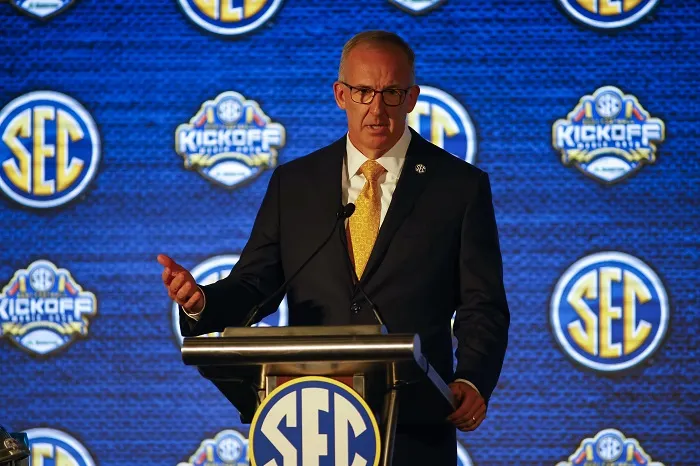 Big 12 Commissioner Brett Yormark caused some controversy last month when he visited Lubbock, Texas and made comments about Texas Tech's final game of the regular season against Texas.
Yormark said at the time, "Coach (Joey McGuire), I'm not going to put any pressure on you, but I'm going to be in Austin on Thanksgiving. And you better take care of business like you did right here in Lubbock last year."
SEC commissioner Greg Sankey was asked about these comments by the Texas media on Saturday night prior to the Longhorns taking on Alabama in Tuscaloosa, and said, "I spoke to both campuses right after. I'm sure Brett expects the PAC-12 to treat the four departing members respect as they leave. I know Texas and Oklahoma and myself expect that kind of respect to be reflected toward Oklahoma and Texas."
It seems like Sankey is making something out of nothing, in this case. But he's clearly playing into what the Texas media wants, which is to view themselves as the victims as they depart the Big 12 after being the catalyst for the conference's potential destruction on multiple occasions over the last 15 years.
The Red Raiders take on the Longhorns in their final regular season football game as a member of the Big 12 Conference on November 24th, and with both teams finishing in the top four schools in the recent Preseason Big 12 Media Poll, the game between these two rivals could have some major playoff implications.
Texas Tech was victorious in 2022 when the Longhorns came to town as Joey McGuire and the Red Raiders sent Steve Sarkisian's bunch packing following a 37-34 win in overtime on September 24th.