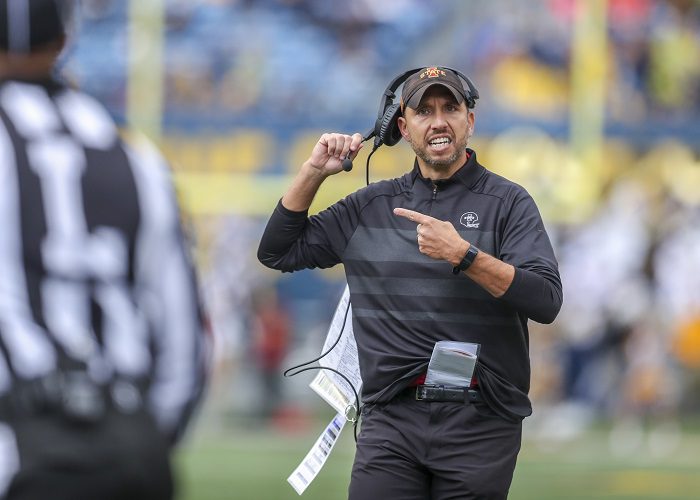 Here is everything you need to know ahead of the matchup between the Iowa State Cyclones and Iowa Hawkeyes.
GAME INFO
Saturday, September 9th, 2:30 p.m. CT; Jack Trice Stadium; Ames, Iowa
TV: FOX
Radio: Cyclones Radio Network (John Walters)
2022 Records: Iowa State (1-0), Iowa (1-0)
Rankings: Iowa: No. 25, Iowa State: NR
Series History: Iowa leads 46-23
Last Meeting: Iowa State won 10-7
Spread: Iowa State +3
Fun Fact: Last season's win over Iowa was Matt Campbell's first against the Hawkeyes and the first for Iowa State in the series in 2014.
KEY PLAYERS
Iowa State Cyclones
QB Rocco Becht
Welcome to the big leagues, young man. Becht was thrown into the starting role after an offseason that saw last year's starting QB Hunter Dekkers caught up in the gambling investigation. The former four-star recruit saw action in three games last season and played a clean game in his first career start going 10/13 for 113 yards and two touchdowns. But now, the competition takes a huge step up taking on Iowa.
Linebacker Caleb Bacon
Bacon is one of the many new faces making a name for themselves for the Cyclones. Bacon had five tackles on Saturday against Northern Iowa, including two sacks and two tackles for loss. He's going to have to be very active on Saturday against Iowa to pull off the win, as will the rest of the Iowa State defense.
Iowa Hawkeyes
QB Cade McNamara
McNamara, who transferred from Michigan, was listed as questionable for the opener with a quad injury to his right leg he suffered during an open scrimmage on August 12, but he finished 17/30 for 191 yards, two touchdowns and zero interceptions. McNamara gives the Hawkeyes the ability to get the ball downfield in a more effective way than they have in a long time.
CB Cooper DeJean
DeJean set the Iowa single-season record with his three pick-sixes last season. He was also named the MVP of the Music City Bowl after helping the Hawkeyes to a 21-0 victory over Kentucky. He was a Preseason All-Big Ten selection and started off this season with seven tackles on Saturday, which was the second most on the team. Now, he has the chance to take advantage of a young Iowa State quarterback on Saturday.
Key Storylines
Iowa State
How do these young guys respond to this rivalry game? There are so many new faces involved in the rotation this season and many of them have not seen playing time in a game of this magnitude. It's always been a rivalry, but feels like Cy-Hawk has been taken to a new level since Iowa State became a high-quality program under Matt Campbell. Rivalries are where stars can be born, and if ISU pulls off the upset, we may have a couple of household names coming out of this game.
Iowa
Iowa averaged 251.6 in total offense in 2022, the worst in Power 5 play, 130th nationally and the lowest among Big Ten teams since at least 1999. But, is this a different Hawkeyes team, or at least a different approach, than what we've seen during Kirk Ferentz's 25 years on the job?! I bring this up because Cade McNamara's first touchdown pass of the game last week was the first passing touchdown on the opening series of the season in Ferentz's quarter of a century as the Hawkeyes' coach, and the first for an Iowa team since 1991. If Iowa is suddenly a team that is willing to chuck the ball around a bit (welcome to the 21st Century, Hawkeyes!), then the tape of last season will not mean as much.
Prediction: Iowa 17, Iowa State 13
Iowa can compete atop the Big Ten West this season if it can get just a little bit more from the offense under McNamara. Iowa also dipped into the portal for help along the offensive line and at receiver. Defensively, Iowa reloads, and will have enough to keep a young Iowa State offense in check. That's what this game will come down to, Iowa has the experience and depth that will prove to be enough against the Cyclones on Saturday.