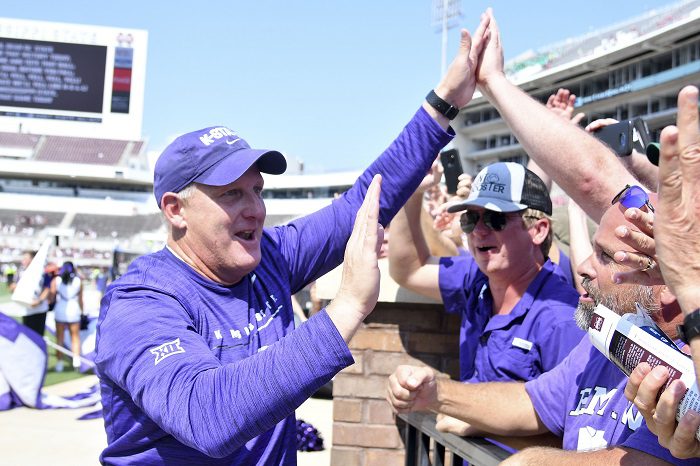 Kansas State kicked off Week 2 of the college football season with a matchup against the Troy Trojans on Saturday at Bill Snyder Family Stadium after routing the SEMO Redhawks in Week 1. The Trojans entered Manhattan boasting a perfect 12-0 record over their last 12 games played including a Sun Belt title and a bowl win over the UTSA Roadrunners. Chris Klieman's group put the Trojans down to the tune of a 42-13 blowout win in Manhattan to give the Wildcats a 2-0 record before heading down the road to Colombia. With that said, here are my three thoughts on the game.
1. HOWARD'S CONFIDENCE
Will Howard is an absolute dog for the Wildcats and the senior quarterback showed his stuff again in Week 2. The Trojans' defense has been talked about all offseason as one of the better units in the country despite being in the SBC, and while Troy's defense made some key plays on Saturday, Howard's heroics led the Wildcats to an easy win.
Howard finished his day off with five total touchdowns bringing his season total to nine on the year. The Pennsylvania native commanded the Wildcats' up-tempo offense with ease dicing up the Trojans for 250 passing yards, three scores through the air, and two on the ground to cap off his day. Howard's performance did have one slight blemish with a second-quarter interception that he elected to throw into double-coverage, and while Howard seems to have unlimited confidence in his arm, mistakes like that could become an issue if left unchecked.
2. BIG DAY FOR PASSING
While Will Howard was spectacular through the air, his receivers were even better. Four receivers showed up big for K-State on Saturday with Phillip Brooks, Jadon Jackson, RJ Garcia, and Keegan Johnson all making plays contributing to a total stat line of 229 all-purpose yards and three scores against Troy.
Brooks was the leading receiver for the bunch with seven catches for 94 yards, and two total touchdowns (one rushing, one receiving). While Iowa transfer Keegan Johnson may not have seen the field for many snaps in the Wildcats Week 2 win following an injury that kept him out in Week 1, the bank native showed off his hands bringing in some impressive catches from quarterback Will Howard. While the wide receiver group may have been viewed as a problem spot for K-State at the start of the season, Matthew Middleton's group put on a solid performance against a crafty Troy defense and put those notions to rest.
3. CHRIS LEWIS
The Troy Trojans showcased the second coming of Randy Moss on Saturday against the Wildcats and I'm only slightly exaggerating. Sophomore wide receiver Chris Lewis made some unbelievable plays during Saturday's matchup including back-to-back highlight one-handed grabs.
Lewis brought in the Trojans' lone score on the afternoon in the second quarter after being Kansas State corner back Jacob Parish for a 21-yard score that was brought in with one-hand. Superstar stuff from Chris Lewis.