featured
Three Thoughts on Oklahoma's 28-11 Win Over SMU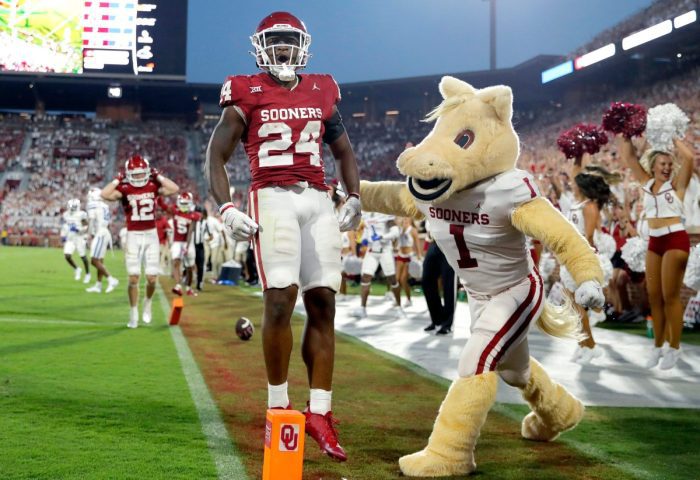 It may not have been how Oklahoma fans are used to seeing things play out on Owen Field, but the Sooners found a way to win, and cover, with a 28-11 victory over SMU on Saturday night.
After a slow offensive start, Oklahoma's defense was able to keep the Mustangs' offense under check until the Sooners could score two fourth-quarter touchdowns to pull away and win comfortably.
The win moves the Sooners to 2-0 heading into their first road at Tulsa, while SMU drops to 1-1 ahead of a home date with Prairie View A&M.
Here are three thoughts on the game and what it means going forward.
The Oklahoma Defense Might Actually Be Fixed
Rhett Lashlee's SMU Mustangs have a prolific offense, and it's a unit that will likely cause all kinds of issues in the American. However, on Saturday night, Brent Venables' squad made sure that SMU's offense produced a bunch of empty yards. The Mustangs had 357 total yards on the evening, but it only amounted to 11 points. Oklahoma forced two turnovers, including a late red-zone interception by Justin Harrington to keep the Mustangs out of the endzone. The Sooners held SMU to 4-16 on third down and 2-4 on fourth down conversions, and outside of one penalty-laden drive, the unit was excellent at getting off the field. It's clear that Brent Venables' fingerprints are all over this defense in 2023, and that is starting to pay dividends, as OU ranks near the top of the nation allowing just 5.5 points per contest.
Danny Stutsman, Tawee Walker Turn In Career Nights
In what ended up being a very balanced football game, the Sooners had two key players turn in career games. Linebacker Danny Stutsman was an animal defensively, turning in 17 total tackles (10 in the first half), 2.5 tackles for loss, and a sack. As was the case last season, Stutsman continues to be a field general for the Sooner defense and showed up in a big way while the OU offense got up to speed. On the other side of the ball, running back Tawee Walker turned in a big night, toting the rock for 117 yards on 21 carries, which breaks out to 5.6 yards per carry. Walker also added three receptions for 25 yards, putting him at a total of 142 yards on 24 touches.
The Offense Sputters, But Finds Success Late
For years now, Oklahoma has been synonymous with offense, pacing the nation statistically many times. However, tonight showed the Sooners' ability to win a game defensively, holding SMU to 11 points while OU finished the night with only 28 points on the board. It was the first time that Oklahoma has won a game scoring less than 30 points in the Venables' era. The Sooners totaled 365 yards offensively, with 189 on the ground and 176 through the air. It wasn't quite the performance that many have come to expect in Norman, but it ended up being a winning formula after all. At times, fans seemed frustrated with Jeff Lebby's decision to run the football in third-down situations, but given the overall performance tonight, I'm sure the offensive staff will take this and learn from it. Entering the fourth quarter with a 14-3 lead, Oklahoma's offense finally found pay dirt with touchdowns from Jalil Farooq and Marcus Major to seal this one up.