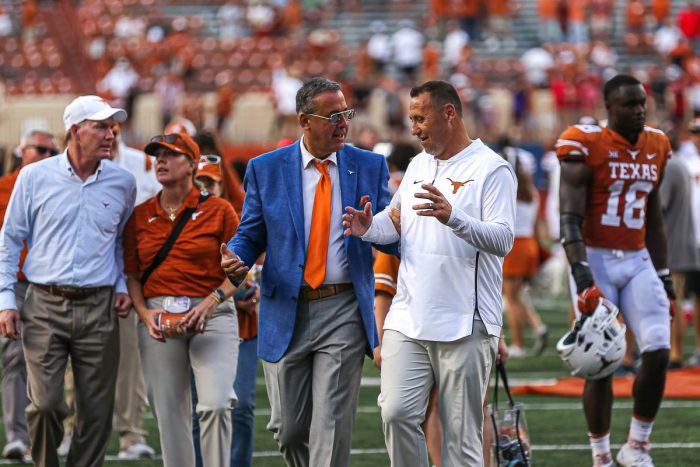 What's going on in the Big 12 and beyond? I expand and explain every Sunday in Postscripts at Heartland College Sports, your home for independent Big 12 coverage.
This week, is Texas … really …. Back? Also, why we're still covering the Longhorns and the Sooners and it's Big 12 Homecoming.
Is Texas Back?
You've heard it before. If Texas football post-Mack Brown had a greatest hits album, "Texas Is Back … Back Again" to the melody of Eminem's "Guess Who's Back" would be the first track.
So what to make of Texas' 34-24 win over Alabama, the Longhorns' first win over the Crimson Tide since … gulp … the 1982 Cotton Bowl? By the way, Texas and Alabama have only played 11 times so that's not as insane as it sounds.
First, quarterback Quinn Ewers met the moment. He was calm. He was confident. His play backed it up. Everything he did Saturday had an air of "I got this." His mistakes were rare. It's the kind of confident quarterback play a team like Texas needs if it's truly "back."
Second, head coach Steve Sarkisian called a really good game. We was aggressive. But he was also aggressive at the right moments and accepted points when needed. I think about the early field goal in that game. Sark could have gone for it and tried to be truly aggressive. But, at that moment, Alabama's defense was really stuffing the run and it was probably too risky. Good for him for taking the points.
Third, this team is incredibly talented and, at least on this Saturday night, the talent was cohesive and focused. The secondary was burned deep a couple of times, but overall the defense made Alabama's life really difficult on offense. They made a young and talented, but limited quarterback in Jalen Milroe look, well, young and limited. Their pass rush was impressive.
Finally, Texas met the moment by taking Alabama's best shots in the second half and not wilting. That's something Texas has struggled with the past several seasons. Mentally, it never cracked against an Alabama team that specializes in making teams crack.
So if Texas is back that means the Longhorns are going to run the Big 12 this season, right? Well, let's not get ahead of ourselves. This was just Game 2 of a 12-game season. We all know there is a ton of motivation out there among the rest of the Big 12 to send the Longhorns out losers this season. We also know that Saturday in Tuscaloosa was emotional for Texas. The expectations for this team just skyrocketed.
All offseason I've acknowledged that Texas has the conference's best talent. I've also said, "You have to show me you can do it."
On Saturday, Texas gave us a really good look at what "doing it" looks like. And if you're a Texas fan, you're probably still drunk on what you saw.
For me, Texas moves into a front-runner seat in the Big 12. And that makes this last season of the current Big 12 all the more intriguing.
Why Texas and OU?
On Friday we wrote a story about Oklahoma securing a commitment from four-star recruit Nigel Smith. That was a quality get for the Sooners, who will leave the Big 12 at the end of June for the SEC.
That led to a question posed to myself and our site on Twitter:
"Why are you writing about teams that have broken ties with the Big 12?? (Referring to their 24 class)."
Fair question. Here's the answer.
Until June 30, 2024, the Oklahoma Sooners and the Texas Longhorns are members in good standing in the Big 12 (may not be able to say the same about most of the Pac-12, if Oregon State and Washington State have their way). Until that point, we cover the Sooners and the Longhorns as we would any other team in the Big 12.
That means more work for us. But we cover the Big 12. As long as they're members, we'll cover them.
You may or may not like that. That's fine. That doesn't change the fact that, journalistically speaking, covering the Big 12 in full, no matter the membership, is the right thing to do.
Big 12 Homecoming
The Big 12's initiative this football season is 'Big 12 Homecoming,' as one will take place at each of the four new Big 12 schools this season.
Starting with Houston's opener with TCU on Sept. 16, the Big 12 will have those homecomings at each of the four new schools by Oct. 21. Entertainment will be on tap with DJ Pauly D will perform at UCF on Saturday, September 30. James Kennedy will perform at Houston on September 16 and at Cincinnati on September 23, while DJ Ricky Barrera will perform at BYU on Saturday, October 21.
The only reason I know who DJ Pauly D is because I know younger co-workers who are big fans of 'Jersey Shore' and I've had to listen to them talk about it on Zoom calls. After seeing the Twitter image of Pauly I immediately texted my friend and she said, "Your friend should go," referring to our Derek Duke, who will be at the game.
The other thing that caught my eye was what the Big 12 is calling the Be You Women's Empowerment series, presented by Maybelline. The series will include panel discussions focused on mental health awareness and will be hosted by notable women leaders from each host institution market.
There will also be Sports Illustrated swimsuit models and a beauty bar.
I'll have to leave it to you, dear reader, to determine what that last part equates to in this day and age.
You can find Matthew Postins on Twitter @PostinsPostcard.