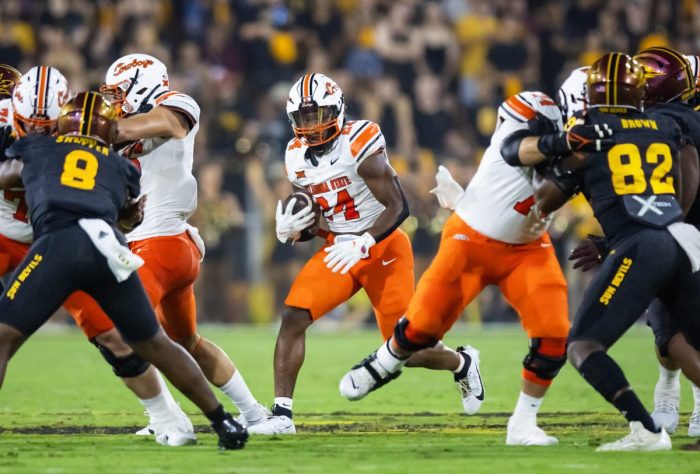 After a great opening weekend of Big 12 football, the conference yet again had a great slate of games in week Two. While some of the other games around the conference may steal the national headlines, there was a great future Big 12 in Tempe, Arizona between Oklahoma State and Arizona State.
Both teams entered the weekend with a 1-0 record but only one of them would remain unbeaten. It was a late night out in the great state of Arizona and in the end, the Cowboys came out on top. Here are my thoughts on Oklahoma State's 27-15 win over Arizona State.
The Defense is Getting Better
Coming into the season, I knew this defense was going to be better this year. So far, they have looked better. Tackling is still a bit of an issue, but overall holding Arizona State to 277 yards and 15 points is pretty good. The Cowboys were excellent against the run and were able to generate some pressure as well. With some questions surrounding the offense, this defense is going to have to keep getting better and make plays.
The Quarterback Roulette Continues
Over the years, I have seen plenty of quarterback battles play out during the season. However, I can honestly say that I have never seen a three-way quarterback competition play out in a live game. Typically, it is between two guys, but it appears that Oklahoma State is comfortable playing three different quarterbacks. Alan Bowman got the start before Mike Gundy's son (Gunnar Gundy) came in afterwards. Then in the fourth quarter, we got a chance to see Garret Rangel.
It makes no sense to me what Oklahoma State is doing. This team has had all fall camp to figure out who will be the starting quarterback and here we are going into week three and Mike Gundy still doesn't have the answer to that. You may have gotten away with it last week against Central Arkansas and on Saturday against Arizona State, but how much longer is this going to go on for? Pick a quarterback and stick with them. If they don't play well then stick someone else in. I feel like their offensive meetings consist of throwing a dart blindfolded to determine which quarterback is going to play.
Ollie Gordon Needs More Touches
Going into halftime, Oklahoma State had zero rushing yards. What is crazy is that Oklahoma State played more quarterbacks in the first half (2) than they had rushing yards (0). I know the offensive line is a work in progress but that is an embarrassing statistic.
Whether you agree with it or not, Ollie Gordon is the best running back Oklahoma State has. The fact that he had just two touches in the first half is criminal. At the very least, the man should be getting 8-10 touches per half. Instead, the offense pretended like he didn't exist until the second half. Much like the quarterback situation, I have no idea what is going on here.