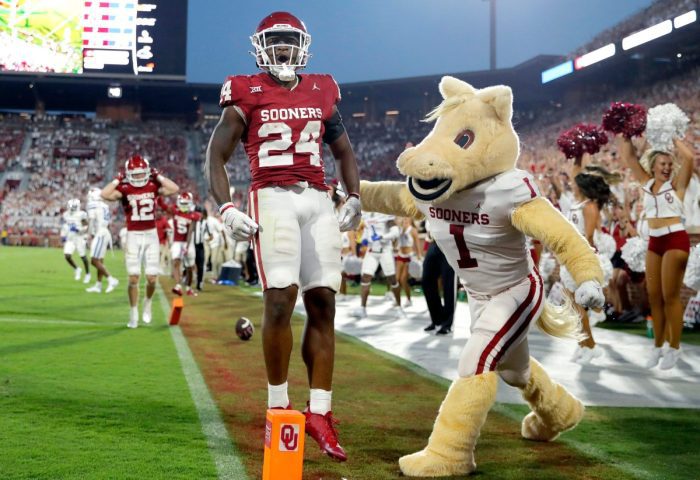 Here is everything you need to know ahead of the matchup between the Oklahoma Sooners and the Tulsa Golden Hurricane.
GAME INFO
Saturday, September 16; 2:30 p.m. CT; Chapman Stadium; Tulsa, Oklahoma
TV: ESPN2
Radio: 97.5 FM; Sooner Sports Radio (Toby Rowland, Teddy Lehman, Gabe Ikard)
Records: Oklahoma (2-0); Tulsa (1-1)
Rankings: Oklahoma No. 19 (AP); Tulsa NR
Series History: Oklahoma leads, 20-7-1
Last Meeting: Oklahoma 52, Tulsa 38
Line: Oklahoma (-28.0)
Fun Fact: These two teams met for the very first time on November 11, 1914, just six days after Britain and France declared war on the Ottoman Empire, one of the major events that sparked what eventually became known as World War I. The Sooners won 26-7 in that first meeting and faced Tulsa in each of the three years that followed, with 1919's 80-0 victory for the Sooners being the most lopsided contest in series history.
KEY PLAYERS
OKLAHOMA SOONERS
Offensive Line
In Week 2, it became apparent that Oklahoma's offensive line might have a few things to work out if the Sooners are going to challenge teams like Texas for the Big 12 championship. Against SMU, the offensive line struggled to create space in the running game, and despite totaling nearly 200 yards on the ground, it wasn't nearly as efficient as it will need to be going forward. With games coming up against Cincinnati and Iowa State, teams that have formidable defensive fronts, the Sooners will need to make some major improvements this week against Tulsa.
LB Danny Stutsman
For the first time in years, it appears that Oklahoma's defense might be its strength in 2023, and much of that is due to the play of junior linebacker Danny Stutsman. This past Saturday, Stutsman played arguably the best game of his career, totaling 17 tackles, 2.5 tackles for loss, one sack, one QB hurry, and a key fumble recovery in OU territory. Where Stutsman goes, the Sooners' defense seems to follow, and right now his trajectory is pointed skyward. Against a Golden Hurricane offense that is run by Kevin Wilson, Oklahoma will need to be disciplined, and Stutsman will be the guy responsible for that on the field.
TULSA GOLDEN HURRICANE
QB Cardell Williams/Braylon Braxton/Roman Fuller
After starting quarterback Braylon Braxton was injured against Arkansas-Pine Bluff in the opener, Cardell Williams was forced to step in and play, as well as make his first start against Washington last week. The Huskies provided a stiff test for Williams, holding him to 6-14 with 65 yards and one interception. Then, Roman Fuller got a chance and went 12-18 for 85 yards and one score. It's really a mystery who the Sooners will face on Saturday, but whoever it is, they'll face an Oklahoma defense that is trying to knock the narrative that the guys in Norman can't play on that side of the ball.
DL Ben Kopenski
After spending two seasons in Stillwater with the Oklahoma State Cowboys, defensive lineman Ben Kopenski has come right in and made his presence felt right away. Through two games, Kopenski ranks second on the team in tackles (10) and first in sacks (2.0). Last week, Tulsa's defense faced one of the best offenses in the country, and Kopenski didn't register a single tackle on the day. If there's anyone who needs a bounce-back day against the Sooners this week, it's Kopenski.
KEY STORYLINES
OKLAHOMA SOONERS
Can Oklahoma establish the run against Tulsa the way it should be able to? Much of the Sooners' success this season will be determined by how they run the football, and to this point, they've been underwhelming. Tulsa surrendered 168 yards on the ground to Washington last week, and there's no reason why Oklahoma shouldn't exceed those numbers by quite a bit. If they can't, it might be time to start tempering expectations for what the OU offense might be able to accomplish in 2023.
TULSA GOLDEN HURRICANE
This game could be called the Bob Stoops Bowl, considering two of his former long-time assistants will be facing one another as head coaches. Brent Venables obviously coached under Stoops from 1999-2011, but Kevin Wilson also spent several years on staff under Stoops, from 2002-2010. How will the former offensive coordinator fare against the defensive coordinator that he practiced against for eight seasons in Norman?
PREDICTION: Oklahoma 45, Tulsa 13
I expect Tulsa to fall somewhere between Arkansas State and SMU in terms of difficulty for this Oklahoma team, but it should still be a game that they win quite comfortably. The Sooners are a vastly superior team in terms of talent here, and they will be playing in what will likely be a pro-OU crowd despite being the road team. In their last nonconference game, I expect to see an improved run game, a sharp Dillon Gabriel, and another convincing win for the Sooners before they get their first real test of the season against Cincinnati in Week 4.