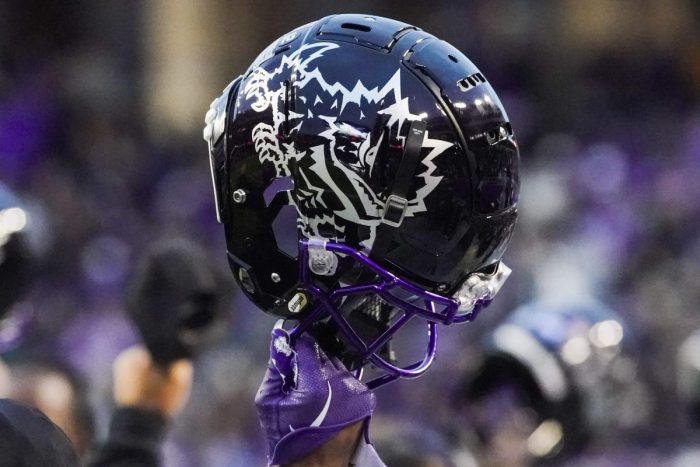 Here is everything you need to know ahead of the matchup between the TCU Horned Frogs and the Houston Cougars.
GAME INFO
Saturday, September 16; 7 p.m. (CT); TDECU Stadium; Houston, Texas
TV: FOX
Radio: TCU: Horned Frogs Sports Network, Brian Estridge, Landry Burdine, Chris Blake; Houston: KPRC 950 AM: Kevin Eschenfelder, Ted Pardee, Jeremy Branham
2023 Records: TCU, 1-1; Houston, 1-1.
Rankings: TCU: Receiving notes
Series History: Houston leads series, 13-12.
Last Meeting: TCU 20, Houston 13 (2007)
Spread: TCU (-5).
Fun Fact: TCU and Houston were members of the Southwest Conference when the Cougars joined the league in 1976. After the league broke up after the 1995 season, the pair were conference mates again in Conference USA from 2001-04. After that, the Horned Frogs moved to the Mountain West Conference. So, the two teams' last game was a bowl game in Houston — the Texas Bowl. TCU has won the last eight meetings, dating back to 1993.
KEY PLAYERS
TCU
WR WARREN THOMPSON
Playing for TCU offensive coordinator Kendal Briles seems to agree with Thompson, who has followed the OC around the country the past two season (Florida State from 2019-20 and Arkansas from 2021-22). Thompson transferred into TCU and he's quickly become the Horned Frogs' leading receiver with nine catches for 110 yards in two games. He only caught 11 passes in 2019 and 2020 with the Seminoles, but in 2021-22 with the Razorbacks he had 31 catches with four touchdowns. He's on pace to leave those numbers in the dust.
DB JOSH NEWTON
Can TCU make it three out of four Jim Thorpe Award winners? Tre'von Moehrig (2020) and Tre'Vius Hodges-Tomlinson (2022) have won the award, and Newtom may have the best shot to win the award when it comes to the Horned Frogs. He has the second-best Pro Football Focus grade among returning Big 12 cornerbacks (81.9), behind only Iowa State's T.J. Tampa (83.1). Newton had a stiff test against Colorado in Week 1, and that should have him prepared to take on Houston's top receivers this weekend.
HOUSTON
QB DONOVAN SMITH
The former Texas Tech part-time starter went to Houston to get a fresh start and ended up winning the starting job. In two games with the Cougars, he's thrown for 493 yards with four touchdowns and one interception. Even though he's only been a part-time starter throughout his college career, he is one of 15 active Power 5 quarterbacks and one of four current Big 12 Conference quarterbacks to rush for a combined 10+ touchdowns and throw for 20+ touchdowns since the start of the 2021 season. He's talented and hard to keep track of.
DE NELSON CEASER
If there is any one Cougar that is going to consistently get to TCU quarterback Chandler Morris, it is Ceaser. The 2023 Athlon Sports Preseason All-Big 12 Conference Third Team selection is by far the team's current career sack leader with 115. Last year he had the No. 3 grade in the American Athletic Conference among edge defenders per Pro Football Focus (82.7) in 2022. Last year he was second on the team in tackles for loss (10.0) in 13 games.
KEY STORYLINES
TCU
The Horned Frogs seemed to get their act back together against Nicholls. Emani Bailey had another solid rushing game, and quarterback Chandler Morris completed 26-of-30 passes for 263 yards and two touchdowns while rushing for 63 yards on six carries and another score. The 86.7 completion percentage by Morris tied for third-best in a game at TCU. Even the special teams got in the action, as Trent Battle's punt block and 24-yard return by Blake Nowell gave TCU its first blocked punt for a touchdown since Antonio Graves against New Mexico in 2011. Ready or not, Big 12 play is here.
HOUSTON
It isn't just that Houston lost to Rice. It's that the Cougars, at one point, where down 28-0 to Rice. For perspective, Texas beat Rice in its season opener, 37-10. The Cougars mounted a furious comeback, forcing the game two overtimes before losing, 43-41. This isn't like TCU's loss to Colorado, which was by three points and proved to be a matchup of relatively even teams. The Cougars were face a Rice team that they should have beaten, especially if they're going to be a Power 5 team. It's concerning to say the least that the Cougars struggled so much with the Owls, especially going into their Big 12 opener.
PREDICTION: TCU 37, Houston 31
Houston will play better this week than it did against Rice last week. But TCU's defense is starting to round into shape and should make the difference in this game. Still, expect this to come down to the wire and for the Horned Frogs to pull it out late.