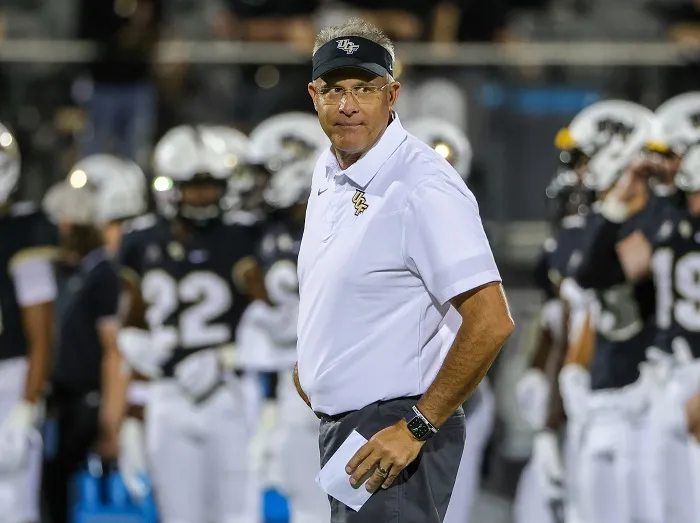 Here is everything you need to know ahead of the matchup between the UCF Knights and the Villanova Wildcats.
GAME INFO
Saturday, September 16; 5:30 p.m. CT; FBC Mortgage Stadium; Orlando, Florida
TV: ESPN+
Radio: 96.9 The Game
Records: UCF (2-0); Villanova (2-0)
Rankings: N/A
Series History: UCF leads series, 1-0-0
Last Meeting: UCF 35, Villanova 16 (2006)
Line: N/A
Fun Fact: While it might not be so fun for UCF fans at face value, the Knights will be starting USF transfer Timmy McClain against Villanova in his first start at the Division 1 level since the 2021 season.
KEY PLAYERS
UCF KNIGHTS
QB TIMMY MCCLAIN
UCF quarterback John Rhys Plumlee gained a lot of respect this offseason from Big 12 fans and while the Mississippi native led the Knights to back-to-back wins to start off non-conference play, Gus Malzahn will now turn to USF transfer Timmy McClain for foreseeable future with Plumlee sidelined for the next four weeks due to a leg injury. McClain last took the field for the Bulls in the 2021 season where he threw for 1,888 yards alongside a touchdown to interception ratio of 5-7. UCF has some big games on their schedule in the month of September and with John Rhys Plumlee out for the first few games, McClain will need to step up quickly for the Knights.
DE TRE'MON MORRIS-BRASH
The pick of Tre'Mon Morris-Brash is selected as a package player to watch with the addition of DE Josh Celiscar. The duo of Morris-Brash and Celiscar have been the Knights most productive pass rushers this season and that was the case again on Saturday in the dogfight against Boise State. Morris-Brash had a solid outing against the Broncos recording his first sack of the 2023 season alongside three tackles for loss bringing his season total to 4.5. Tre'Mon Morris-Brash should show up again in the box score with some explosives plays for the Knights defense against Villanova.
VILLANOVA WILDCATS
QB CONNOR WATKINS
While Connor Watkins may not be a household name across college football, the Pennsylvania native has had a solid start to the 2023 season. Watkins lead the Wildcats to back-to-back wins against Lehigh and Colgate and while the Knights defense is going to be a significant upgrade from anything Villanova has faced so far, Watkins should be a player to watch. Watkins has thrown for 429 passing yards in his two starts alongside six total touchdowns and one interception, he will have an uphill battle to continue his stretch against Travis Williams's defense on Saturday, but anything is possible in the world of college football/
WR RAYJUON PRINGLE
Senior wide receiver Rayjuon Pringle was the talk-of-the-town on Saturday against Colgate as the speedy 5-foot-9 playmaker exploded for an impressive stat line in the Wildcats 42-19 win. Pringle averaged a whopping 56 yards per catch last weekend finishing his day off with three grabs for 168 yards and a score against the Raiders secondary. While Villanova's offense is mostly centered around rushing the football, Pringle could be relied on heavily on Saturday if things don't get established in the ground game.
KEY STORYLINES
UCF KNIGHTS
How will the Knights fare over the next four weeks in the absence of John Rhys Plumlee? Timmy McClain was a decent quarterback at USF but with all of the hype surrounding Plumlee headed into Big 12 play, how will the team handle the change? UCF faces Villanova, Kansas State, Baylor, and Kansas in the four games that Plumlee is supposed to be sidelined for and if McClain struggles against the Wildcats on Saturday, Malzahn's squad could be walking into a blowout to start off Big 12 play.
VILLANOVA WILDCATS
Can Villanova play spoiler for the Knights? UCF is fresh off of an exhausting game against Boise State where the Knights narrowly defeated the Broncos on a last-second field goal from Big 12 Player of the Week Colton Boomer, and while UCF's energy and momentum should be riding high from the win, Saturday's game was an exhausting contest for UCF's defense. It's no secret that Villanova will be the overwhelming underdogs at the Bounce House on Saturday but if the Wildcats can put some pressure on the Knights early, things could get interesting.
PREDICTION: UCF 27, VILLANOVA 14
I expect this game to be an uncomfortable win for UCF, but a win nonetheless. USF transfer Timmy McClain will have some enormous shoes to fill for the injured John Rhys Plumlee, and while the Knights defense should smother the Wildcats offense to an extent, McClain will have to adjust fast to the starting spot. It's not crazy to expect UCF to come out slow and get into a first quarter punting contest with Villanova, and while the best team doesn't always win in college football matchups, give me Gus Malzahn and the Knights to take care of the Wildcats with relative ease.