Oklahoma Sooners
Lincoln Riley Discusses Concerns for His 'Family's Safety' Following Exit from OU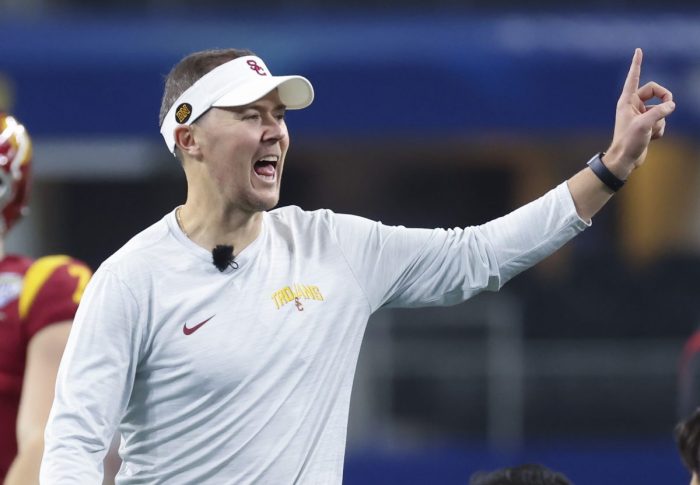 USC Head Coach Lincoln Riley has had quite an eventful career as a head football coach, and has had plenty of success with the Trojans since taking the job following the 2021 season. Last year, he helped yet another protege to a Heisman Trophy, this time Caleb Williams.
Now, leading the No. 6 Trojans into their final season in the Pac-12, Riley is living the good life in the beautiful hills of Los Angeles, and can live a more "normal" life as the football coach at USC, among many other celebrities in and around Hollywood.
In a recent appearance on In Depth with Graham Bensinger, Riley detailed some of the things that have been different about his new lifestyle as the football coach at USC, but he also dove into some greater details about his exit from Oklahoma.
If you follow college football, even casually, you know that Riley's exit from Norman was anything but a clean break. However, as he and his wife (Caitlin) describe it, the decision required the Riley family to have armed security. According to Riley, several people tried to break into his house in the days following his departure from Oklahoma.
"Yeah, we had multiple different people try to break into the house in the days after it happened," Riley said. "95% of the fans and the people out there at Oklahoma, or anywhere else, are great. But, you typically always have that percentage that, at times, takes it too far. Obviously, this was one of those instances."
Bensinger, who is conducting the interview says that Riley received packages and that someone had gotten ahold of his nine-year-old daughter's cell phone number, which obviously alarmed Riley and his wife.
"My family's safety," Riley said when asked what the scariest part of the experience was. "I didn't care about the house, or anything else. Just their safety. We wanted the girls to be able to finish out of school because the semester was almost over. But, as that stuff transpired, we said, 'No, we gotta get 'em the hell out of here as fast as we can.'"
Obviously, for any parent, that would be a terrifying situation, so the Rileys got out of Oklahoma and planted their roots in Southern California.
Since the move, Riley says that he loves having some of the anonymity back in his life after being the equivalent of a movie star in Norman.
"It's been one of the best parts of this job, especially having young children," Riley says of regaining anonymity as a part of the LA community. "I was extremely conscious, and at times probably over-conscious of, my first run as a head coach, of always being in the public eye. I got where I wouldn't go out to eat. I love coaching. I love all of the things I get to do, but I don't like [the celebrity aspect of being a coach], I've always been a little uncomfortable with that part of it. That was a huge selling point for me here, we're not the only show in town.
"There's a great article that somebody sent me right before I took this, and I remember reading it when it came out. They interviewed head coaches at major schools at the time, and it was like, 'What do you do when you have time to get away?' They get to Pete Carroll when Pete was here [at USC], and Pete said, 'Well, I don't have to go anywhere. I can go out to eat at night and nobody even cares that I'm in there because they're looking over at George Clooney and that person from Friends.' When you're coaching at a small college town at a major university, you are George Clooney or the person from Friends."
Riley then goes into the aspects off the field that seem to fit him much better at USC than they did at Oklahoma.
"The advantages here for a coach, especially a coach that has young children, fit us," Riley said. "I think I'm more relaxed. I think life outside the office has been much more normal here, and because of that, I think more normal for our children, which is most important."