Trending Now
CSU Coach Takes Shot at Deion Sanders: 'When I Talk to Grown-Ups, I Take My Hat and My Glasses Off'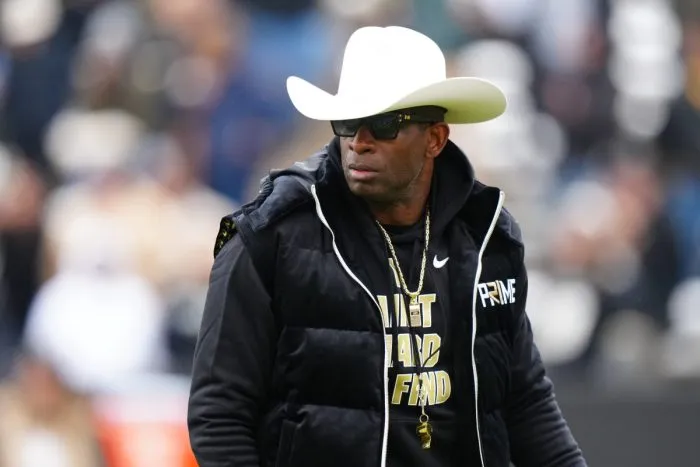 Colorado Head Coach Deion Sanders is anything but orthodox. He doesn't talk how other coaches talk, he doesn't dress like other coaches, and he doesn't coach like other coaches.
We've never seen a program send so many players into the transfer portal and replace them in a single offseason, and nobody could've guessed that the Buffs would get to 2-0 and No. 18 in the country, that is, except for the guys in that locker room.
Coach Prime has made a believer out of a lot of folks, but his process of doing things has also ruffled the feathers of some.
One of those people, Colorado State Head Coach Jay Norvell, recently shared his thoughts on one of the things that makes Deion, Deion. During media availability, Sanders likes to leave his hat and sunglasses on, which certainly adds to the persona. However, that seems to rub Norvell the wrong way.
"We're excited, we had to do a bunch of ESPN videos and it's great. I loved it. But our kids came out of those videos really with a chip on their shoulder. They're tired of all that stuff," Norvell said on Wednesday. "They really are tired of it. And I sat down with ESPN today, and I don't care if they hear it in Boulder. I told them, 'I took my hat off, and I took my glasses off.' And I said, 'When I talk to grown-ups, I take my hat and my glasses off.' That's what my mother taught me."
Well, his players being tired of it is one thing, but slowing down the Buffaloes' offense is another thing entirely. Colorado will enter the game as a 23-point favorite and will hope to prove for a third straight week that it's time to believe the hype in Boulder.