Trending Now
Norman Police Have No Break-In Reports For Lincoln Riley's House: Report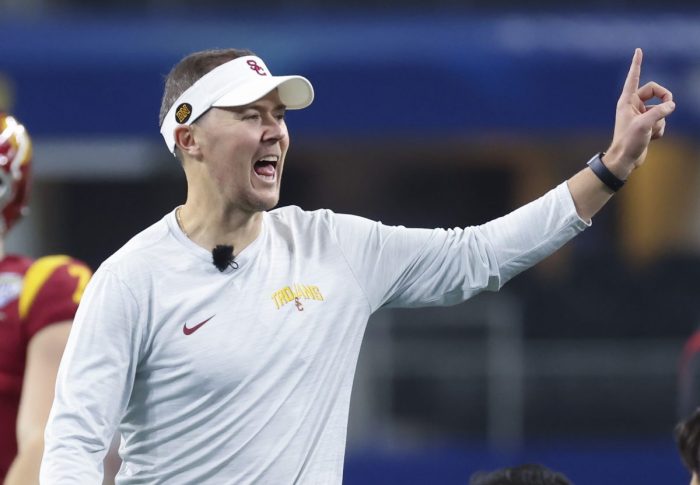 USC football coach Lincoln Riley made headlines on Wednesday after he disclosed that his departure from Oklahoma, at times, required armed security.
He was speaking to Graham Bensinger on his program "In Depth," and Riley detailed why the security was needed, saying people attempted to break into their Norman home several times.
"Yeah, we had multiple different people try to break into the house in the days after it happened," Riley said. "95% of the fans and the people out there at Oklahoma, or anywhere else, are great. But, you typically always have that percentage that, at times, takes it too far. Obviously, this was one of those instances."
In the story that Heartland College Sports wrote off the appearance, Riley did not mention that police were called to the house. But he did state that the alleged break-ins led him and his family to leave Norman early and to pull their children out of school before the end of the fall semester.
Well, Justin Martinez of The Oklahoman did some legwork and, as it turns out, there are no police report for any activity around Riley's former home in the weeks after he announced he was leaving for USC.
Per The Oklahoman:
According to the Norman Police Department, there were no attempted break-in reports made in the months of November or December 2021. But two service calls were made on Dec. 17 and 19 by someone at the Riley residence, which is located in a gated community off Rock Creek Road and 48th Ave. NW.
Norman Police Public Information Officer Sarah Schettler also said that "NPD does not have any further incidents, case reports, or investigations involving Lincoln Riley or either of the above-mentioned addresses during the November to December 2021 time period."
So, if there was a break-in at Riley's house, police have no record of it.
You can find Matthew Postins on Twitter @PostinsPostcard.