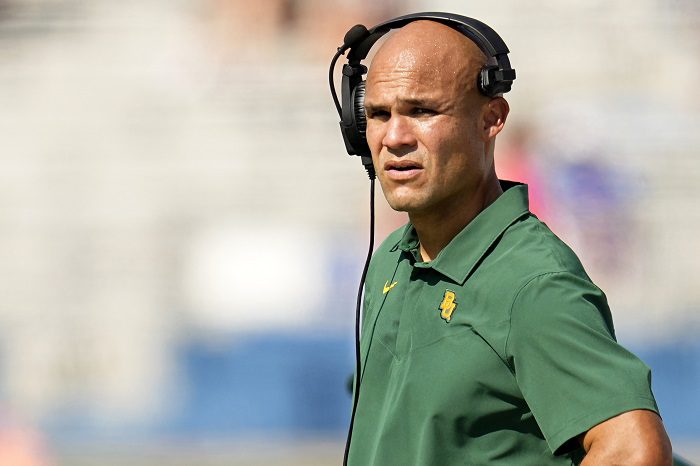 Week 3 of the college football season wrapped up non-conference play for most of the Big 12 teams, including Baylor, who was looking to get into the win column for the first time this season against LIU.
The Bears were off to an 0-2 start after losses to Texas State and Utah. But the Bears were able to get into the win column for the first time this season with a 30-7 win over LIU on Saturday afternoon in Waco. It wasn't always pretty, but here are three thoughts on Baylor's win.
A Win is a Win… Right?
That's about all that can be said about this game as the Bears were favored by 47 points heading into this one, but found themselves with a measly 16-7 halftime lead over Long Island University. This is an LIU team who had lost by 17 points to Group of 5 Ohio in Week 1, and fell to fellow FCS program Bryant in Week 2.
The game also included a two-hour lightning delay at halftime, which meant a near-empty McLane Stadium for the second half. But once again, for a team just looking to get its first win of the season, Baylor should be satisfied with getting a victory, right? Even if it wasn't the prettiest of victories on prettiest of days.
Running Game Leads the Way
The brightest spot was the run game, although of course you take it with a grain of salt given the competition. Dawson Pendergrass led the way with 21 carries for 111 yards and a touchdown, while the team rushed it 47 times for 270 yards and three scores. Richard Reese started the scoring on Baylor's second drive with a 13-yard run, which capped off a 13-play, 92-yard drive to get Baylor on the board first.
Reese and Pendergrass would do most of the damage on the third drive for the Bears, with Pendergrass punching it in from one yard out for a 14-0 lead. Baylor then notched a safety before LIU scored its lone touchdown of the day on their next drive to make it 16-7, which is the lead the Bears took into the half before the lightning delay.
Onto Big 12 Play
It was far from the non-conference performance Baylor fans were expecting when the season began. But technically, now is when it really matters, with conference play beginning next week against the Texas Longhorns. The game is in prime time on ABC and will be the last time the Longhorns and Bears meet for likely the foreseeable future, and it could be even longer before UT makes a trip to Waco. The fan support thus far in Waco has been questionable, to put it politely, so let's see if this fan base can get revved up for an expected Top-5 Texas team coming to town next week.