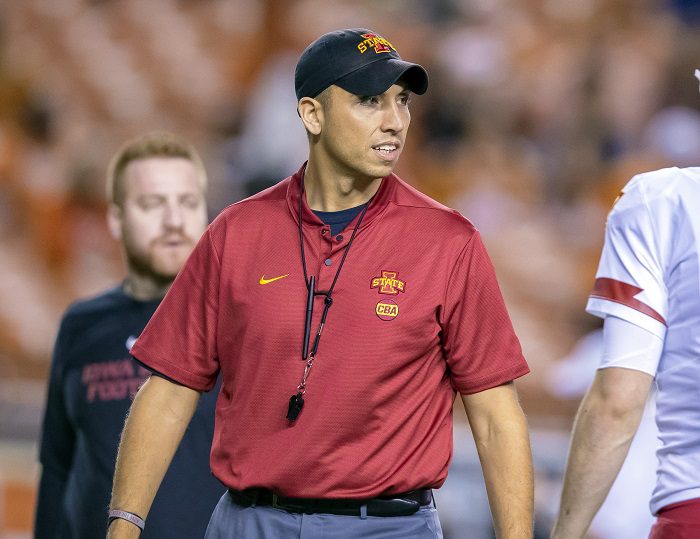 As we head into Week 3 of the college football season, this is the last chance for many teams to get their final work in before conference play begins. For Iowa State, they traveled to Athens, Ohio for their last non-conference game of the year.
The Cyclones were coming off a 20-13 loss to in-state rival Iowa, while the Bobcats took care of business against Florida Atlantic last weekend. We all knew that this was going to be a tough, hard-fought game until the very end, and it was. Unfortunately for Iowa State, they came up short. Here are my thoughts on Iowa State's loss to 10-7 Ohio on Saturday.
The Defense Did Its Job
Once again, the Iowa State defense did all they could to try and get the win. They held Ohio to just 247 yards and 10 points and those 10 points weren't entirely their fault either. The offense turned the ball over and gave the Bobcats great field position which put the defense in a tough spot. The secondary played an excellent game as Myles Purchase, TJ Tampa, and Jeremiah Cooper all made some great plays. Just take a look at this hit by TJ Tampa.
I don't care what anyone says about Iowa State or what their record is going to be this season. This defense is good enough to compete with anyone in the country.
The Run Game is Non-Existent
Last season, Iowa State couldn't run the football. They had the worst rushing offense in the Big 12 and coming into 2023, that was an area of concern. Unfortunately, it is still a major issue for this offense. The offensive line is getting zero push up front which has been the case for these first three games of the season. On Saturday against Ohio, the Cyclones averaged 1.7 yards per carry on 38 attempts. Not being able to run against a MAC team is concerning and it is only going to get tougher as Big 12 play comes around.
As bad as the offensive line is, the running backs aren't doing themselves any favors either. There is no David Montgomery or Breece Hall on this team to overcome the bad play up front. Not being able to run the football puts a lot of pressure on your quarterback and when your quarterback in his is first season as a starter, that is a lot on his shoulders.
Rocco Becht Needs More Help
Rocco Becht may not be perfect by any means, but overall, I think he has done a decent job. I feel bad for him because he just isn't getting much help offensively. I mentioned the struggling run game is putting more pressure on him and his wide outs dropping passes isn't helping either. He put the ball on the money a few times against Ohio and his guys just couldn't come up with the football. Plus, that last interception that put the game away wasn't his fault either. The receiver has to catch that pass and instead it turned into a turnover.
On top of all this, the offense needs to do a better job getting the ball to their playmakers quickly. If you can't run the ball, short passes and screens can help get the offense in gear. This offense isn't lacking playmakers, they aren't getting the ball enough.
The Kick Was Good
In the fourth quarter, Iowa State kicker Chase Contreraz tried a 37-yard field goal. It was called no good by the refs, but I thought it snuck inside the right upright.
Unfortunately, the kick wasn't reviewable, which is a shame. That kick could have been what sent this game go into overtime.