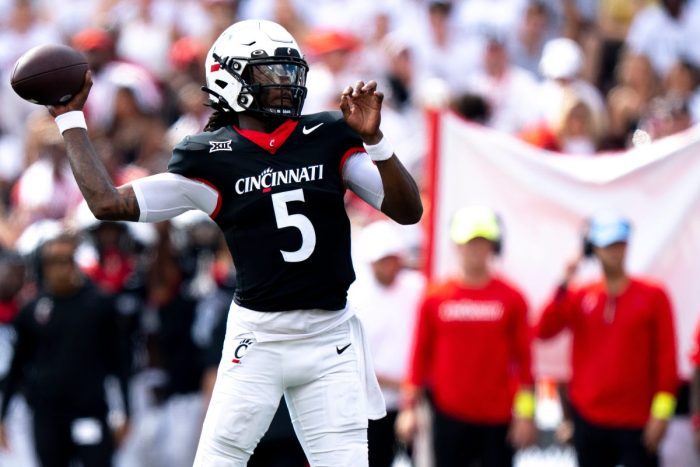 The Cincinnati Bearcats lost to the Miami (OH) RedHawks, 31-24, in non-conference action on Saturday. Here are three thoughts on the game.
Rivalries Still Matter
For Big 12 fans, the 'Victory Bell' game probably sounds like something out of 'Grease' (If you know you know). But for Big 12 fans that are just getting used to Cincinnati being in the conference, this is a game that matters to both schools.
It's the oldest non-conference rivalry in college football. These two teams don't have to play each other. But they played each other 126 times going into Saturday's game, making it the fifth-longest rivalry in college football, dating back to 1888. Both teams are committed. The game is to be played through 2029.
So, it didn't really matter that Cincinnati had won the past 16 games over Miami. It's one of those good, old-fashioned "throw the records out" kind of rivalry games. And the Bearcats and RedHawks played like it.
I thought the game would be close in the first half. It was. I thought the Bearcats would pull away in the second half. They didn't. Miami kept it close and compelling.
Down the stretch, Cincinnati had to eke it out. Quarterback Emory Jones gave the Bearcats the lead with 13:52 left in the fourth quarter, and then threw the two-point conversion. The Bearcats' secondary cratered a bit and committed two pass interference penalties but came up with a big third-down pass break-up to limit Miami to a field goal which tied the game at 24-24.
Then, Cincinnati got bold. A fake punt in Bearcats territory gave them new life and allowed the Bearcats to drive into RedHawks territory for a game-winning field goal.
Oh, wait. That's not what happened. The RedHawks blocked the game-winning field goal and sent it to overtime.
In OT, Miami scores first and Cincinnati failed to score, as Jones threw a fourth-down interception that didn't even look like it was intended for a Bearcats receiver. And the RedHawks beat Cincinnati for the first time since 2005.
It's why we love college football. And after all the tradition that's been battered around the past few years, it was fun to watch.
Big 12 Ready?
Well, ready or not, here we are. The Bearcats (2-1) host Oklahoma (3-0) next Saturday and it's unavoidable. So let's review.
Cincinnati got it's 'Happy Meal Game' by beating Eastern Kentucky, 66-13, at home.
Cincinnati went to Pittsburgh and outlasted Pitt, 27-21, last week. I'm not certain Pitt is what it was last year — yet.
Cincinnati hosts its rival and loses in overtime in a game that it easily could have won.
What I like? The talent at the skill positions. Emory Jones has played well. Jack Dingle is the perfect linebacker for what the Bearcats want to do on defense. That defensive line has some real dudes on it (we'll use the Jerome Tang term).
My worries? Offensive line depth. Defensive back play. Too many penalties. Areas that are tough to shore up in your first year as a Power 5 program.
No getting around it. It's time for Big 12 play, Bearcats.
Nippert at Night
Gotta admit — when I saw the "Nippert at Night" tweets on Friday I didn't know what was going on. So, I followed the links. And now I'm a little bummed that Cincy-OU game I'm going to next weekend isn't at night.
I did not realize that Cincinnati was the first school in the Midwest to play a night game back in 1923. I also didn't realize that they held night practices starting 14 years earlier as a way to help student-athletes who had to work during the day get practice time. Those fall sunsets on eastern time hit late.
I also didn't realize that Nippert Stadium is named for a former player, Jimmy Nippert, who died later that season after his final football game. Nor did I know that his grandfather was James N. Gamble, the son of the founder of Procter & Gamble, and that he underwrote the completion of the stadium.
You can have your corporate stadium names. I'll take the history, which is what makes college football so special. Looking forward to next Saturday and a battle of undefeated teams.
You can find Matthew Postins on Twitter @PostinsPostcard.