BYU Cougars
Five Biggest Takeaways From Week 3 of the Big 12 Football Season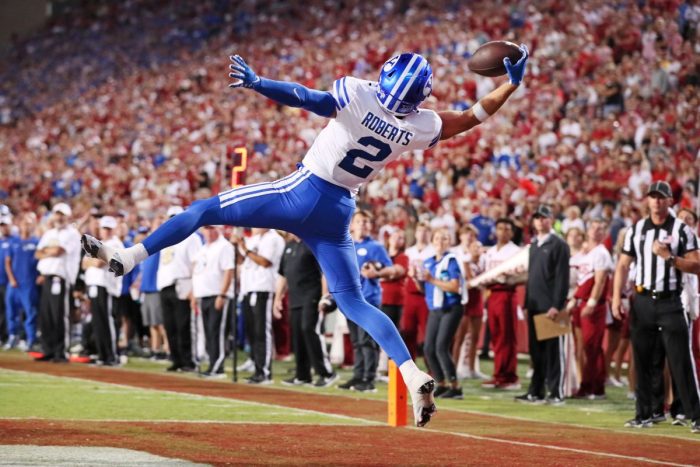 Week 3 of the Big 12 football season is in the books as the college football season starts to pick up steam. There were 13 games on the docket, and there were some impressive performances, such as BYU and WVU, while Oklahoma State, Iowa State and Cincinnati were some of the more disappointing teams of the weekend.
So with a wild week in the books, here are the five biggest takeaways from Week 3 in the Big 12 Conference.
1. A Mostly Forgettable Weekend
Despite a couple of solid wins by BYU vs. Arkansas and WVU vs Pitt, those two wins don't come close to making up for horrendous performances, with Oklahoma State's loss to South Alabama 33-7 in Stillwater taking the cake and giving Mike Gundy his first Group of 5 loss since Central Michigan in 2016. Then, there was Cincinnati losing to Miami (OH), which broke a 16-game winning streak for the Bearcats in the rivalry. And Iowa State, who had multiple players suffer food poisoning on Friday night, had a putrid performance on the road in a 10-7 loss to Ohio. Combine this with the losses the league also has against Texas State and Rice, and woof, it hasn't been the ideal non-con for the Big 12.
2. Neal Brown's Job is Safe, for Now
I picked West Virginia as my Lock of the Week at -1.5 on the podcast and on our Heartland College Sports YouTube channel (go subscribe if you haven't, I'll have a video up on Sunday recapping the games) because I felt Neal Brown knew he had to win this game at home to buy himself some time and keep his job.
And that is what the Mountaineers did with a 17-6 win over Pitt. And they did it without starting quarterback Garrett Greene, who left the game with an injury early on. The defense was the star of the show for WVU. This unit held Pitt to a total of 210 yards, while racking up three interceptions, four more pass break ups, five tackles for loss, one sack and two more quarterback hits.
Redshirt freshman linebacker Trey Lathan had his coming out part with a team-best eight tackles and two quarterback hits, while Minnesota transfer Beanie Bishop Jr. had seven tackles and one interception, while Aubrey Burks (second team All-Big 12 in 2022) and veteran Malachi Ruffin added picks on the night.
3. BYU Steals the Show
In a week when many of the original Big 12 schools (OSU, ISU) were losing awful games, BYU comes in and helps somewhat save face for the league by going on the road and getting an impressive win in hostile SEC territory by beating Arkansas 38-31.
Big plays won the game offensively and despite giving up some big plays on defense (including a punt return), the Cougars just kept battling every step of the way. BYU had seven penalties in the game, but fortunately for them Arkansas had a whopping 14. Anytime you can beat an SEC team on the road it is a big deal and BYU managed to do just that.
The Cougars now start Big 12 play on the road against Kansas, which should be one of the better games of the weekend.
4. Ugly Special Teams
We always overlook it, but how many times does it end up deciding games? That's exactly what happened again on Saturday in Week 3.
Kansas State lost to Missouri as the clock hit :00 after the Tigers' Harrison Mevis hit a 61-yard field goal to win the game in walk-off fashion. This came right after MU was pushed back five yards due to a delay-of-game penalty. The field goal was an SEC record.
Then, Iowa State missed two field goals in their game (although the latter one looked good), which could have very well changed the outcome of that slugfest in Ohio. Cincinnati had a change to win the game with nine seconds to go in regulation but a 35-yard field goal attempt was blocked by Miami (OH). The game went to OT and the Bearcats lost.
We spend so much time talking about the offenses and defenses, rightfully so, but when you look back on so many of these games, you can often pinpoint a mistake here or there on special teams that ends up determining the outcome.
5. Predicting This League Will be Impossible
This will be as entertaining and unpredictable a conference as we will have in college football. Who is the best team? I'd lean Texas right now, but the Longhorns were in a battle with Wyoming on Saturday night until the fourth quarter (side note: I had Wyoming +28.5 as my underdog pick of the weekend, so once again go subscribe to our Heartland College Sports podcast or YouTube channel!). But Texas didn't look bulletproof for much of that game.
Who is the worst team? There are a few options I would consider at this point after watching the first three weeks of the season.
The one thing I can say with certainty: there are going to be some absolutely bonkers games across the league this year that will be incredibly fun and entertaining to watch. And with the new Big 12 schedule and teams, you'll get 13-14 hours in a row of it most Saturdays from 11am CST to midnight.
Conference play is here in full force starting next week, let's roll!