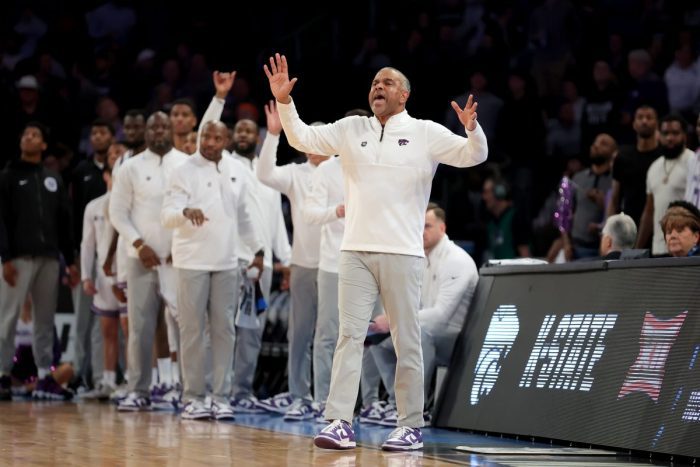 Kansas State basketball has been elevating on and off the court under second-year head coach Jerome Tang, and while the Wildcats made several headlines for their historic run in March Madness, the Wildcats' brand has continued to take leaps and bounds forward through unique ways.
In a recent post from K-State assistant coach Jareem Dowling, Big 12 fans can celebrate in one of the best NBA video games with two new dances from the Wildcats' run, after developers added in the Wabash, and Jerome Tang's viral locker room swing dance.
While it has only been one season with Tang at the helm, the hire of Jerome Tang as head basketball coach has completely reset the basketball culture in Manhattan and given fans some things to be excited about.
Tang brought one of the best recruiting classes in Kansas State history in his first year of recruiting landing three players that rank in the Wildcats' top 12 recruits in program history. Tang earned commitments in the class of 2023 with four-star guards, Dai Dai Ames and RJ Jones, paired with a three-star player just outside of the top 100 with forward Macaleab Rich. Tang also brought in a duo of four-star transfers in the portal with UNT transfer guard Tylor Perry and Creighton forward Arthur Kaluma.
While landing an emote on a video game may not change much in terms of the on-the-court play for the Wildcats, having another aspect of the program's relevance and reach to pitch to recruits is a really cool thing to have in your back pocket.