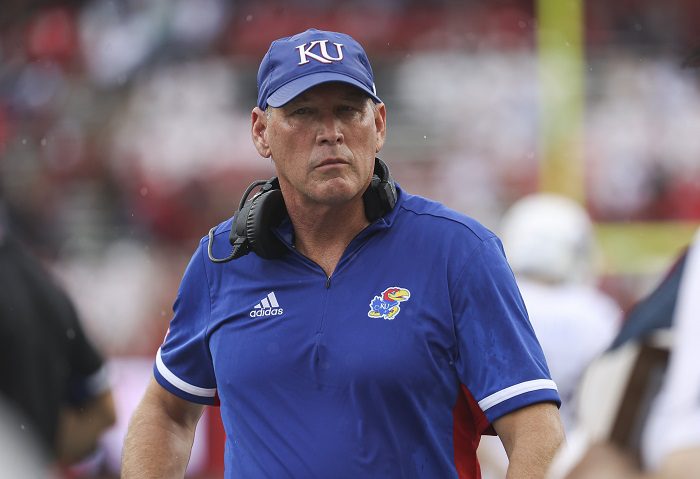 While the Big 12 slate this weekend may not have looked great on paper, it certainly was an eventful day. Iowa State fell to Ohio, Oklahoma State got blown out by South Alabama and Cincinnati lost to Miami of Ohio for the first time in over 15 years.
Despite a few tough losses, there were a couple bright spots for the conference. West Virginia took care of business against Pitt and BYU went into Fayetteville, Arkansas to knock off the Razorbacks from the almighty SEC. 
With everyone on upset alert across the country, Kansas had to travel to Reno to take on Nevada. It was a close game until the very end and thankfully Kansas was able to get out of there with a 31-24 win. Here are my three thoughts on the game.
Jalon Daniels Was Efficient
Even though we are in the third week of the season, keep in mind that this is Jalon's second game of the year. He sat out in the opener due to a back injury before making his debut against Illinois last week. Against Nevada, he went 21/27 for 298 yards. While he didn't throw a touchdown, he was very efficient with his passes. Jalon got shaken up in this game a bit due to an arm injury, but he managed to play through it and get right back in there. I still don't believe that he is fully healthy so until he is we aren't going to see him at 100% which is a shame because he is such a great player.
Have a Night Devin Neal
If you were wondering who scored all the points for Kansas, it was Devin Neal. The junior running back rushed for 89 yards and three scores while averaging over five yards per carry. Having a guy like Neal takes pressure off Jalon Daniels which is what makes this offense so tough to defend. Against Nevada, Devin got 17 touches which is around how many I would like to see him get in every single game this season.
The Defense is Still a Work in Progress
Everyone always likes to talk about the Kansas offense, but the defense is what held this team back last season. The Jayhawks had one of the worst defenses in the Big 12 in 2022 and if this team was going to be taken as a serious conference title contender, then the defense was going to have to take a big step forward this year. Against Nevada, they allowed too many third down conversions and at times had trouble stopping the run.
Kansas gave up a pair of rushing touchdowns to Nevada quarterback Brandon Lewis which wasn't good. However, I thought they did an excellent job shutting down Nevada's passing game. I know the Wolf Pack offense isn't known for airing it out but to hold them to just 113 yards through the air is impressive. With non-conference play now in the rear view, the opponents are only going to get tougher from here on out.