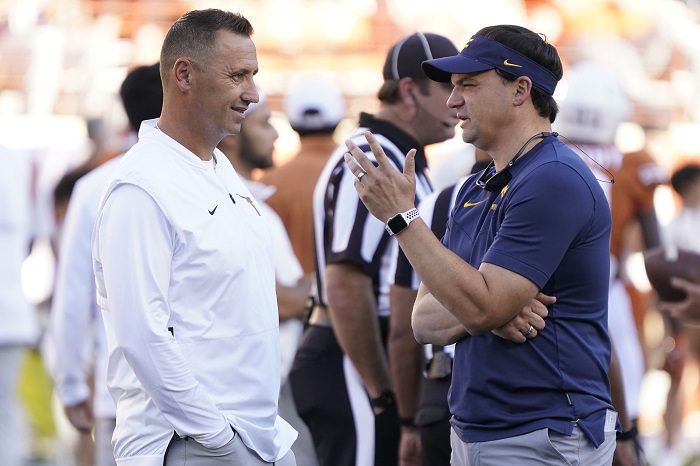 The 2023 college football season is underway with the Big 12 Conference having some solid wins in Week 3 and disappointing losses.
So now it's time for our Big 12 Power Rankings. Here's a reminder on how I've done this for years: It's about how your team looked and how it played, not always about if your team won or lost. And last week's rankings have little impact on this week's. That's what makes this fun. These are also not predictions for the way the season will end, just a Power Rankings based on the most recent performances.
So with that being said, here are our Week 4 Big 12 football Power Rankings.
1. Texas Longhorns (Last Week: 1)
The Texas Longhorns retain the top spot in the Big 12 Power Rankings this week, despite going into the fourth quarter tied with Wyoming. UT took care of business over the final 15 minutes and still have the win of the year in college football thus far with a dominant victory over Alabama from Week 2. There's no way to move them off this spot right now.
2. BYU Cougars (Last Week: 12)
This shouldn't be surprising. BYU got the second best win in the Big 12 this season, going on the road to hostile SEC territory, halfway across the country, and beating Arkansas on Saturday night in a game they trailed 14-0 early on. BYU battled back with some big plays of their own and pulled off an impressive comeback that should give this team lots of confidence heading into conference play.
3. Oklahoma Sooners (Last Week: 4)
Oklahoma has looked fantastic thus far, there's no denying that. But they haven't played a Power 5 program yet. Their non-conference was Arkansas State, SMU, and Tulsa, so let's pump the brakes. Remember this is based on who you've actually played and what you accomplished, not just who I think would be favored on a neutral field. If OU keeps rolling this weekend at Cincy, they will keep climbing the rankings, but for now, BYU has a much more impressive win and is also 3-0, so they get the edge here.
4. Kansas Jayhawks (Last Week: 3)
The Jayhawks survived in Reno on Saturday night against Nevada in a game in which they were favored by four touchdowns. But KU is 3-0 in non-conference play and that's all that matters right now. It also matters that Jalon Daniels got back in the game after a brief scare in the first half. The real test for KU begins this week hosting BYU.
5. TCU Horned Frogs (Last Week: 8)
After a Week 1 loss to Colorado, that continues to not look all that bad, TCU continues to climb the ladder after dominating Houston in the first Big 12 game of the year on Saturday night. TCU racked up 564 yards of offense while the defense was all over Donavan Smith (six sacks). I believe TCU to be a team that keeps getting better as the season progresses and will play a role in the Big 12 title race.
6. UCF Knights (Last Week: 7)
It's Timmy Time in Central Florida after John Rhys Plumlee got injured against Boise State, UCF turned to Timmy McClain on Saturday and he showed off his dual-threat ability in a dominant win over Villanova. Yes, it was an FCS opponent, but the perfect way for him to get his feet wet before Big 12 play this week at Kansas State, when the competition really steps up.
7. Kansas State Wildcats (Last Week: 2)
Kansas State's last-second loss to Mizzou is a heartbreaker. I don't think the Cats finish 7th in the Big 12, but once again, they only have wins over SEMO and Troy on the resume, so how high can I have them after they lost to their only decent opponent through three games? K-State needs to clean up some of the breakdowns in the secondary ASAP if it wants to repeat as Big 12 champs.
8. West Virginia Mountaineers (Last Week: 13)
Trust the climb? That's what Neal Brown has been saying for years. I'm not suggesting I'm trusting his climb, but they are climbing our Big 12 Power Rankings this week after the defense showed out against Pittsburgh in a dominant 17-6 win in the Backyard Brawl. Neal Brown desperately needed that game to save his job, for now. But there's no time to celebrate because he has to start winning some league games too, and that starts this week against Texas Tech.
9. Texas Tech Red Raiders (Last Week: 10)
Speaking of Tech, they're finally in the win column after beating Tarleton State. The sting from the loss to Oregon still should be there as Tech felt like the better team that night, but it's now a distant memory as this team's ceiling, which remains a trip to Arlington, is still very much realistic. But starting Big 12 play on the road in Morgantown is never easy.
10. Cincinnati Bearcats (Last Week: 6)
Now we get to some of the ugliness on Saturday. The Bearcats were off a win vs. Pitt and then apparently got caught looking ahead to Oklahoma and forgot that they had a 100+ year rivalry game against Miami (OH) to play. The overtime loss is such a crushing way to end non-conference play for the Bearcats, who also found out before their game that Big Noon Kickoff was coming to town in Week 4.
11. Baylor Bears (Last Week: 11)
Yes, Baylor won the game against Long Island. But that's the nicest thing to say about the game. BU was 0-2 coming in with a loss to Texas State on the resume and now the lone victory remains FCS LIU. And they only led the game 16-7 at halftime. Yikes. We'll see if Baylor has any juice for Texas coming to Waco on Saturday. If not, it could get ugly.
12. Iowa State Cyclones (Last Week: 9)
Speaking of ugly, that was Iowa State on Saturday against Ohio, and not just because visions of several Iowa State players dealing with food poisoning is a nasty thought. ISU's offense was abysmal to watch and the special teams had miscues as well. It was rinse and repeat on what we've seen too much of from ISU the last two seasons.
13. Oklahoma State Cowboys (Last Week: 5)
Oklahoma State looked like a shell of what this program has been under Mike Gundy. The Pokes were dominated by Southern Alabama in a 33-7 loss on their home field. It was arguably the worst loss of the Mike Gundy era and it's the worst loss in the Big 12 so far this season. We'll see if they have any idea who their quarterback will be come Saturday in Ames. The first to six points wins.
14. Houston Cougars (Last Week: 14)
The Cougars look like they could be in for a long season in the Big 12 this year. TCU handled them in every facet of the game on Saturday night. And this came one week after a loss to Rice. Also of note, if you take away the 21 points they scored in the fourth quarter against Rice last week, the Cougars have scored 37 points in their other 11 quarters. That's a serious concern for Dana Holgorsen's staff and it needs to be figured out ASAP.