BYU Cougars
Overreaction Monday: Oklahoma State in Trouble, BYU a Legit Contender, Big 12 Down Bad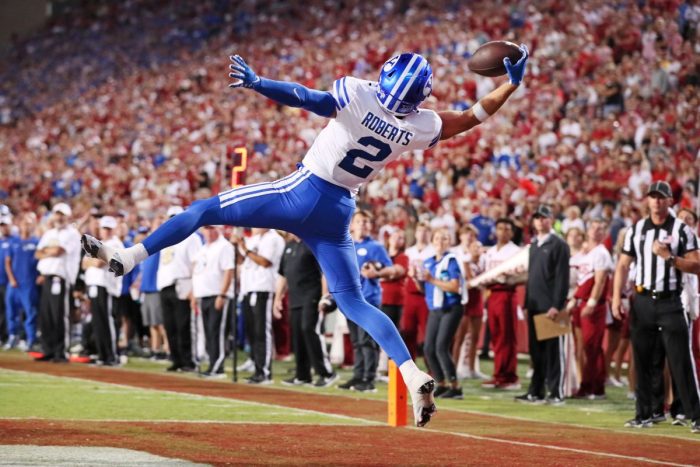 We've gone through three weeks of the 2023 college football season and are starting to get an idea of what the Big 12 race might look like.
It's still too early to draw final conclusions, but we can identify some trends that seem to have carried us into conference play. Are there major issues in Stillwater? Is BYU a Big 12 contender? Is Oklahoma being overlooked nationally?
Let's overreact to what we saw in Week 3.
Oklahoma State is in Major Trouble
Not an Overreaction
There's no way to spin it positively: Oklahoma State's 33-7 loss to South Alabama, in Stillwater, is a black eye for the Cowboys. Among a plethora of other issues, OSU has yet to establish a quarterback going into Big 12 play and has averaged just 18.0 points per game over their last 10 contests, and just over 16 points per game since their 48-0 loss to K-State last season. Against USA, Gunnar Gundy led OSU with 64 passing yards and Elijah Collins led the team with 31 yards rushing. The Pokes were manhandled at the line of scrimmage, and managed just 208 yards of total offense. The scary part about this game for Oklahoma State is that USA had 47 rushing attempts for 243 yards on the ground, with 5.2 yards per carry. That's just not going to cut it in Big 12 play, and it gives me major concerns for this team going forward.
BYU is a Legitimate Big 12 Contender
Not an Overreaction
We're heading into Week 4, which means that 25% of the college football season is behind us. Each team in the Big 12 has played a total of three games to this point, and just five of the 14 teams in the conference remain undefeated: Texas, Oklahoma, BYU, Kansas, and UCF. Texas and BYU share the distinction of being the only two teams in the conference to beat an SEC team on the road this season, with BYU's 38-31 win over Arkansas being the best win for the Big 12 in Week 3. So, with that being said, is it time to consider the Cougars as Big 12 contenders? Yes, and perhaps that says more about the state of the conference than it does about what BYU is in 2023. This is a down year for the Cougars, yet the majority of the Big 12 looks to be down even worse (more on that in a bit). While it appears that Texas and Oklahoma are head and shoulders above the rest of the conference at this time, BYU has just as much right to third place as anyone else at this point.
It's Still Too Early to Call OU a Contender
Overreaction
Arkansas State and Tulsa are not good football teams. We can agree on that sentiment. However, Oklahoma beat them by a combined score of 139-17. Throw in their win over a good SMU team and the Sooners have outscored their opponents 167-28 on the year. OU ranks third nationally in scoring offense (55.7 ppg) and fifth nationally in scoring defense (9.33 ppg). The Sooners also rank eighth nationally in total offense (534.0 ypg) and 32nd nationally in total defense (287.7 ypg). Oklahoma leads the country in third-down conversion rate (.676) and is 21st in third-down defense (.304). So, what does all of that mean, given OU's opponents? It means they're winning games handily, and that's not something that many teams can claim through three weeks of action. The Sooners are 3-0 ATS this season, and have an average margin of victory of 46.4 points per game. It's time to consider Brent Venables' squad a Big 12 contender.
New Season, Same Ol' Texas
Overreaction
After handing Alabama its worst home loss in nearly two decades, Texas came back home and toyed around with Wyoming. At the start of the fourth quarter, the Longhorns and Cowboys were deadlocked at 10-10 before Texas pulled away for a 31-10 victory. That performance gave many folks pause about what Texas has to offer in 2023. Is this team destined to fall off a cliff like its predecessors? I'm not buying it. After the biggest win for Texas football in the past decade, it's no surprise that UT came out a bit flat agaisnt Wyoming. However, they were still able to pull away late for a convincing win. In a week that saw teams like Florida State and Georgia have to overcome deficits against unranked foes, the Longhorns also found a way to move to 3-0. Now, if you want to argue that Texas might've played the worst Alabama team in the last decade, I will hear your argument, but the Longhorns deserve the benefit of the doubt for now.
The Big 12 is Down Bad in 2023
Not an Overreaction
Heading into the season, I was ready to defend the Big 12's honor as many pundits suggested that the Big 12 could be down in 2023. Now I come forward, with hat in hand, to admit how very wrong I was. Here's a list of notable outcomes between Big 12 teams and nonconference opponents through Week 3:
Texas State 42, Baylor 31
Oklahoma State 27, Central Arkansas 13
Wyoming 35, Texas Tech 33
BYU 14, Sam Houston 0
Rice 43, Houston 41
Baylor 30, LIU 7 (16-7 at halftime)
Miami (OH) 31, Cincinnati 24
South Alabama 33, Oklahoma State 7
Kansas 31, Nevada 24
Whether they're outright losses, or narrow victories, these are games that Big 12 teams should be winning by wide margins. There's no excuse for the conference to have losses to Texas State, Wyoming, Rice, Miami (OH), and South Alabama. The conference as a whole is 28-12 against noncoference opponents in '23, with TCU and Houston set to finish out non-con play this week. Of the 42 total noncoference games in the Big 12 this season, only 12 were played against Power Five teams. In those games, the Big 12 went 6-6, leaving the conference's record agaisnt G5 and FCS opponents at 22-6 at this point. That alone tells me that the Big 12 is indeed down this season, as hard as that is to admit.