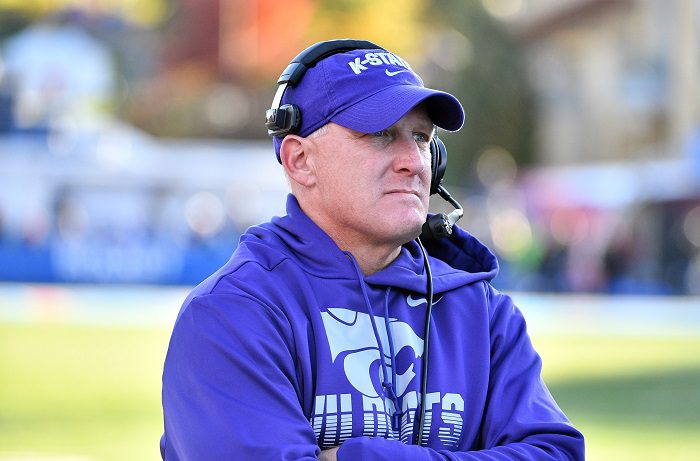 Here is everything you need to know ahead of the matchup between the Kansas State Wildcats and the UCF Knights.
GAME INFO
Saturday, September 23; 7:00 PM CT; Bill Snyder Family Stadium; Manhattan, Kansas
TV: FS1
Radio: K-State Sports Network (Wyatt Thompson, Stan Webber), 96.9 The Game
Record: Kansas State (2-1); UCF (3-0)
Rankings: N/A
Series History: Kansas State leads, 1-0
Last Meeting: Kansas State 17, UCF 13 (2010)
Line: Kansas State (-6.5)
Fun Fact: The first and only matchup between these two programs came on a gloomy day in 2010 that featured one of the darkest storms of the season. Lightning delayed the game between these schools but made up for it with some incredible photos of the sky above Bill Snyder Family Stadium.
KEY PLAYERS
KANSAS STATE WILDCATS
QB WILL HOWARD
Kansas State is entering some interesting territory on Saturday in its first Big 12 game of the season following the Week 3 loss to Missouri. Senior quarterback Will Howard took a big hit from Missouri linebacker Ty'Ron Hopper last weekend which gave Hopward a noticeable limb for the duration of the game. While Howard is expected to take the field and play, it shouldn't come as a surprise to say that Howard will be playing at less than full strength. Chris Klieman and his staff have shown some limited packages to get true freshman quarterback Avery Johnson on the field, and while Howard is listed as the starter on the depth chart for this week, monitoring his ankle injury will be major for K-State fans.
LB AUSTIN ROMAINE
On the topic of true freshman suiting up for the Wildcats in Week 3, senior middle linebacker Daniel Green's name was left off of the Week 4 depth chart as he will miss the remainder of the year, leaving Austin Romaine will step into the starting lineup While the absence of Green is big for K-State, the middle linebacker spot is already thin following some key injuries with the unit. Romaine steps onto the field with three tackles under his belt in limited action against Troy.
UCF KNIGHTS
QB TIMMY MCCLAIN
Sophomore quarterback Timmy McClain had a massive day in the Knights' Week 3 win over Villanova in place of the injured John Rhys Plumlee, leading UCF to a 48-14 win on Saturday. McClain went 20-28 for 321 yards and two scores against the Wildcats while adding nine carries for 44 yards in the ground game. While nothing has been confirmed as far as a timetable on Plumlee's return, the Mississippi native is reportedly set to miss the next two games against Kansas State and Baylor, and while McClain has only played in one game for the Knights this season, his performance on Saturday should inspire confidence for a chance to upset the reigning champs.
DE JOSH CELISCAR
UCF's star pass rusher and a player for all fans to keep an eye on is senior defensive end Josh Celiscar. While Celiscar has yet to record his first sack of the season, the Florida native currently leads the squad with 20 total tackles and has flown around the field for the Knights. Celiscar has an opportunity to face a Kansas State offensive line that has struggled to this point in the year, and while the group could return to full strength this week with Christian Duffie set to make his season debut, Celiscar has a chance to be a game-wrecker in this one.
KEY STORYLINES
KANSAS STATE WILDCATS
Was last week against Missouri a fluke? How healthy is Will Howard? These are the two main storylines to follow when the Knights come to town. UCF has put up some big numbers on offense and if K-State shows any type of Week 3 hangover following a crushing loss in Columbia, UCF could catch the reigning champs off guard. Chris Klieman entered Big 12 play for the second consecutive year following a loss in the non-con, and while the Wildcats jumped on top of Brent Venables and Oklahoma to start conference play in 2022, UCF will be another challenge on the road to repeating as league champs.
UCF KNIGHTS
The question that fans have been wondering all offseason is how UCF will handle Big 12 competition. Will the Knights confirm that they are the most competition-ready of the four new teams? UCF had impressive outings against Kent State and Villanova, lighting up the scoreboard with 56 and 48 points, but struggled against a team that is likely going bowling in Boise State in Week 2. UCF holds the cards to their own destiny in the matchup and while the first time they step on the field for a Big 12 matchup may not be against an easy opponent, Malzahn's squad has a good feel about them.
PREDICTION: KANSAS STATE 27, UCF 24
While Vegas has Kansas State listed as a touchdown favorite in this one, Will Howard's health is a major factor. Kansas State's star quarterback has thrown an interception in each game of the season so far when facing pressure, and it's safe to assume Gus Malzahn will bring some heat to try to get to Howard. I was critical of Timmy McClain in last week's preview and while he significantly exceeded expectations against Villanova, I'm going to side with the home team in this one, but not by much. I'll take the Wildcats to win by a field goal, but would not be surprised at all if the scores were to flip in this game.