Kansas Jayhawks
Two Big 12 Coaches Listed as Potential Candidates for Michigan State job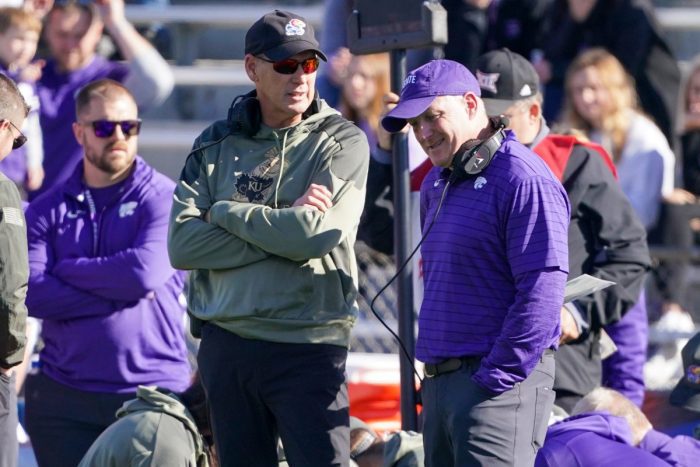 Michigan State announced on Monday that it had officially begun the process of firing head football coach Mel Tucker following sexual harassment allegations that arose less than two years after he signed a 10-year, $95 million contract extension with the Spartans.
Although he plans to rebuttal the claims, and his subsequent termination, the college football world is already looking around to see who will replace Tucker at the helm in East Lansing.
Bruce Feldman of The Athletic posted a story on Tuesday morning outlining some of the names that might come up in the Spartans' future coaching search, and two head coaches from the Big 12 are near the top of the list.
In fact, both coaches will be present at this year's Sunflower Showdown.
After Duke's Mike Elko, Kansas Head Coach Lance Leipold is second on Feldman's list.
"[Lance] Leipold is practically a miracle worker for what he has done in Lawrence, Kan.," Feldman. "The 59-year-old from Wisconsin, who won six Division III national titles at Wisconsin-Whitewater before turning Buffalo into an AP Top 25 team, got the Jayhawks into the Top 25 last year after a putrid decade of football in Lawrence. This year, KU's off to a 3-0 start. This is a call if you're MSU, you probably have to make because Leipold is an elite football coach, and he has proven it everywhere he has been."
Then, just after Leipold is K-State head coach Chris Klieman, who is fresh off a Big 12 Championship in 2022.
"Leipold's in-state rival would be a wise choice if he is interested," Feldman says. "Klieman and the Wildcats were last year's Big 12 champions, and although the Big Ten has much better resources than the Big 12, Klieman is working for the same athletic director at K-State that he had when he was winning national titles at North Dakota State. Klieman is considered as good as there is within the conference."
Will either Leipold or Klieman leave what they're building to take on the challenge in East Lansing? Who knows at this point, but Michigan State is one of the top five programs in the Big Ten and has plenty of green to go around. We will likely have to wait until the end of the regular season to see anything take shape, but this will certainly be a story for Big 12 fans to keep an eye on over the next couple of months.