Big 12 News
Five Things to Watch For in Kansas State vs. UCF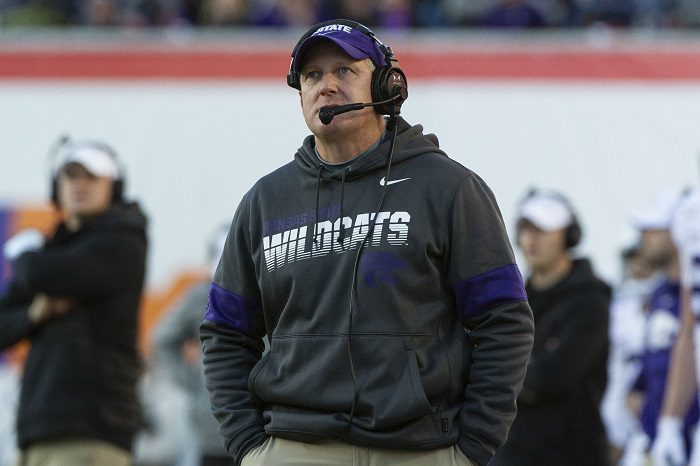 K-State's football loss to Missouri on Saturday was disappointing for many reasons, but the most concerning item is the injury situation for the Wildcats. Star linebacker and defensive leader Daniel Green is out for the season with a pectoral injury, quarterback Will Howard suffered an injury during the game and is questionable to play against UCF on Saturday, and running back Treshaun Ward is doubtful to play. Add to that the fact that K-State's defense was scorched early and often by the Tigers, and it makes you wonder if the Wildcats can slow down UCF's high-powered offense.
Despite that, there are reasons for optimism this weekend. Here are five things I'll be watching for against UCF on Saturday.
Who Starts at QB for K-State?
With Will Howard questionable, freshman Avery Johnson may get his first career college start on Saturday. Even if Howard starts and plays, I believe Johnson will still see the field a lot. He took a bunch of snaps against Missouri but didn't throw a pass. He was successful running the ball when he had the opportunity, but his role on Saturday could be drastically different. If he starts, he'll have to sling the ball around as well as run it. It will be on-the-job training for Johnson. The UCF defense, which hasn't given up more than 16 points in a game this season, will be a big test for him. Johnson may make a few mistakes and, if they happen, the Wildcats will have to overcome them.
K-State Secondary vs. UCF Passing Game
The K-State secondary gave up 356 passing yards against Missouri, by far the most passing yards they have given up this season. UCF likes to air it out. They passed for 334 yards in their first game against Kent State, 272 in their second game against Boise State, and 349 last week against Villanova. The numbers may be inflated because they came against weaker non-conference competition, but K-State will have to shore some things up in the secondary if they hope to beat UCF. K-State's ability to slow down UCF's passing offense is a key to the game.
Daniel Green's Absence
True freshman linebacker Austin Romaine will start on Saturday in place of Daniel Green. It would be a huge task for anyone to replace Green, but it is a monstrous task for a true freshman getting his first collegiate start in place of an all-conference caliber player like Green. The K-State coaching staff has been raving about Romaine, so we will see if he can make an impact. I'm not expecting a lot, but Green's absence could be a huge hindrance to K-State's chances of winning the game.
K-State Running Back Situation
One of K-State's top rushers, Treshaun Ward, is doubtful to play in the game. Ward and DJ Giddens made a nice one/two punch in the Wildcat backfield. Ward made some great plays against Missouri, and he will be missed should he not play. No other running back on the roster has more than four carries. Can Giddens carry the load for the missing Ward? Can another running back, like freshman Joe Jackson, step up and produce?
UCF QB Timmy McClain
John Plumlee was UCF's starting quarterback for the season opener, and he looked like a dual-threat beast, passing for 553 yards and rushing for 163 before getting injured during the second game against Boise State. Plumlee won't play on Saturday. Instead, we will see backup quarterback Timmy McClain. McClain doesn't appear to be much of a dropoff from Plumlee. In UCF's last game against Villanova, McClain passed for 321 yards and two touchdowns and had 44 yards rushing on nine carries. K-State will have to contain and limit McClain both through the air and on the ground.
Prediction
I like K-State's chances in this game. The fact it is at home and a 7:00 evening start means even more of a home-field advantage than usual. K-State's injuries are concerning, but they'll still have enough skill and talent on the field to get it done against UCF. I've got K-State winning a close game, 38-35.