BYU Cougars
Fact or Fiction Friday: UCF Will Beat K-State, Gundy's Seat Warms Up With a Loss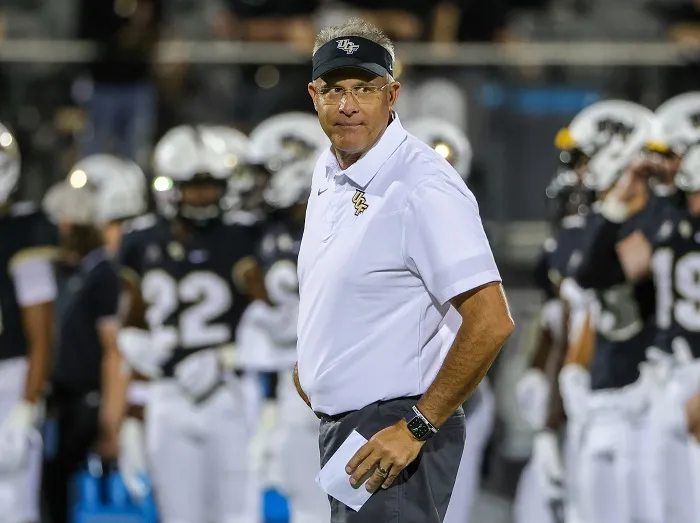 Welcome to Fact or Fiction Friday. Each Friday, I give our Facebook fans an opportunity to ask the most intriguing questions in the Big 12 Conference, and I will tell you whether they come true or if they are set to fail. Let's crack it open and see what we have in store this week.
Nicco Marchiol Will Start Against Texas Tech
Fact: While Garrett will be a game-time decision, I am in favor of giving Nicco the start against Texas Tech on Saturday. He wasn't asked to do much in the Pitt game, but I thought he managed the offense well. Plus, I think he is a better passer than Garrett Greene is. While Greene is more athletic and can run, I believe Nicco Marchiol gives West Virginia the best chance to win this season.
Mike Gundy's Seat Will Be On Fire If He Loses To Iowa State
Fact: Maybe some people at Oklahoma State will disagree with this, but I think Mike should be on the hot seat right now after being embarrassed by South Alabama. It's no secret that this program has been heading in the wrong direction since their win against Notre Dame in the Fiesta Bowl two years ago. If Oklahoma State loses to Iowa State this weekend, then I think some staff changes should be made, or at least some of the duties of the staff. I could easily see 2023 as the year where the bowl streak ends for Oklahoma State if they can't get the job done on Saturday. If that happens then I think it's time to have a serious conversation about Mike Gundy going into 2024.
Texas Tech Will Be Back In The Texas Bowl
Fact: It's still early, but right now I would have Texas Tech playing in the Texas Bowl. I haven't looked at any bowl projections lately and I don't think I really need to either. With the way the Red Raiders have looked (so far), I don't see them as a serious Big 12 title contender which means they will be in line for either a bowl game like the Texas Bowl or maybe even the Pop-Tarts Bowl. If I had to guess at this very moment, I would say they go back to Houston for the Texas Bowl.
UCF Will Beat Kansas State
Fiction: I know Kansas State lost to Missouri and that stinks, but I am not throwing in the towel for this team just yet. Keep in mind that Kansas State lost to Tulane last season and ended up winning a Big 12 title. As much as I like UCF and the way they are playing, I don't see them winning in Manhattan without starting quarterback John Rhys Plumlee. Don't get me wrong, Timmy McClain did a good job against Villanova, but this is Kansas State we are talking about here. Will Howard's status is concerning, but I still think that backup Avery Johnson can get the job done at home. Give me the Wildcats.
Dana Holgorsen Makes It To The End Of The Season
Fact: Much like Mike Gundy at Oklahoma State, if Houston has a bad season, then I think it's time for them to consider moving in a different direction. Dana had a magical 2021 season since taking over back in 2019, but outside of that year, Houston has just been a middle-of-the-road program. And that was when they were in the AAC. Now they are in the Big 12 and life isn't going to get any easier for them. Outside of one half against UTSA, this team has looked awful on both sides of the ball. Plus, the stuff coming out of Dana's mouth in the postgame has been head-scratching. At the end of the day, the failures fall on his shoulders.
With that said, I don't think Houston will fire him after one bad season in the Big 12. There is a good amount of money pouring into the program and facility upgrades are happening soon as well. Should Dana be on the hot seat? Yes. Is Houston going to fire him though? No, but they should start looking around if you ask me.
The Winner Of The BYU/Kansas Game Is A True Big 12 Title Contender
Fiction: Don't get me wrong, I love both of these teams right now. BYU shocked the country last weekend with a win over Arkansas on the road and Kansas looks good with Jalon Daniels at quarterback. This should be a great matchup on Saturday, but let's pump the breaks here. Maybe if one of them goes on a run after this then I would say yes, but until then I wouldn't say that either team is a true Big 12 title contender right now.