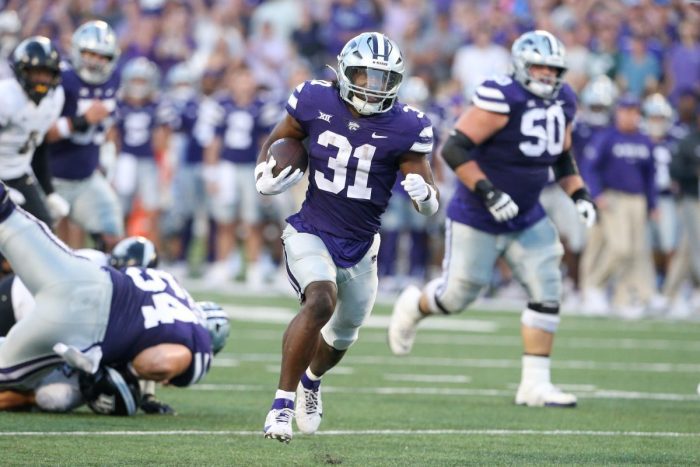 The Kansas State Wildcats welcomed the UCF Knights into the Big 12 on Saturday night in Manhattan. Both teams were starting conference play and for the Knights, it was their first game in their new conference against the defending champs.
It was a game with plenty of scoring, big plays and drama that came down to the final quarter of play. And with that, here are three thoughts on Kansas State's 44-31 win over UCF.
Giddy for Giddens
Deuce Who?
Not really, but D.J. Giddens did make K-State fans forget about Deuce Vaughn, at least for one night. Giddens had more rushing yards (202) than Vaughn ever had in a game on Saturday in the win. And he did that on 29 carries and added four touchdowns on the night. Oh, and Deuce Vaughn also never had four rushing touchdowns in a game as a Wildcat.
Giddens' first half included 14 rushes for 107 yards and three scores, while also piling up 66 receiving yards on six catches. Through the air he finished with eight receptions for 86 yards.
Oh, and in classic K-State fashion, Giddens was an unranked recruit from Kansas with zero stars. Now here he is making his presence felt in a Big 12 opener. That's K-State football in a nutshell.
Score Doesn't Tell the Story
This was a ball game until the halfway mark of the fourth quarter. In fact, it was UCF who led this game 24-21 early in the third quarter after Timmy McClain hit Kobe Hudson for a 46-yard touchdown.
At that point, Manhattan was shocked, especially since it was preceded by a Chris Tennant 26-yard field goal miss to end the first half. A K-State field goal tied the game at 24, and then later in the third quarter, the Wildcats put together an 11-play, 85-yard drive that resulted in Will Howard running in a touchdown from two yards out. The Wildcats led 31-24 entering the fourth quarter and UCF's missed 52-yard field goal at the 10-minute mark by Colton Boomer seemed to turn the tide. The Cats took control on their next drive, with a 13-play, 65-yard drive that took over six minutes off the clock as the Cats took a 37-24 lead at the 4:01 mark in the fourth quarter and never looked back.
Two minutes later, Will Howard would run it in from 31 yards out to seal the win and give K-State the 44-24 lead. With six seconds remaining and UCF with the ball at the K-State two-yard line, the Knights called a timeout to run one final play and scored a garbage-time touchdown, which resulted in the final score of 44-31.
Can UCF's Defense Help Its Offense?
UCF's offense is not going to be its problem this season. Timmy McClain is not your traditional back up quarterback. The dude can sling it and is a true dual-threat quarterback for the Knights. The lefty finished 14 of 24 for 264 yards with three touchdowns and one interception, while rushing for 20 yards. He was a little sloppy at times, but that comes with a young QB who is boom-or-bust. Wide receiver Kobe Hudson had his third-straight 100-yard game (5 catches, 138 yards, two scores), and Johnny Richardson is a speedy, shifty running back.
But the defense had, by far, its toughest test to date after taking on Kent State, Boise State and Villanova in the non-conference and got torched for 536 total yards, including giving up 7.0 yards per rush. Kansas State also went 9-15 on third downs, while UCF struggled with penalties (10-80). That side of the ball is going to have to clean itself up for UCF to compete in the top half of the Big 12 this season.