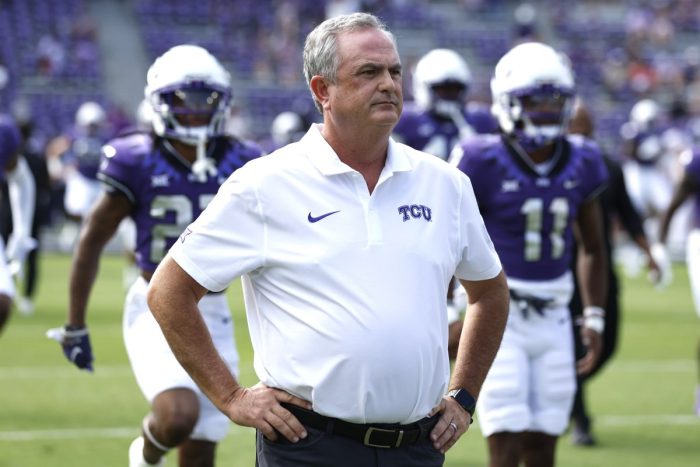 The Battle of the Iron Skillet is one of the more underrated rivalries in college football and on Saturday it was TCU hosting SMU in Week 4 of the college football season. TCU came into the game with a 2-1 record, including two wins in a row after a loss to Colorado to open the season. SMU also started the day 2-1, with their lone loss coming against Oklahoma in Week 2.
These two teams have played close games in recent years, with the last three match ups decided by eight points or less. This is the third-to-last Iron Skillet match up as the series is expected to end after the 2025 season. On Saturday, it was TCU beating SMU 34-17. Here are three thoughts on the game.
TCU's Defense Shows Out
TCU's defense got torched against Colorado back in Week 1, and on Saturday, it was the first real test for the Horned Frogs since that match up. After two-straight games not allowing a touchdown, TCU's defense had itself a strong performance on Saturday against a potent SMU offense.
The box score won't do the TCU defensive performance justice, but for three and a half quarters, TCU held SMU to just 10 points. SMU did string together a 72-yard drive in the fourth quarter when trailing by three scores, which pads the team stats, but the Horned Frogs mostly dominated from start to finish. Preston Stone was picked off twice in the second half by Josh Newton, which was returned 53 yards, and then by Bud Clark in the end zone as SMU was driving trying to make this a game.
Third Quarter Domination
The TCU Horned Frogs led 14-10 at halftime before completely dominating the third quarter. TCU outgained SMU 191-60, owned the time of possession at nearly 10 minutes, while outscoring SMU 13-0 and the quarter ended with TCU's Josh Newton picking off SMU QB Preston Stone and taking it back inside the Mustangs' 10-yard line. That interception felt like it was the ballgame as any chance SMU had of making a comeback ended with the final play of the third quarter (even though TCU did not convert any points off that subsequent drive).
Emani Bailey's Hot Start Continues
TCU was supposed to take a step back this season at running back with Kendre Miller moving on. However, Emani Bailey has been the top running back in the Big 12 through the first month of the season and that continued on Saturday against the Mustangs. Bailey entered the game leading the league with 119 rushing yards per game, nearly 20 yards per game more than the No. 2 running back in the Big 12 in KU's Devin Neal.
And on Saturday against TCU, Bailey put up another 125 rushing yards on 26 carries with a touchdown to lead a TCU rushing attack that piled up nearly 200 yards. Former five-star recruit Trey Sanders (Alabama transfer) was supposed to step in and potentially be "the guy", but it has been Bailey, who was in the rotation last season, who has turned into not just RB1, but also Big 12 RB1.